THE ROLLING STONES
are a band that I have not had very much luck in obtaining very many signatures from.
Between their reluctancy to sign and the security that surrounds them, they indeed are the worlds
most (for me at least) difficult band in all of Rock and Roll to have obtained autographs from.
What did not help was my lack of any 
real experience back in 1989, by attempting to collect signatures on Brian Jones era albums.
Very big mistake on my part. The mistakes simply continued
and opportunity became so lost that regretfully and fully embarrassed that I could
of had so many more items signed. 
I first saw The Rolling Stones in concert in Anaheim on July 24, 1978
and then again on October 9th and 11th, 1981, at The Los Angeles Memorial Coliseum
and subsequent dates in the 1980's, 1990's and into the 2000's.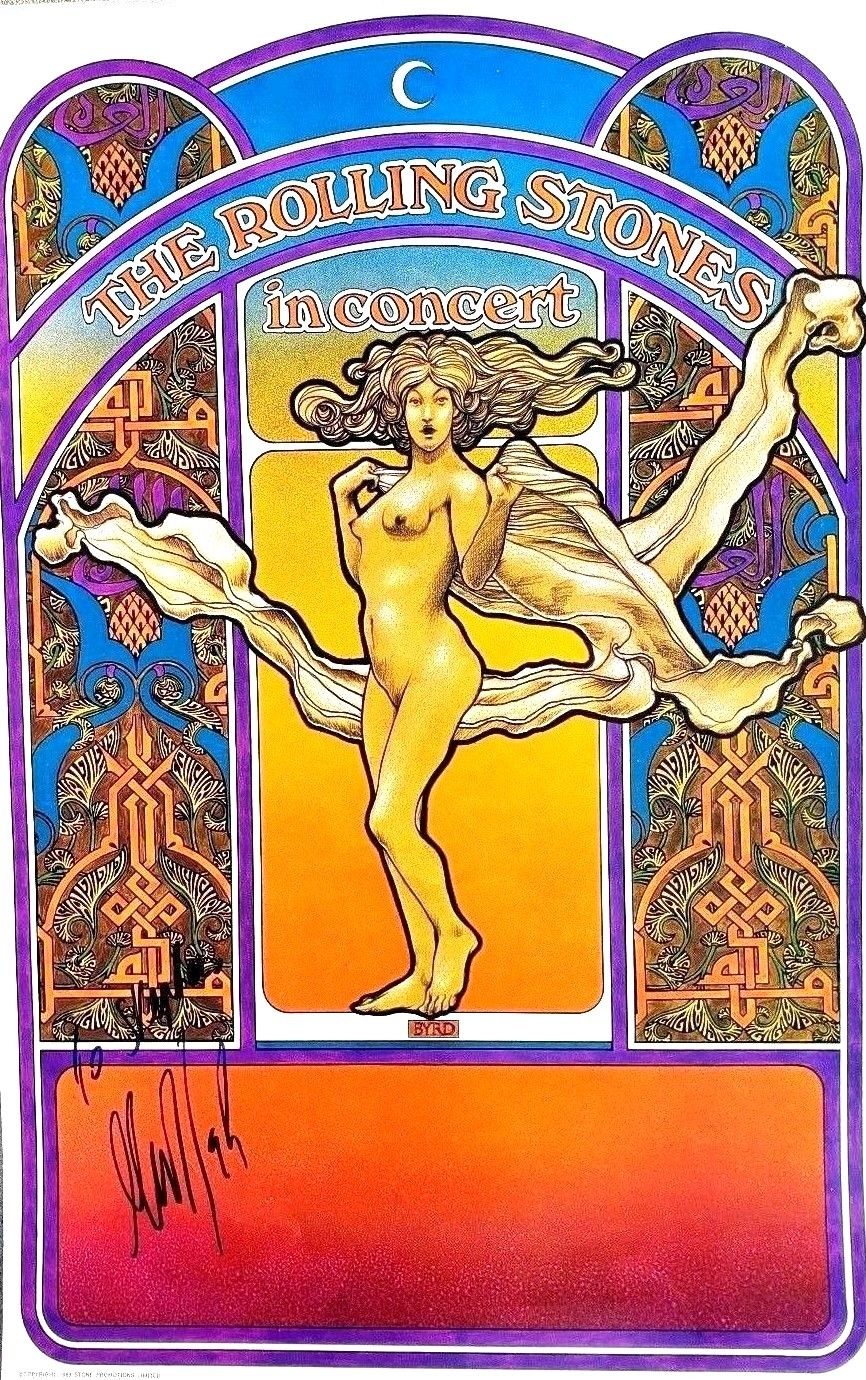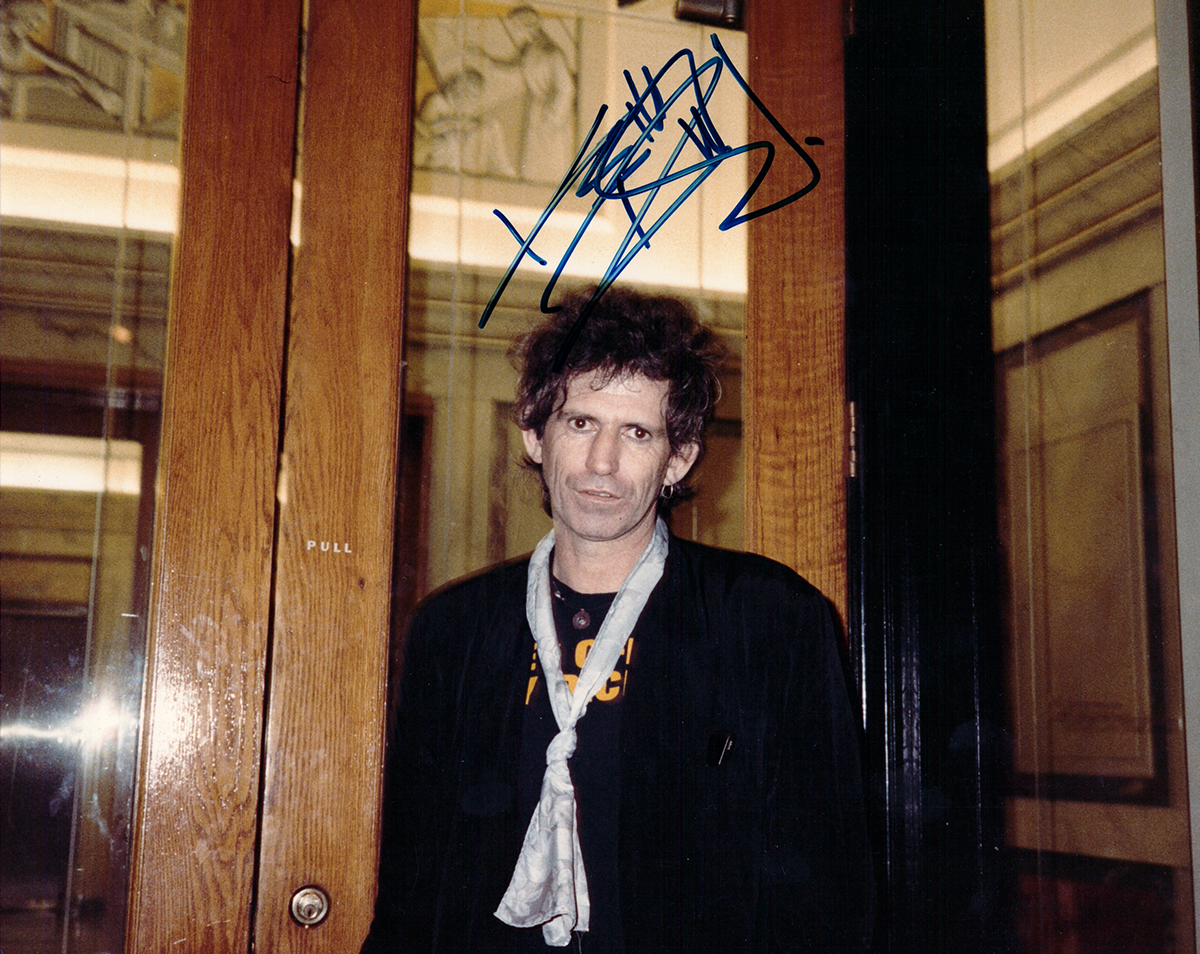 Signed by Mick Taylor in El Toro, prior to his solo

performance at The Coach House (date still looking to be confirmed).

It really wasn't until the "Tattoo You" Tour performances of October 9 and 11, 1981

at the Los Angeles Coliseum

that I can say I really knew all the songs that they were performing,

and walked away feeling that I took in all that was a Rolling Stones concert.

I have seen The Rolling Stones in Toronto, San Francisco, San Diego,

Anaheim, Pasadena and Los Angeles.

I do not have too many items of signed memorabilia by this legendary band and mistakenly tried to get the Brian Jones era albums autographed long after Brian had passed away (huge mistake on my part), but have collected some of the remaining members over the years.

It hasn't been easy to obtain any signatures from this legendary band.

 
Perfectly signed (and personally signed) photo of Keith Richards
autographed at Tower Records on December 14, 1988.

Keith Richards, signed at Tower Records on The Sunset Strip,

on December 14, 1988.

INDEED, One of the hardest bands to collect fully signed items from

(at least for me it has been)

 

Promo Rolling Stones tickets from the 1981 "Tattoo You" tour, each

signed by Keith Richards, during the October of 1989 Steel Wheels tour stop in L.A.

Signed Index cards by former member Mick Taylor
on December 7, 1991 at the L.A. Bonaventure Hotel.
 
 
The 1989 "Steel Wheels" Tour Book
signed in Sherman Oaks by Ron Wood
on August 10,1992, and Keith Richards in Los Angeles on 11/20/1989.
The 1989 "Steel Wheels" Tour Book
signed in Sherman Oaks by Ron Wood on August 10,1992.
 
 
 

Inner pages and cover of the "Steel Wheels" Tour Book signed on November 21,1989,

in Los Angeles at the Four Seasons Hotel, by former bassist Bill Wyman.

 
 
 
 

Signed tour book in Los Angeles on October 20,1994 during the

"Voodoo Lounge" tour by Mick Jagger, Ron Wood and Charlie Watts.

 
 
Signed 1973 Hawaiian Tour Book, autographed by Keith Richards and Mick Taylor.
 
 
Personally signed by Keith Richards during the Steel Wheels Tour
at the Los Angeles Four Seasons Hotel in November of 1989.
 
 

One of the biggest mistakes I made in all my collection happened while collecting these very Rolling Stones signatures. For whatever silly reason, I starting obtaining autographs on Brian Jones era albums which obviously I could never be able to get "completed".

 
 
Guitar signed by Ron Wood at The Four Seasons Hotel
during the October/1989 "Steel Wheels" tour in Los Angeles.
 
 
 
 
Guitar signed by Mick Taylor in Los Angeles on December 7, 1991.
 
 
 
 
Personally signed by Keith Richards during the "Steel Wheels" tour
(October/1989) at The Four Seasons Hotel in Los Angeles.
 
 

Autographed front and back album jackets of The Rolling Stones 1981 album "Tattoo You", signed by Mick Jagger on the front sleeve, and on a completely different LP,
Keith Richards on the back sleeve.

Please enjoy the following very rare and very hard to obtain signed albums

by Mick Jagger, Mick Taylor, Ron Wood, Charlie Watts, Keith Richards and Bill Wyman,

and especially the fully signed, "It's Only Rock and Roll" album.

 
 

My ONLY fully signed and completed The Rolling Stones album in my collection.

 
 
 
 
 
 
 
 
 

A band, that if started properly, I could have had so many more quality

and perhaps even completed band items.

However, one of the earliest of obtained signatures in my entire collection.

 
 
 

---