_______________________________________________________________________________________________
WHY IS DON AIREY GIVING ME "THE BIRD" IN THE BELOW PHOTO?
(photograph was taken at The Fox Theater in Riverside, Ca., at the September 3, 2019, pre-concert Meet & Greet.
Unknown to me at the time, and not seen until the link to this photo was sent the day after the concert,
was the Deep Purple keyboardist Don Airey giving me his middle finger in my paid for photo opt).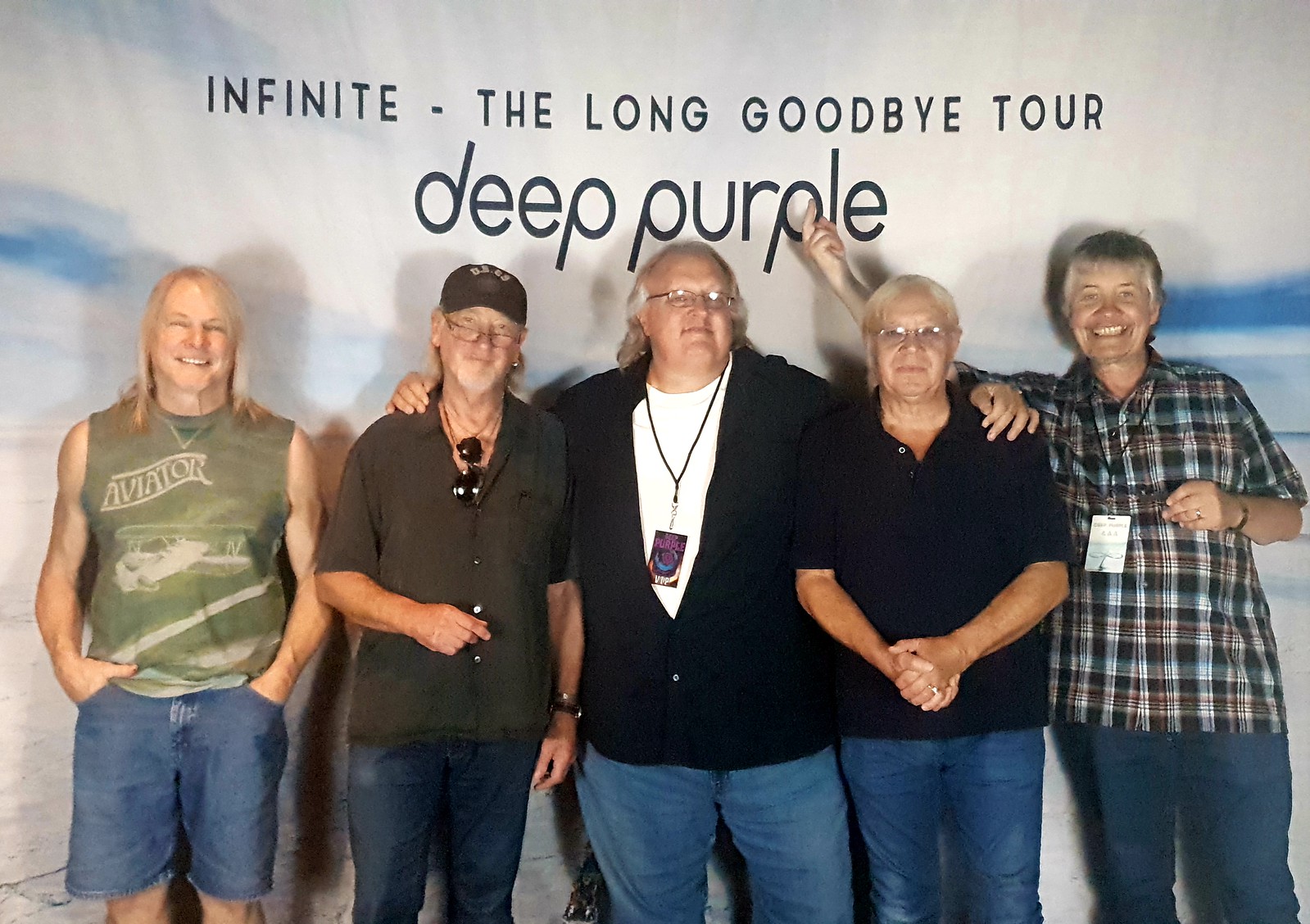 The setting, was Deep Purple's pre-concert Meet & Greet's with Machine Head album members Roger Glover
(bassist) Ian Paice (drummer) and Steve Morse on lead guitar who joined the band in 1994 and keyboardist
Don Airey who joined the band in 2001. Lead singer Ian Gillan does not partake in any of the MG's.
Upon myself and the other 8 fans generously receiving our signed memorabilia in person from the band members,
we then lined up to take turns for the band photo opt.  As I entered the room I turned to Mr. Morse and to
Mr. Airey and politely asked them if I could please take a photo with just Roger and Ian. My words,
"Guys, no disrespect at all intended, but, I really want to take a photo with just Roger and Ian. Would this be okay?"
To which both men acknowledged and seemed to be just fine with such a request, and stepped away.
I thanked them yet again reiterating that I wished to express no disrespect whatsoever. Their
photographer had even added that she was fine with that as it was my photo opt anyways.
(that photo of myself with Roger Glover and Ian Paice can be seen below)
After-which, the photographer offered to take a second photo with all the Meet & Greet band members to
which I thanked the photographer and all the band, for allowing a very rare "second photo" to document my
 MG experience. I then thanked the band members yet again, as my portion of the Meet & Greet had concluded.
Since the photo opt was professionally shot with a house camera, and the photo sent by an email link about 48
hours after the photo was taken, there was no way that I could verify anything of this photo (clarity, eyes shut,
or in this case: a member giving me the bird) until I opened the link and saw all the photos. I was very pleased
at the photo of myself with Roger and Ian, but taken back and a bit confused at the second photo,
the photo with all four band members and Don Airey clearly sticking up in the air his middle finger.
Is this the case of a Rock and Roll'er simply being a Rock and Roll'er? 
Mr. Don Airey in some way angry with me or felt insulted as I asked for a
photo with just the two Machine Head members?
I have reached out and advised Mr. Don Airey, OneLive VIP (the company that was
hired by the band to coordinate the tour's Meet & Greet packages) and have
reached out to the management of Deep Purple for photo clarification in the hopes
I did not upset this beautiful keyboardist, who I fully enjoy seeing in concert.
The man is simply amazing with the keyboards.
My photo request was of personal preference, and nothing more.
The following response was emailed
to me at 9:25am on Saturday 9/7/2019: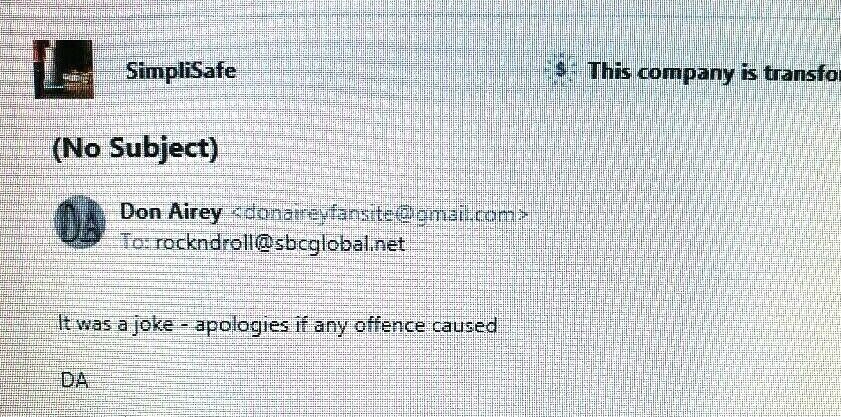 The following response was emailed
to me at 10:13am on Sunday 9/8/2019: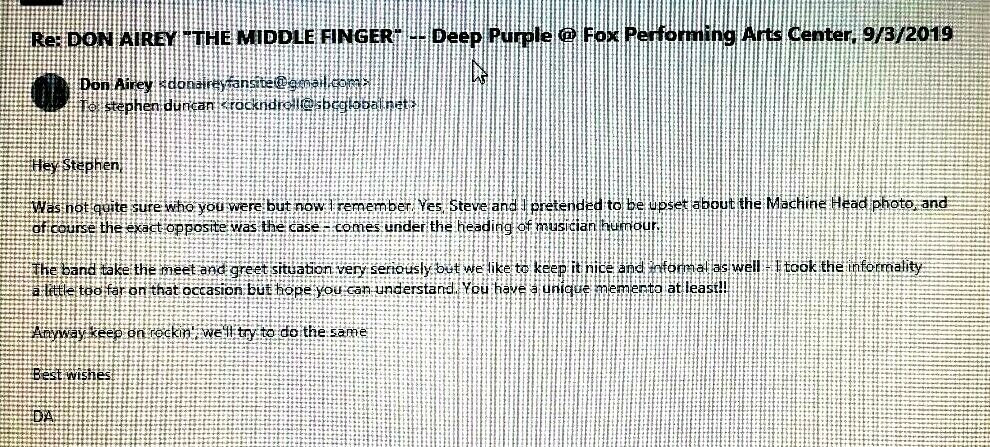 I am very happy to hear the the photo was a joke
as I have a TON of respect for Mr. Don Airey and find him to be a
brilliant keyboardist and simply a very cool man.

Lots of love to Don always.  I hope to see him again soon.
_______________________________________________________________________________________________
 
 

THANK YOU TO DEEP PURPLE FOR SELLING PRE-SIGNED ITEMS OF

MEMORABILIA AT YOUR CONCERTS.

The following signed drumsticks and concert used drum head by Ian Paice, and drum heads fully signed by the 2015 line up of Deep Purple (Ian Gillan, Ian Paice, Roger Glover, Steve Morse, and Don Airey) were not personally obtained by myself.

Instead they were all personally signed by the band during their U.S. 2015 Summer Tour and purchased from the band at Fantasy Springs Resort concert hall on August 15, 2015.

The band was very generously selling these autographed items of memorabilia.

 
 

These are hand signed (not pre-printed) drum sticks autographed by Ian Paice.

 

Pre – autographed personally by Ian Paice and sold at the concert.

 

The current 2015 Line Up of Deep Purple, pre-signed and sold at the concert.

Thus far, in 2015, I had still not met in person any member of the

legendary "Machine Head" line-up,

but, in 2019 that would FINALLY change:

 
 
 
 
 
 

---

DEEP PURPLE SEPTEMBER 3, 2019/RIVERSIDE, CA.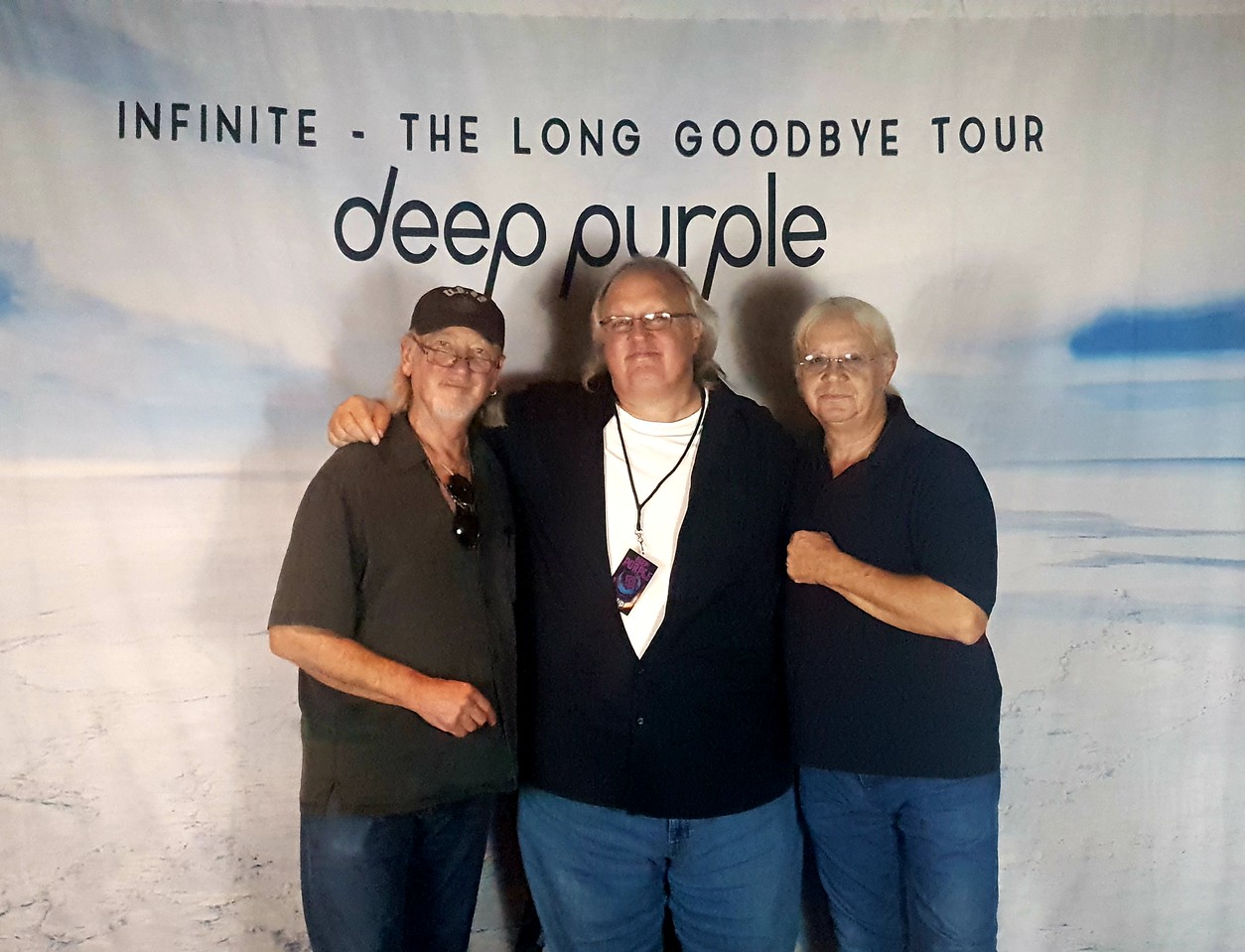 Myself with legendary Roger Glover and Ian Paice of DEEP PURPLE.
                      These two men are 2/5th's responsible for recording "Smoke On The Water"
                                         from that incredible 1972 album "MACHINE HEAD".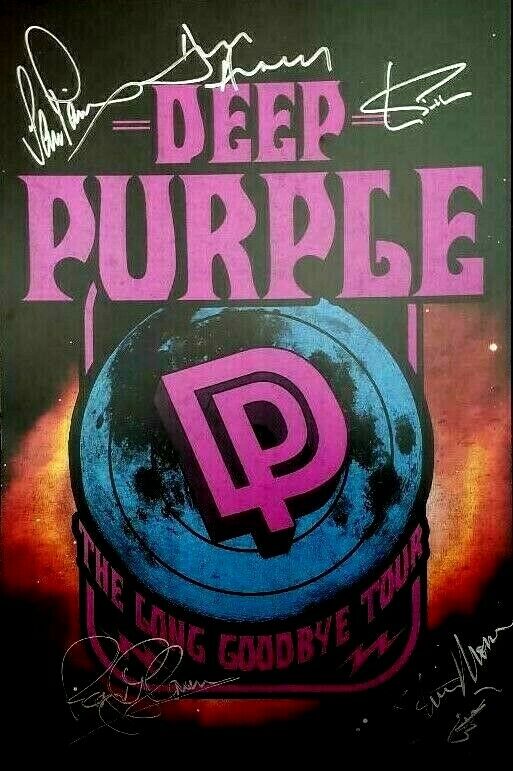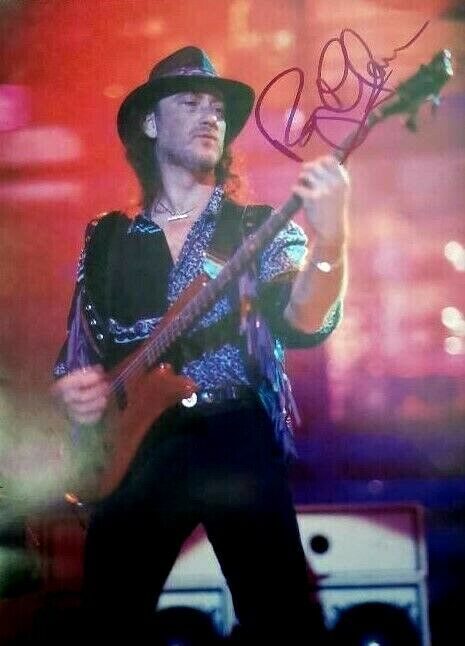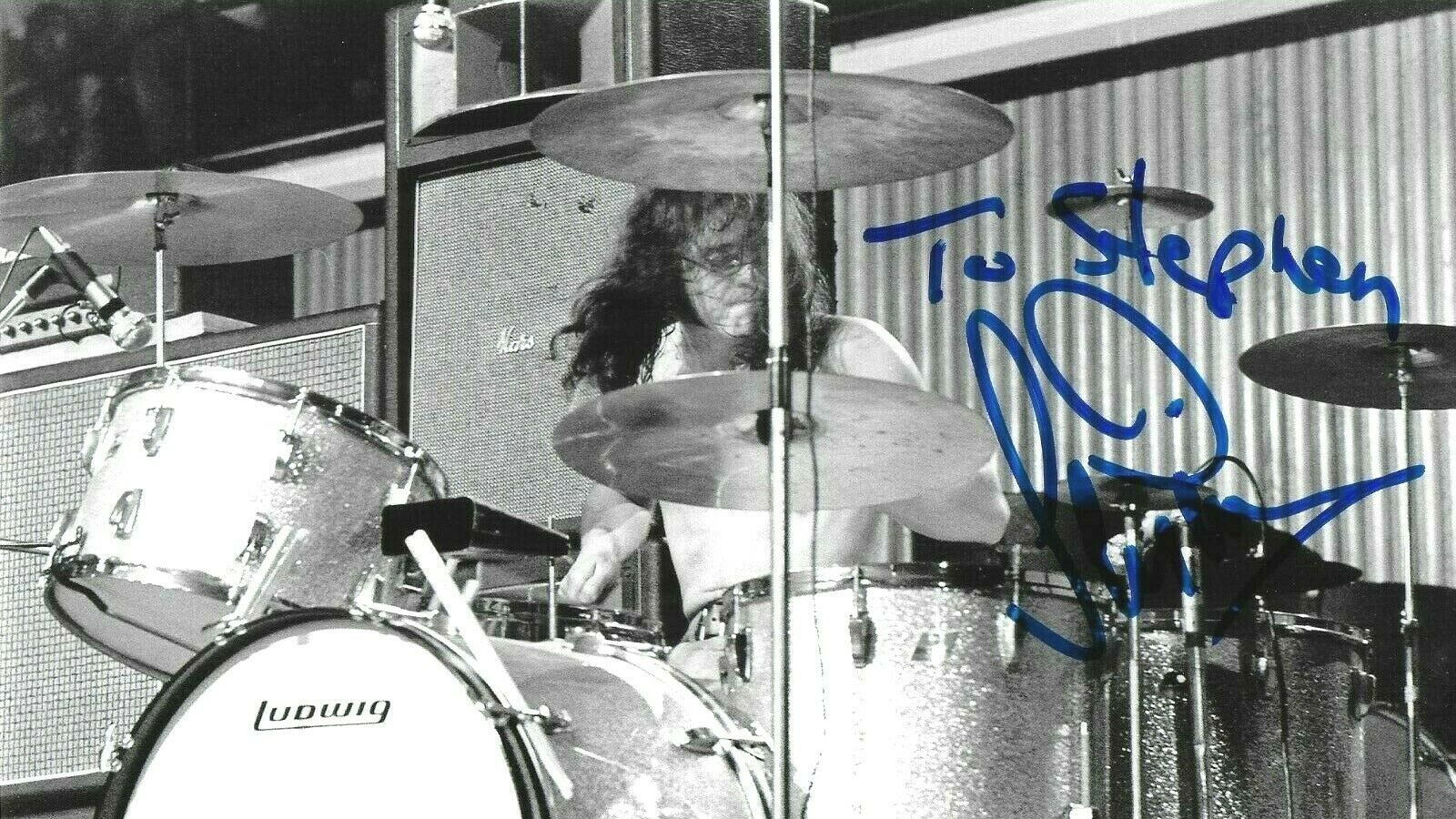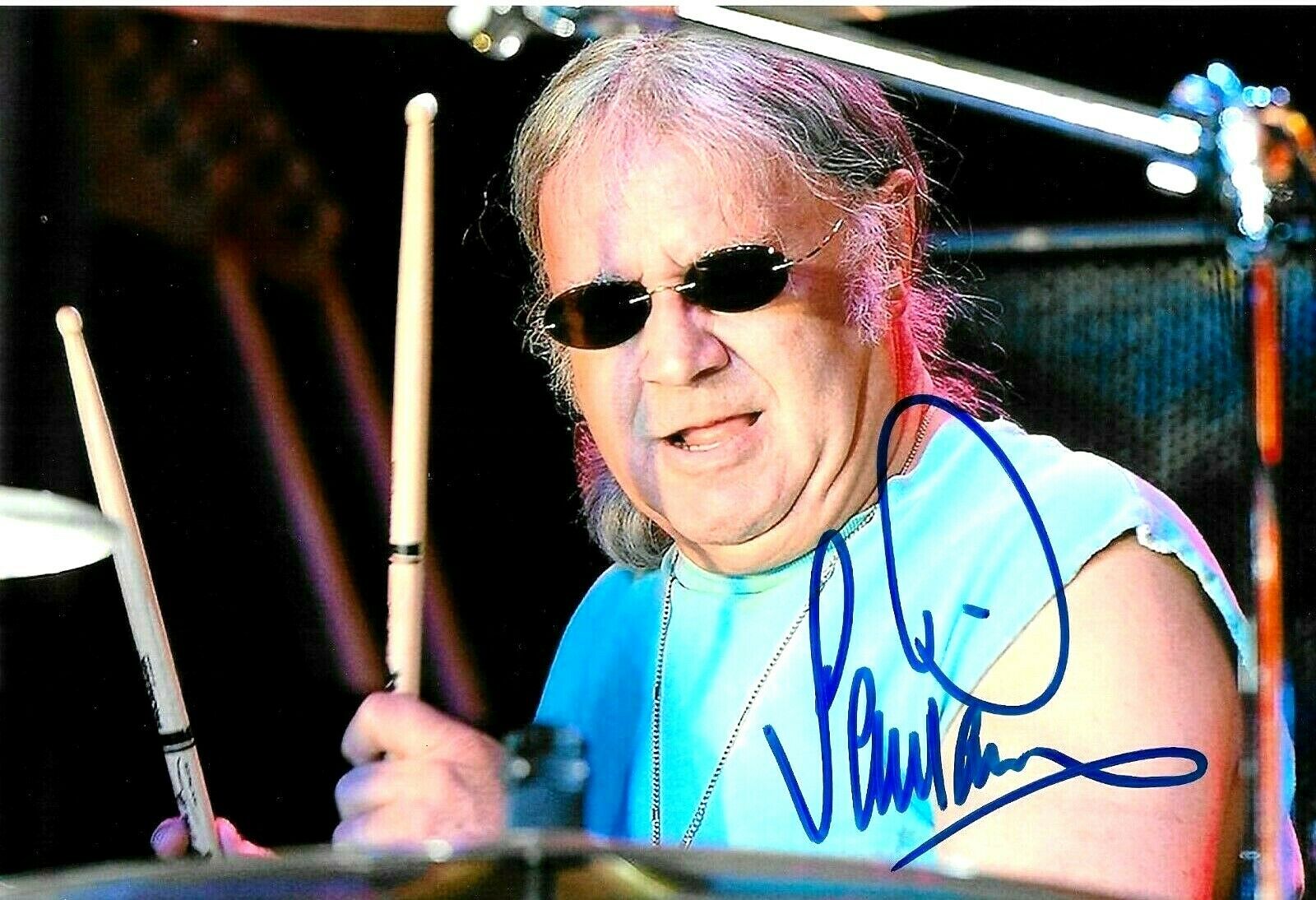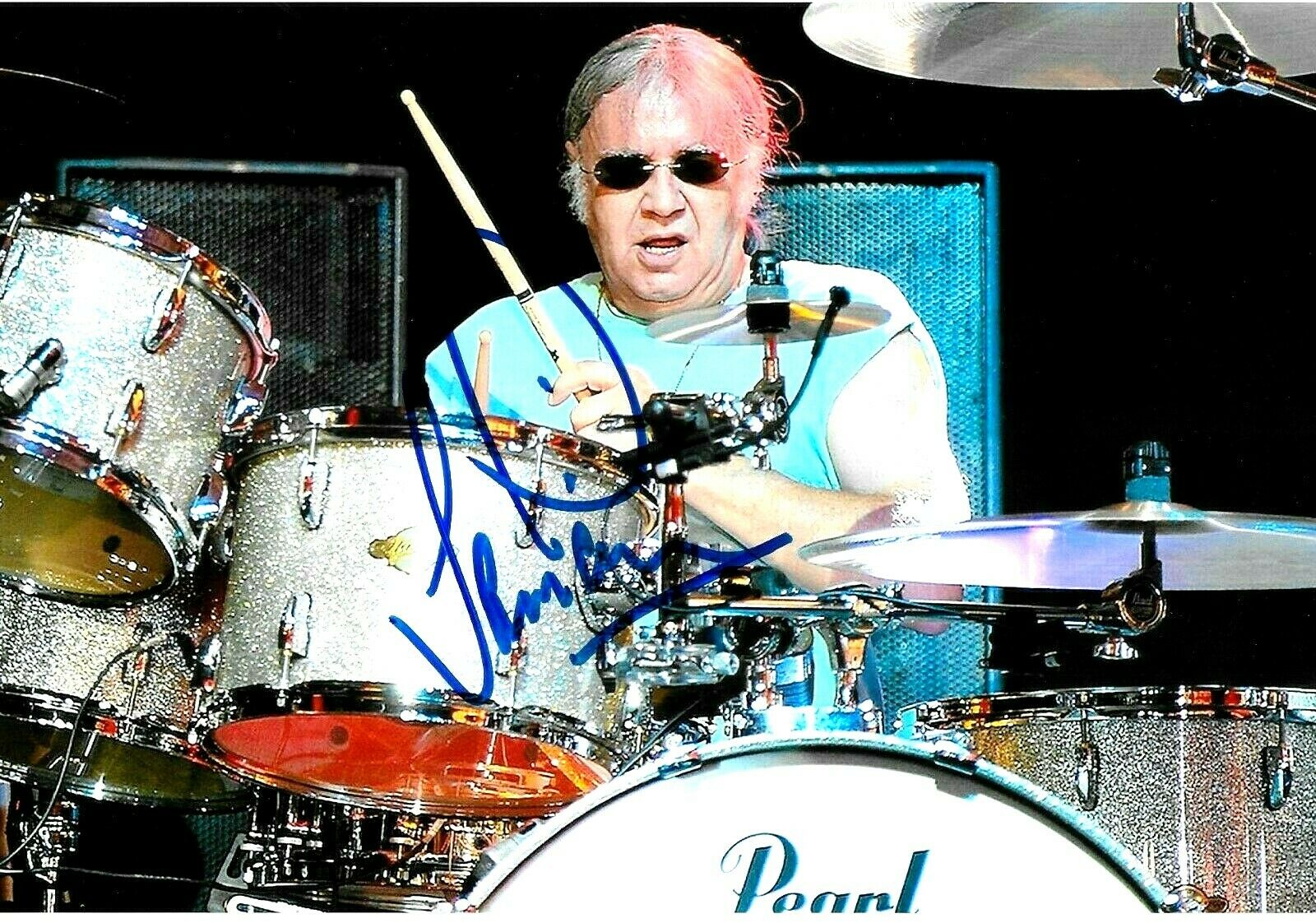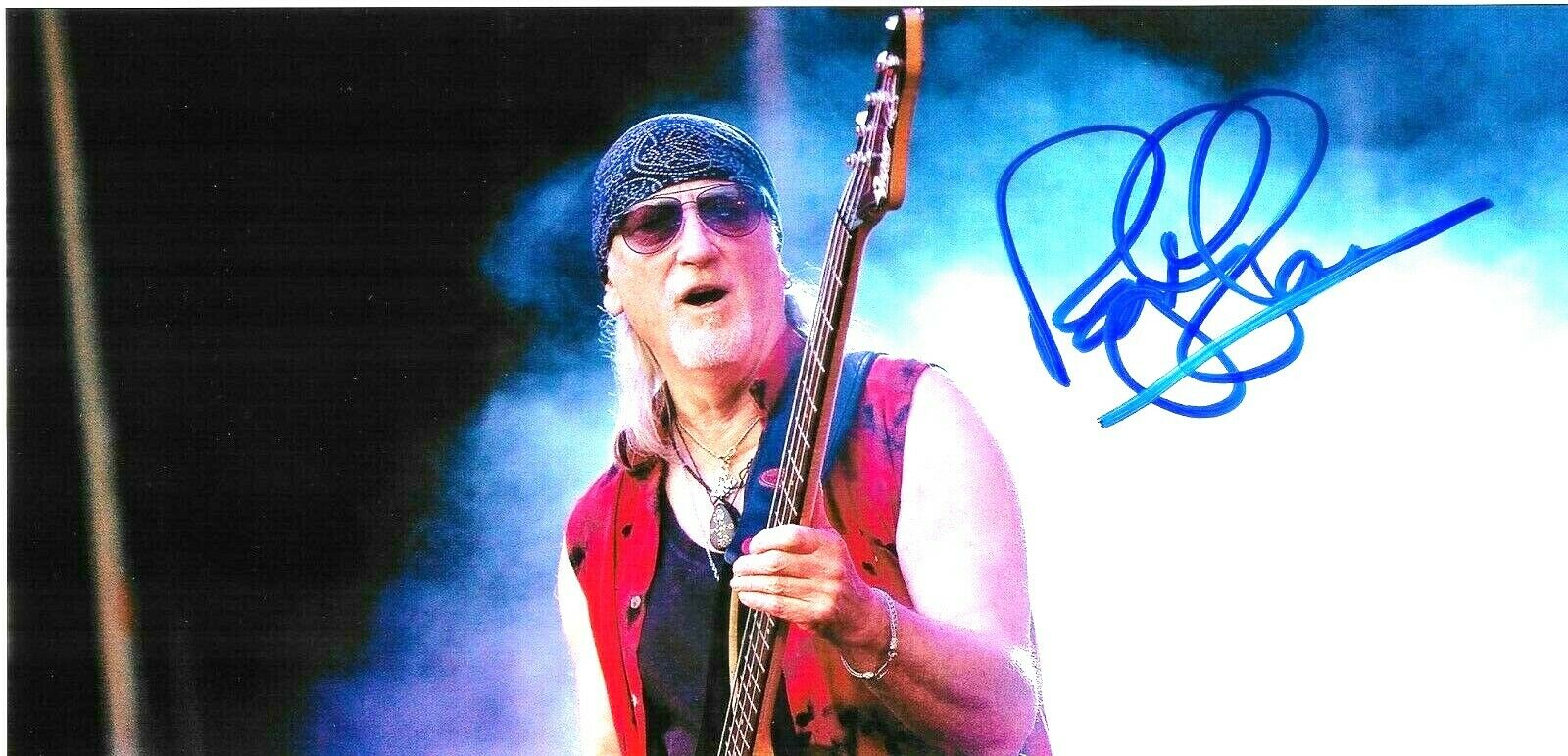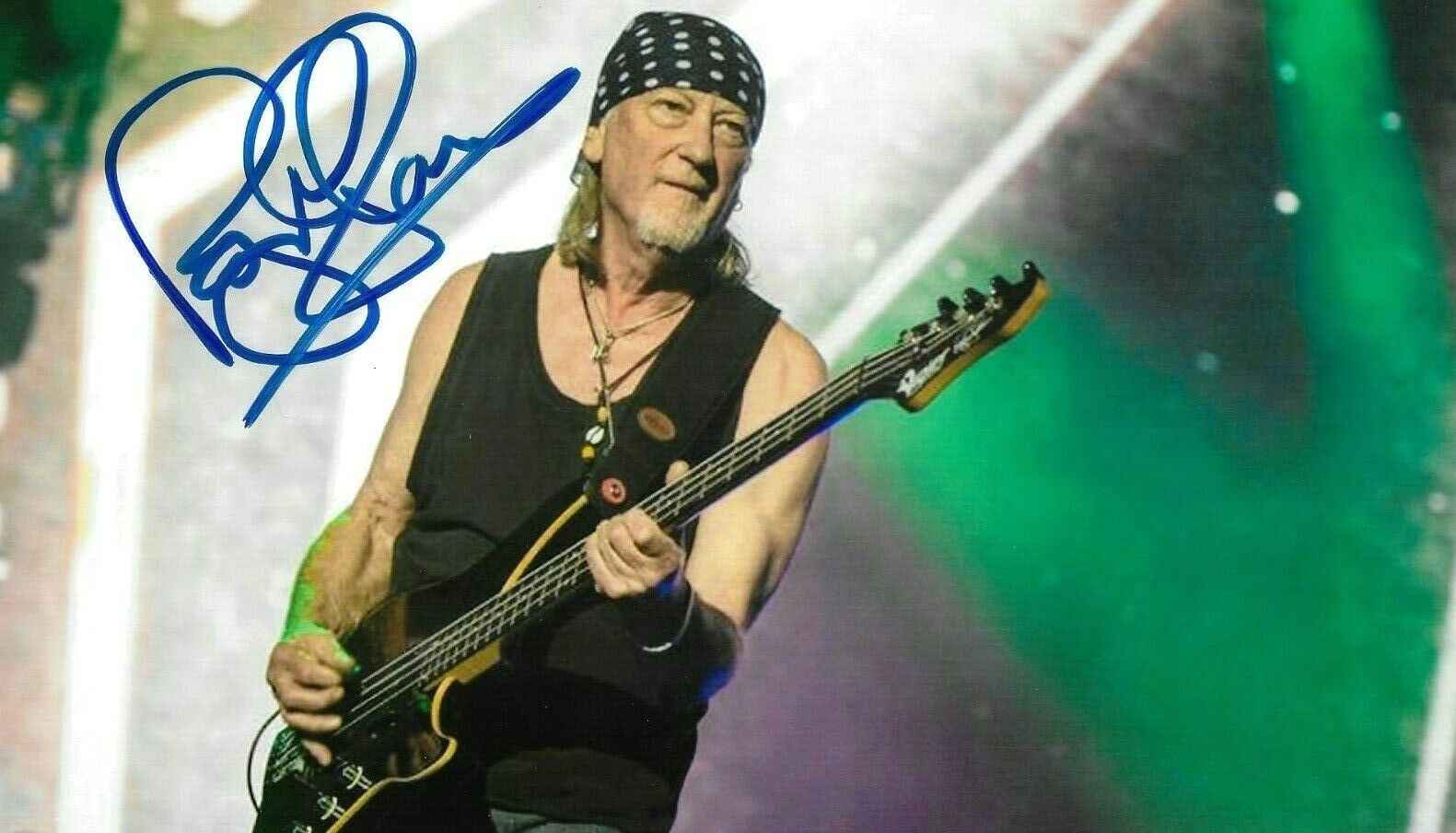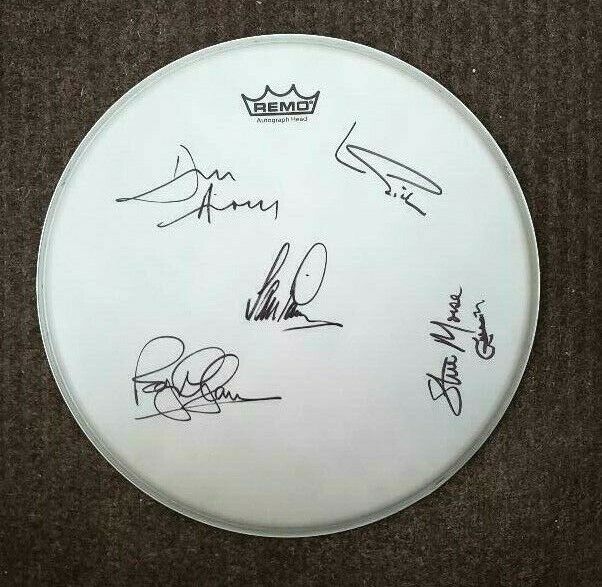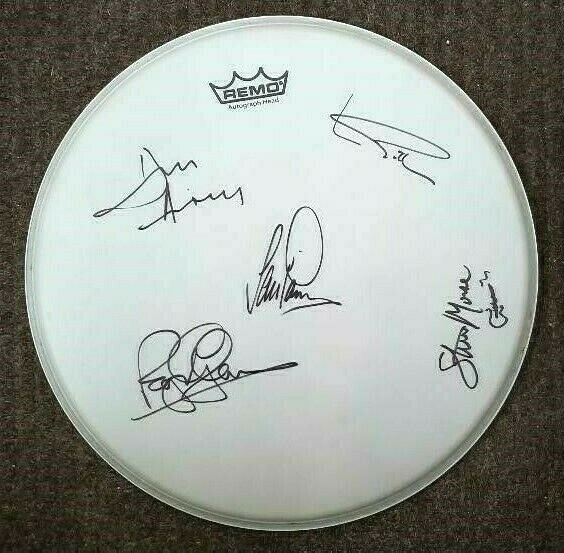 The above signed drum heads (purchased at the merchandise booth) and top
full signed band poster was pre-signed (and given to me at the Meet & Greet)
while each other photograph or tour book sleeve was signed in person
by Roger Glover or Ian Paice on Tuesday September 3, 2019
during the Deed Purple Meet & Greet at The Fox Theater in Riverside.
  (NOTE: Ian Gillan does NOT participate in the band's Meet & Greet)