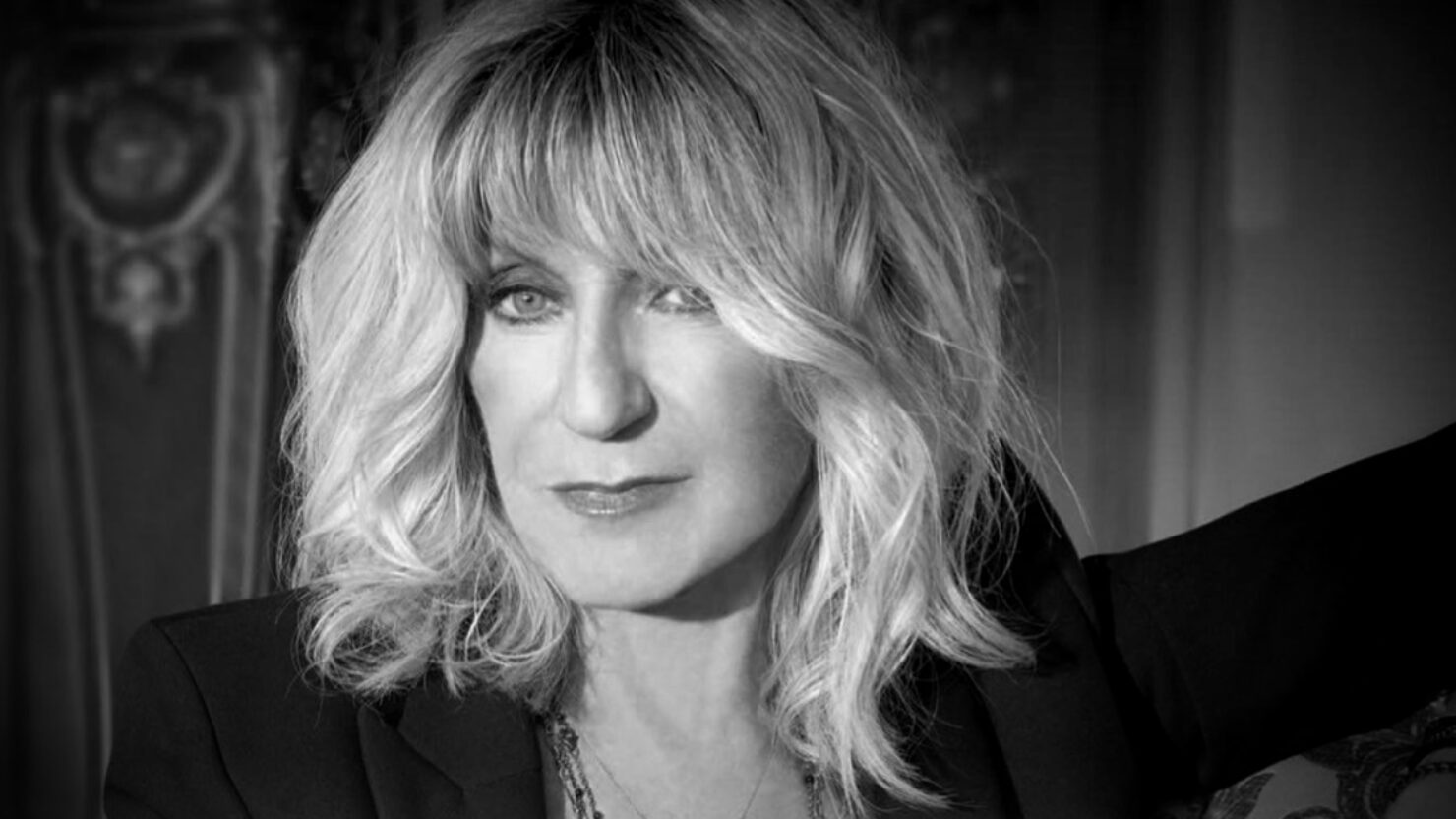 The absolute beautiful, gifted and so very sweet
CHRISTINE McVIE
July 12, 1943  — November 30, 2022
THERE HAS BEEN SO MANY MEMBERS AND SO MANY LINE UP CHANGES WITHIN THIS BAND.
So much talent and so much diversity, that one can argue all day as to which line up was its best and perhaps still is.
With that, it's an impossibility, at least for me, to have an autograph collection of even half of all its members.
What I have been very fortunate to collect, is what you see below from some of the sometimes in the band,
and sometimes out of the band members.
This ongoing very difficult band quest continues………………..

There is only one reason why I do not have a
FLEETWOOD MAC, "RUMORS" LP
fully signed within my collection: Simply put, I blew it. This album, and this album alone should
have been my primary focus from Day 1, back in the late 1980's when I started to collect.
If it had been, I would own what very people have and which collectors from all over the world wish they had.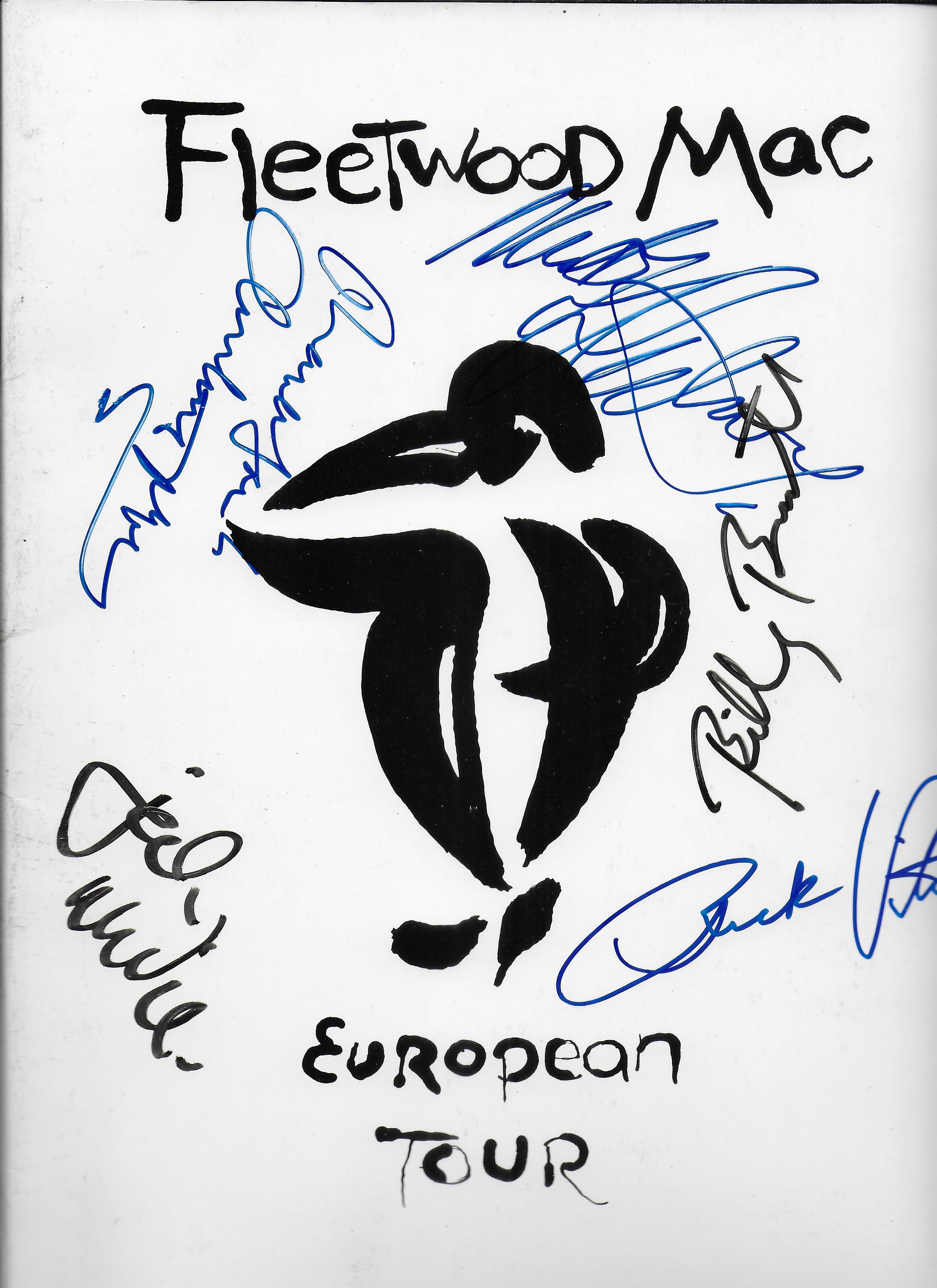 Fleetwood Mac 1990 European Tour Book autographed by:
Mick Fleetwood, John McVie, Billy Burnette, Rick Vito and Christine McVie
(yes, still needs Stevie Nicks to complete)
Signed (back side) of the "Kiln House" LP and the inner lyrics page to the "Fleetwood Mac" LP,
both signed by Mick Fleetwood, and the "Tusk" LP signed by Mick Fleetwood
and Lindsay Buckingham.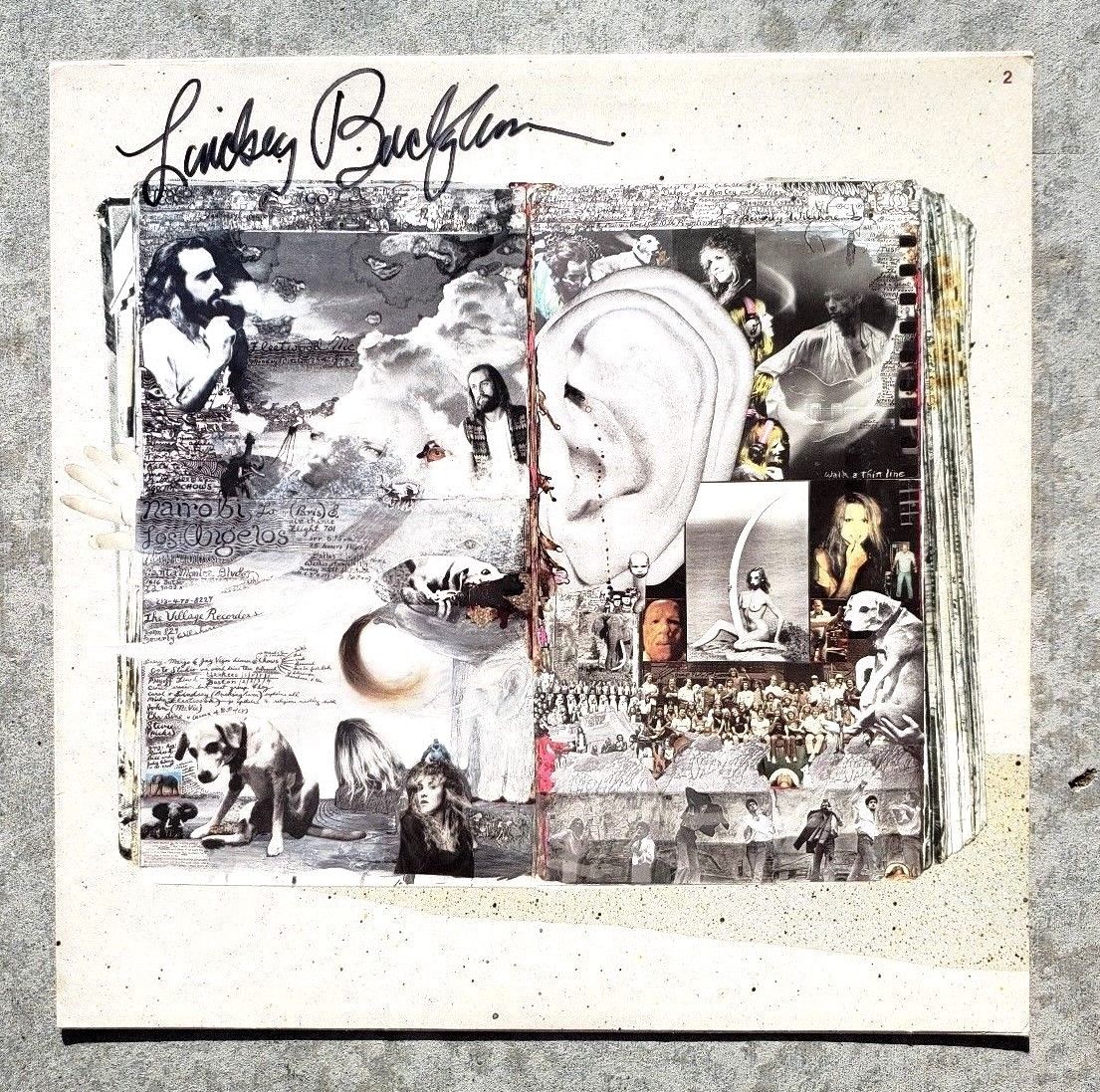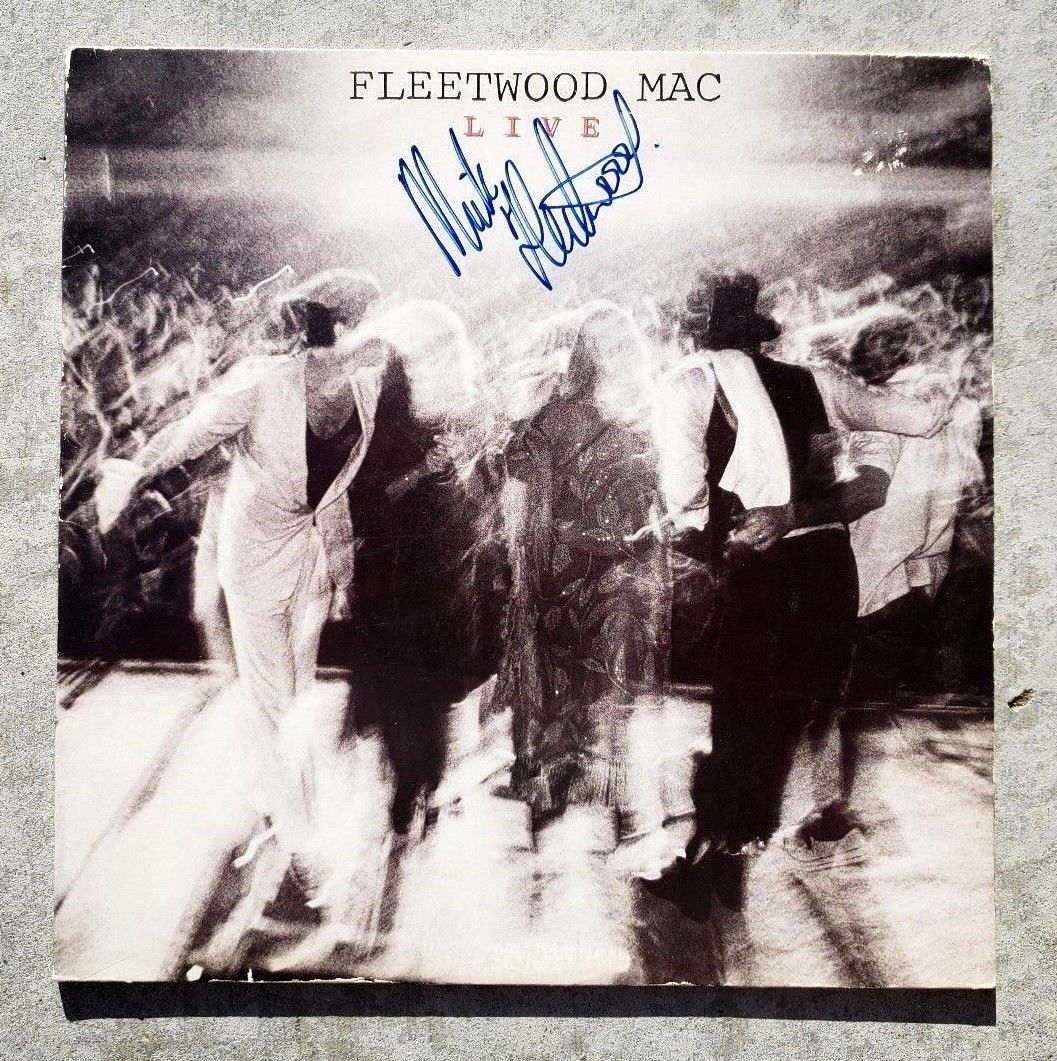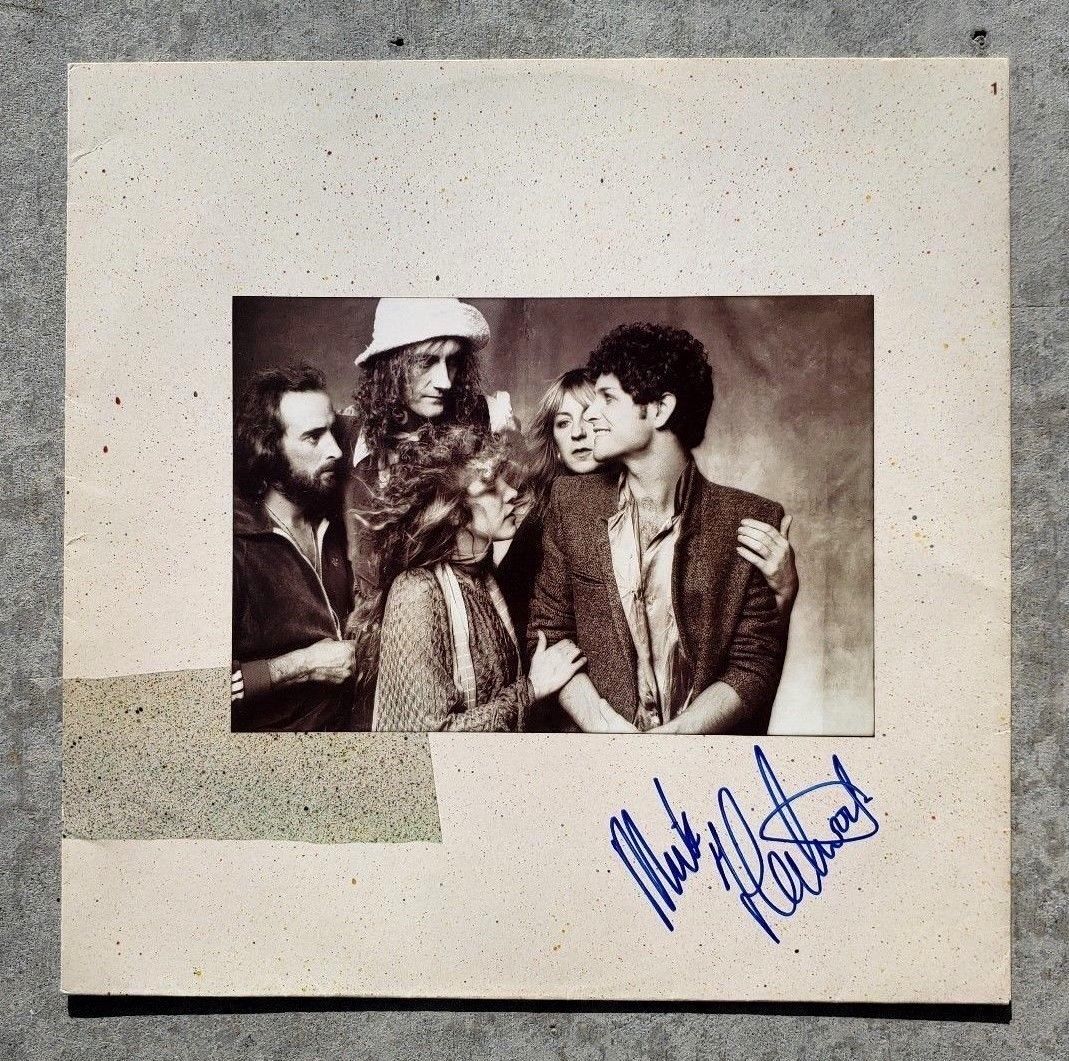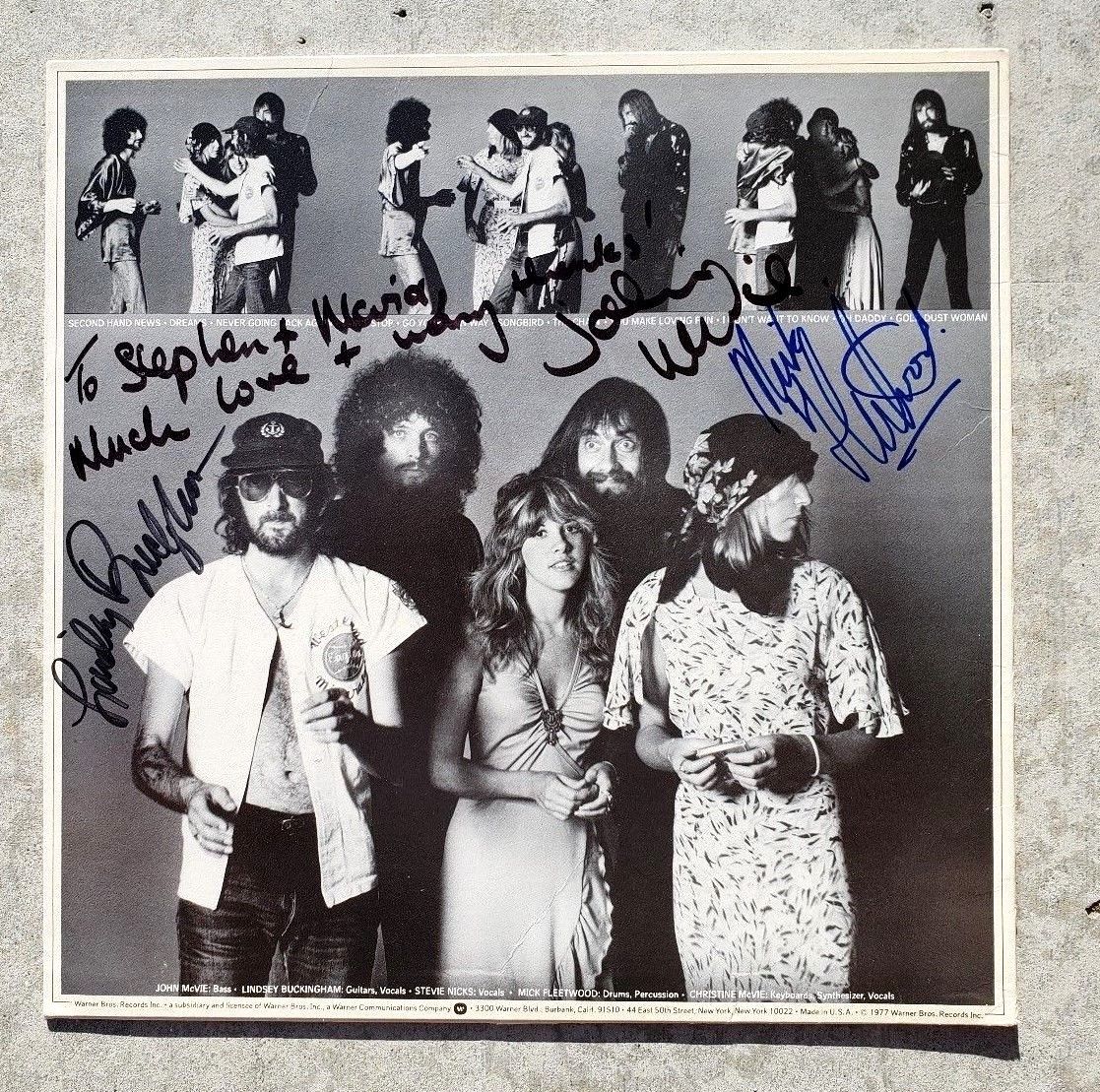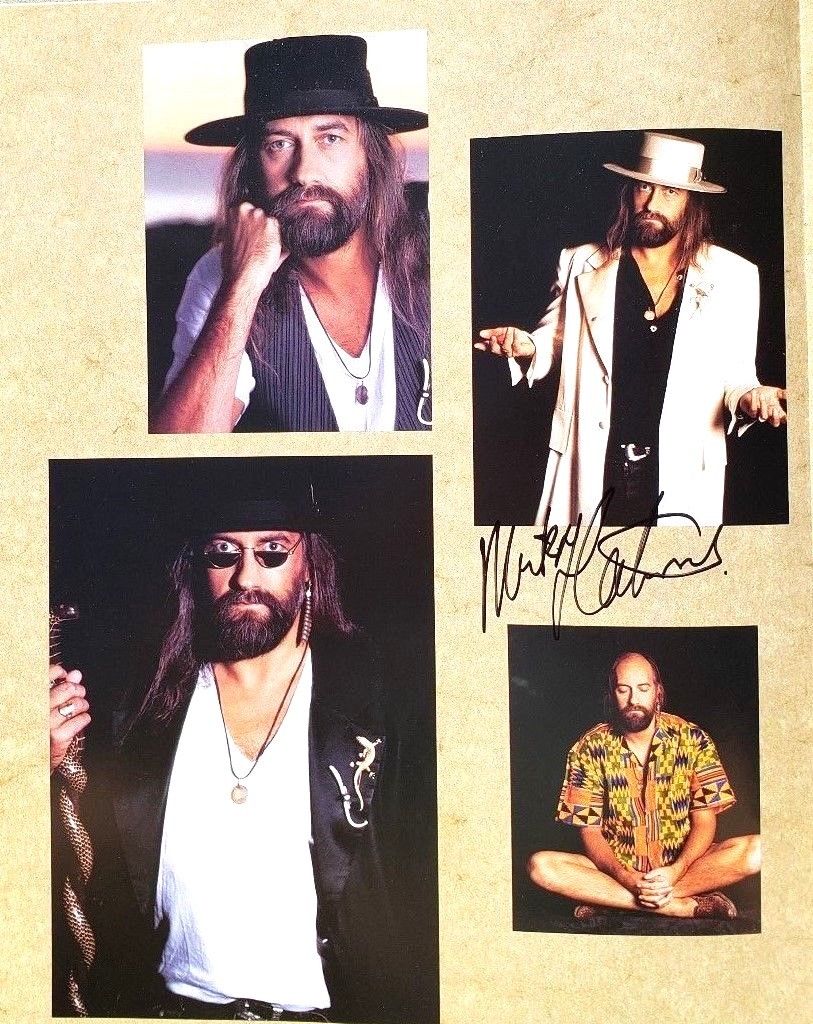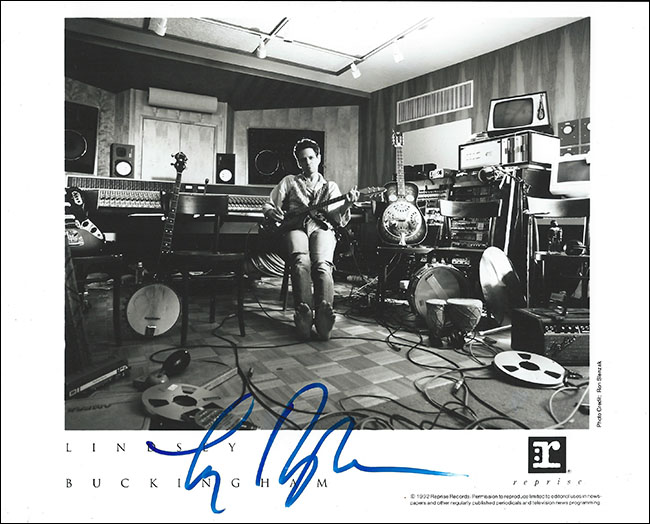 Signed photo of Lindsay Buckingham at the Shrine Auditorium on February 24, 1993.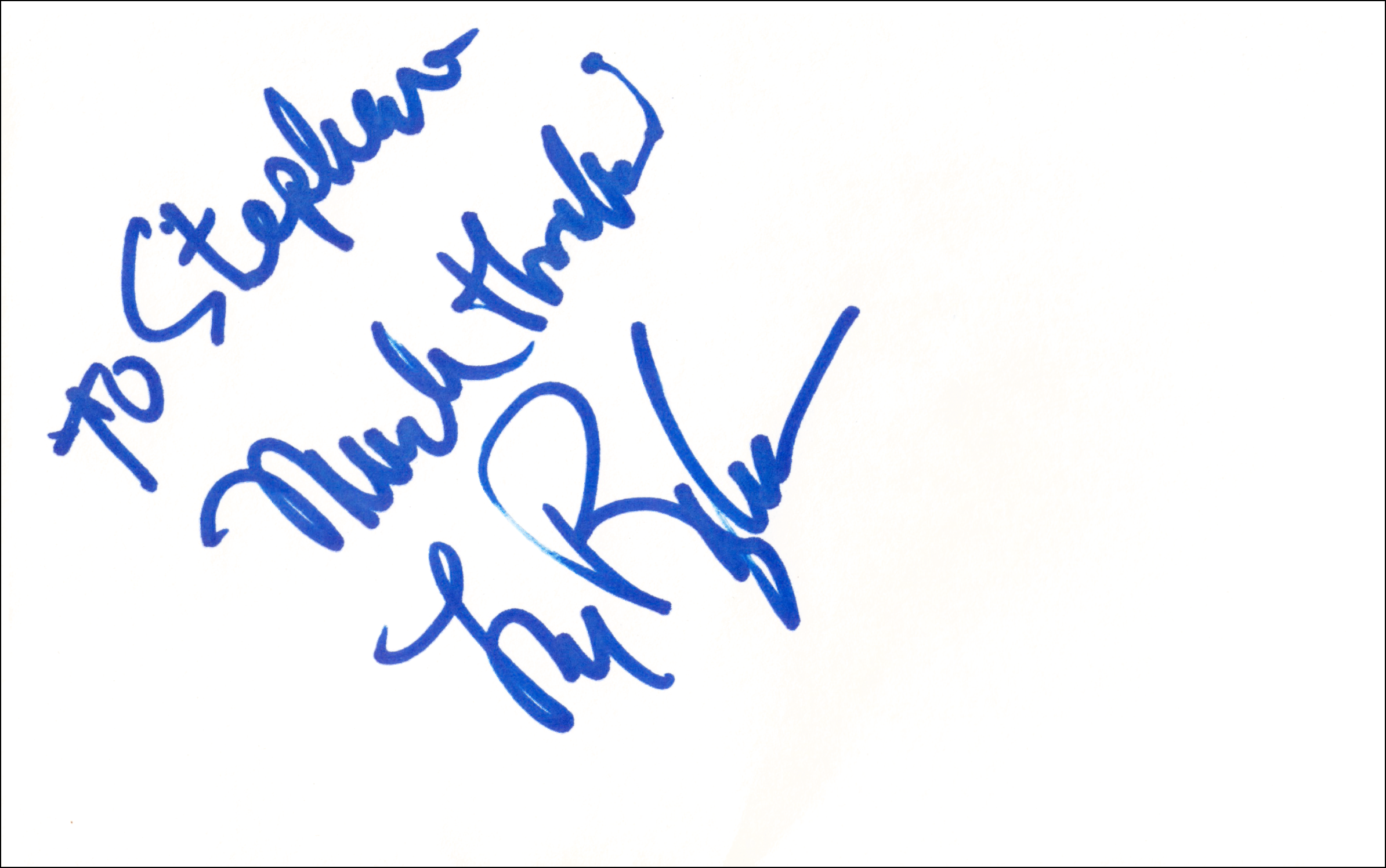 Signed index card of Lindsay Buckingham at The American Music Awards held
at The Shrine Auditorium in Los Angeles on February 24, 1993.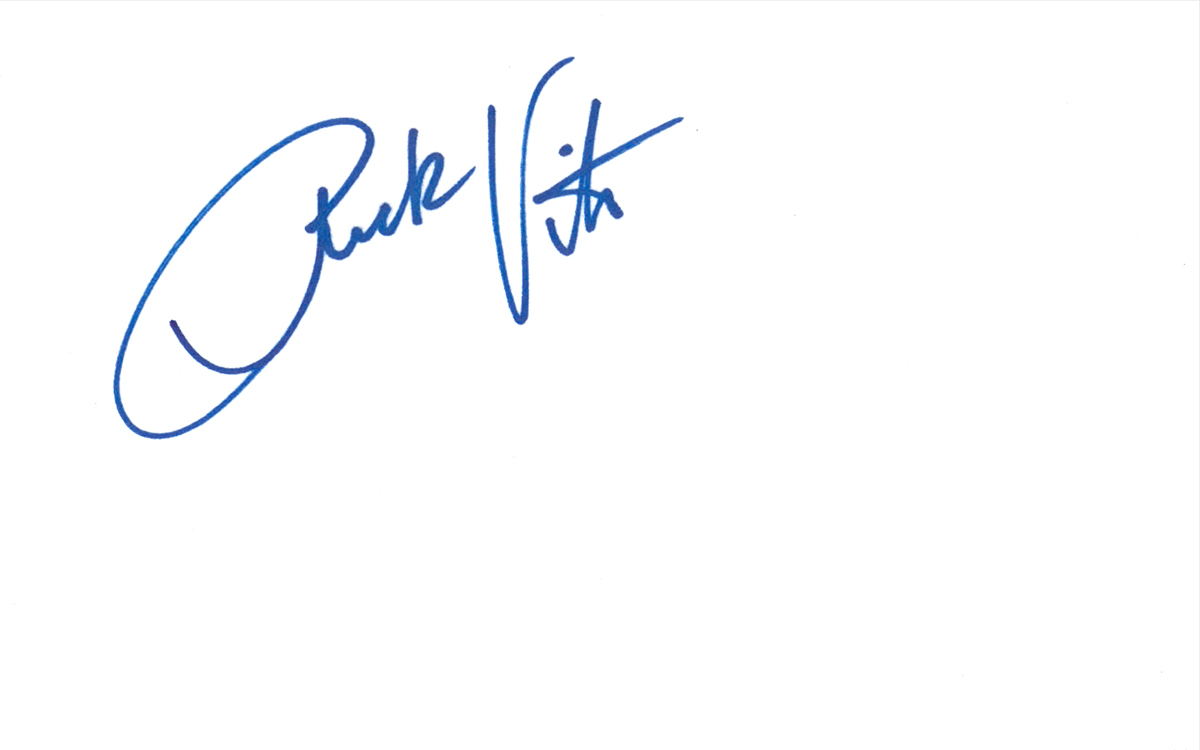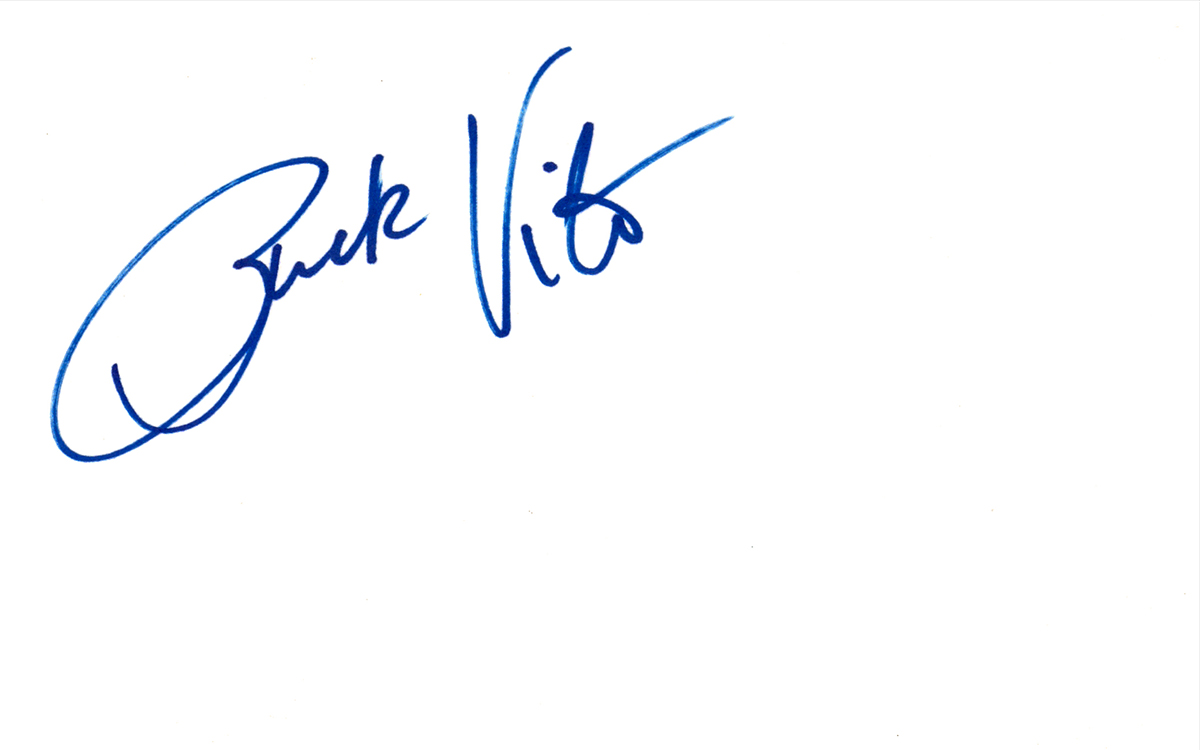 The two above index cards are signed by Rick Vito.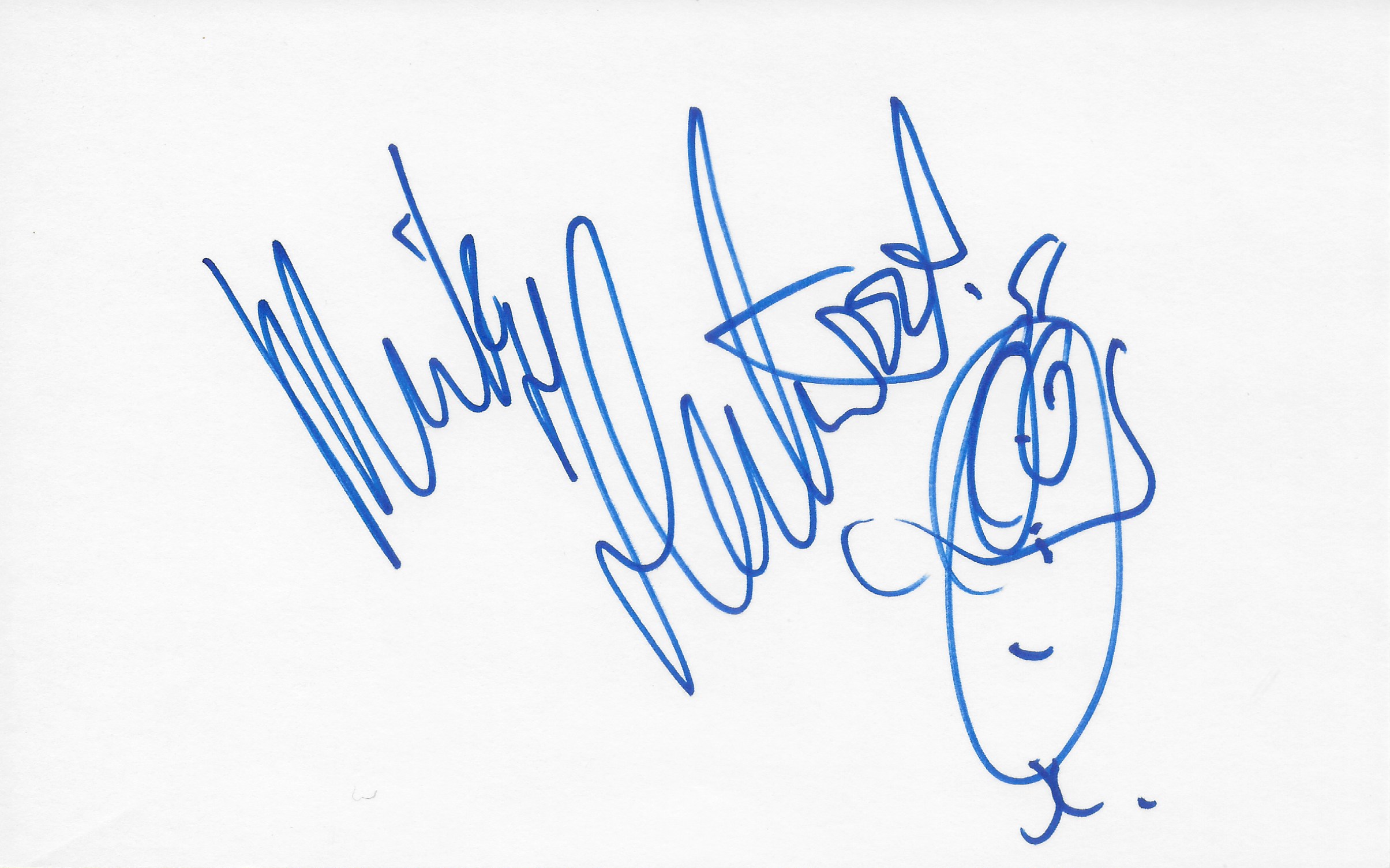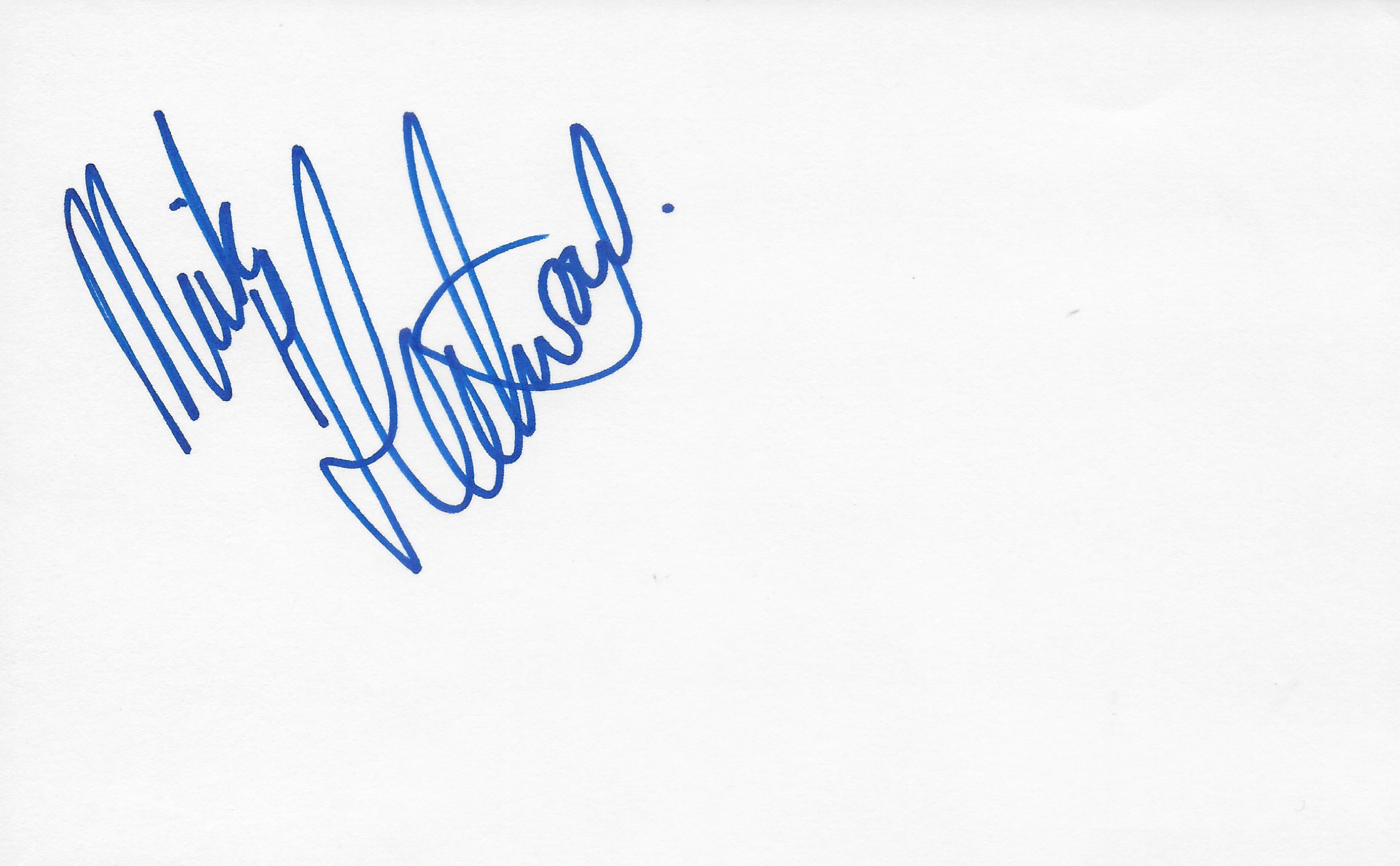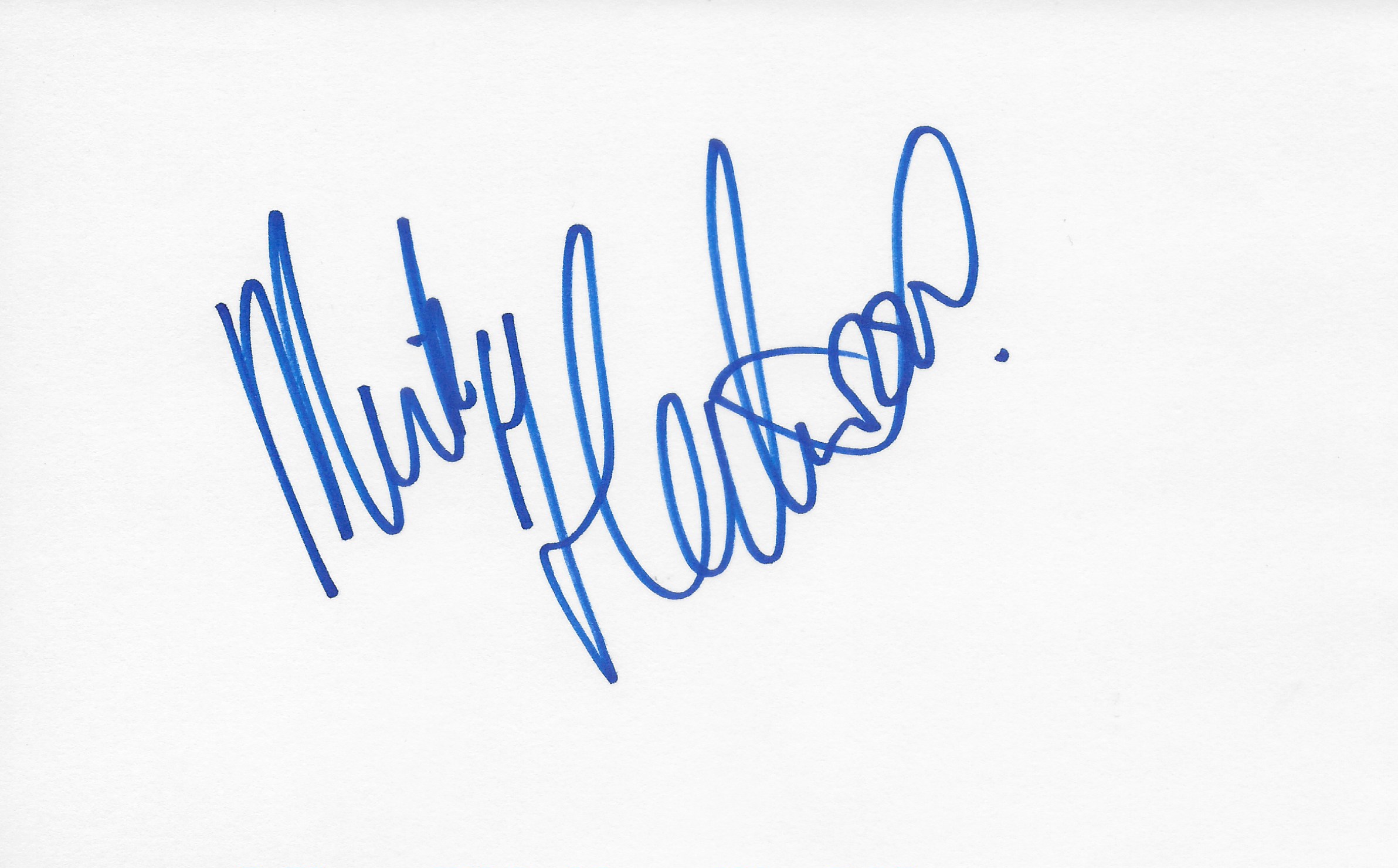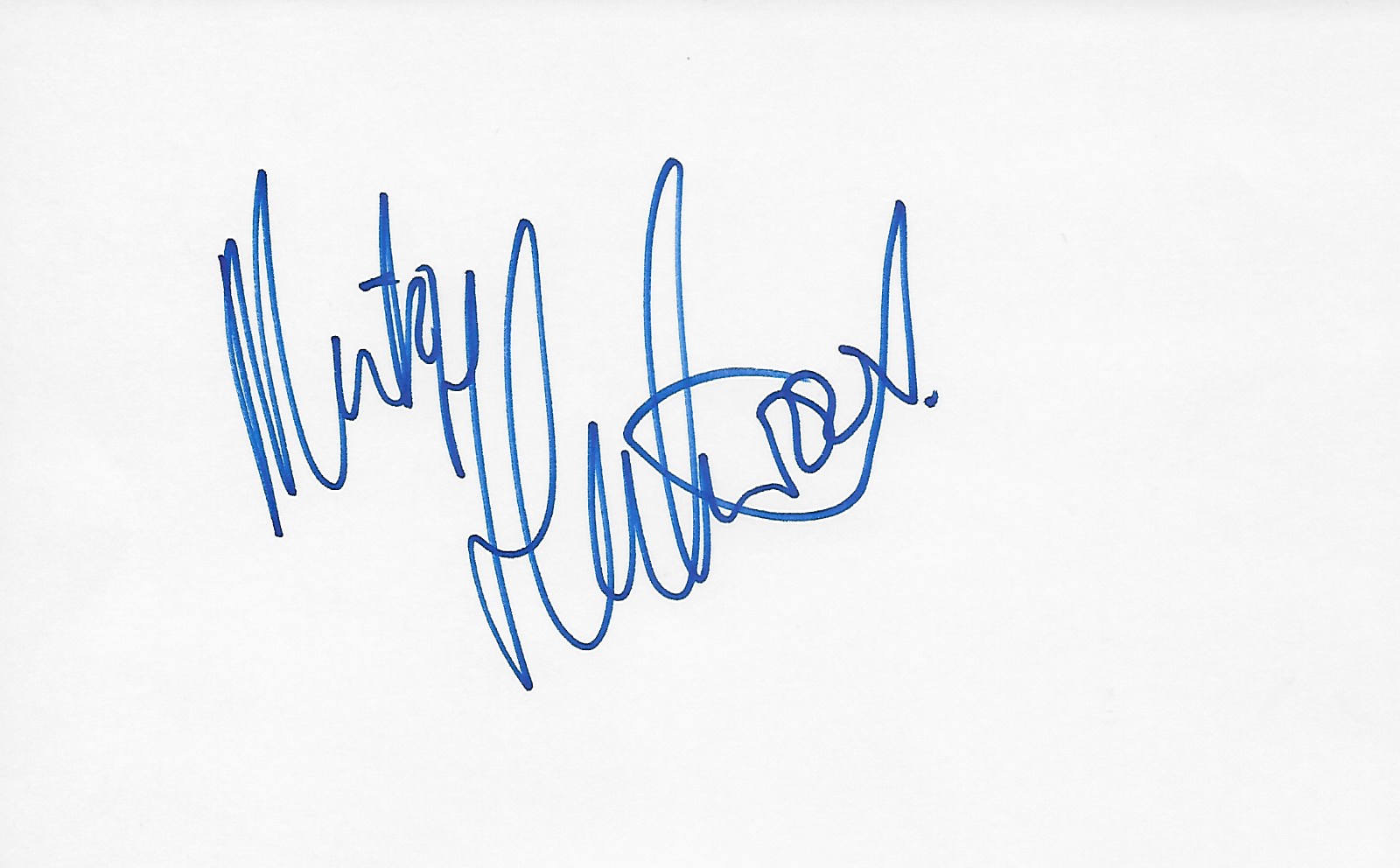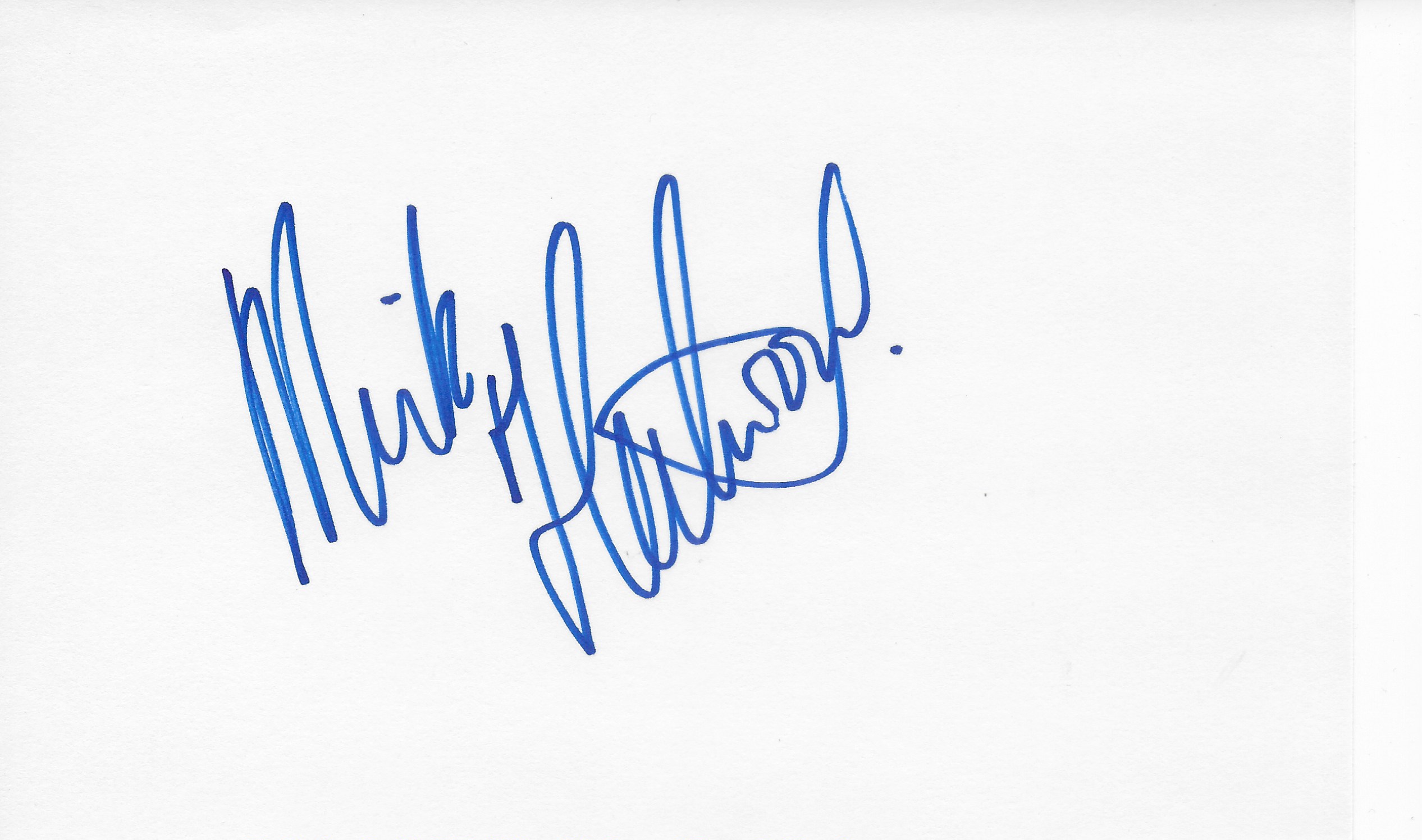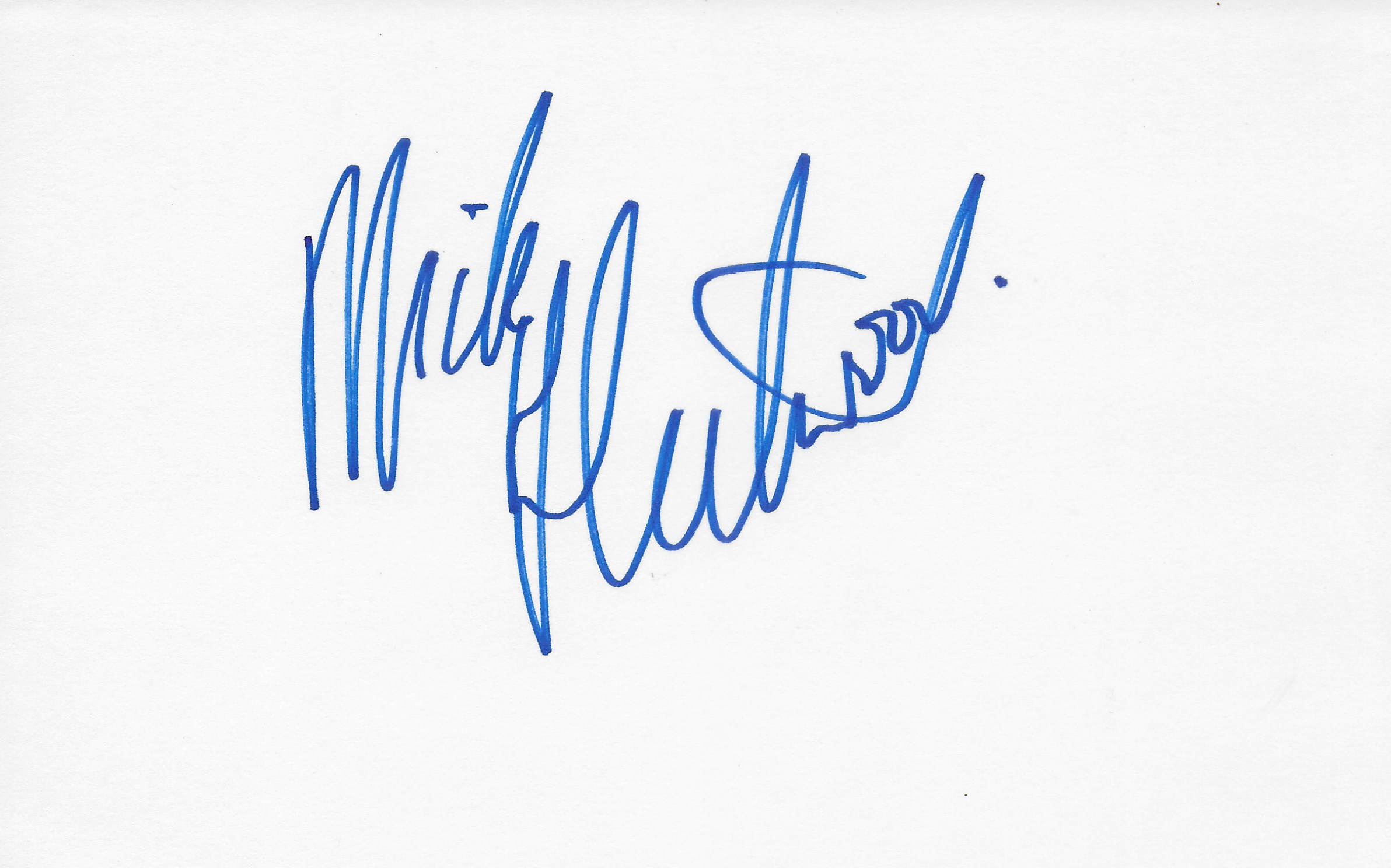 Six of the best autographed 5 X 7 Index Cards signed by Mick Fleetwood.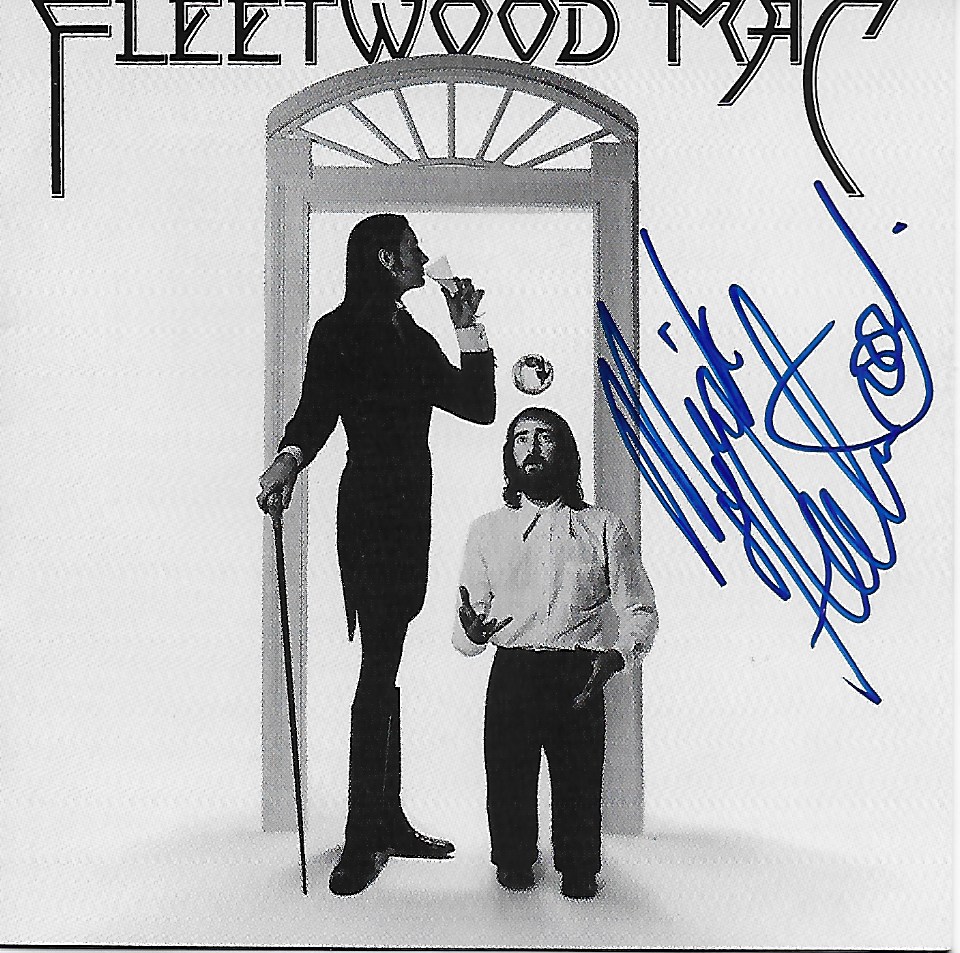 Seven different signed CD covers autographed by
Mick Fleetwood and/or Lindsey Buckingham,
(including the very rare FULL SIGNATURE (in green) by Lindsey).
Full Lindsey Buckingham signatures are very rare to own and very difficult now to obtain. Most date back to the early 1990's (or even earlier) or seem to be only signed in a setting that is indeed very private or unique.
Signed autobiographical books by Mick Fleetwood in Los Angeles on December 4, 1993.
Signed hardcover and softcover editions of Mick Fleetwood's
"My Twenty-Five Years in Fleetwood Mac"
signed on various pages by Mick Fleetwood, John McVie and Lindsey Buckingham.
————————————————————————————————
AUTOGRAPH NOTE:
I have been only able to have minor success obtaining the signatures from just a few of the many different members of the band Fleetwood Mac.
Mick Fleetwood: I have had the best luck with obtaining his signature at his club Fleetwood's in West Hollywood on February 13, 1991; KLSX-FM Rock Expo on December 4, 1993 at the Bonaventure Hotel; KLSX Rock Art Show at the Directors Guild in West Hollywood on May 16, 1994, The Morrison Hotel Photograph Presentation at The Sunset Marquis August 4, 2018, and at other events.
Christine McVie signed at club Fleetwood's in West Hollywood on February 13, 1991.
John McVie, Billy Burnette and Rick Vito were obtained at the House of Blues in West Hollywood and at KLOS radio.
Lindsey Buckingham signed the much fuller signatures (only) at The Coach House in San Juan Capistrano on December 10, 1992; also at The Shrine Auditorium for The Grammy Awards.
Stevie Nicks signed the 8X10 group photograph(s) at KLOS Radio on May 23, 1994, and at her very rare meet and greet at The Greek Theater on May 19, 2007.
Not much more luck with the other many members of this very amazing and so talented band.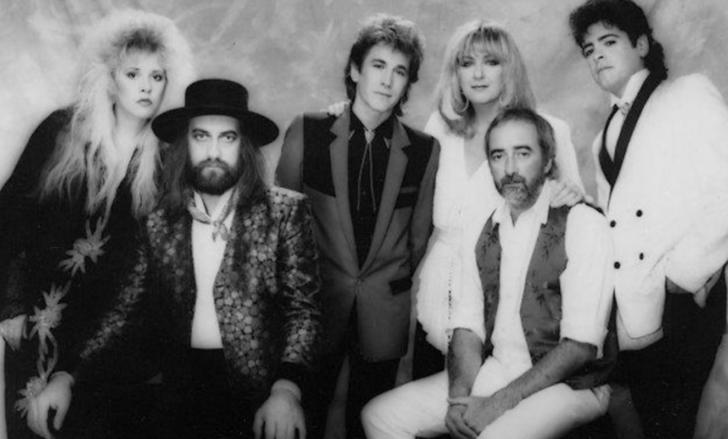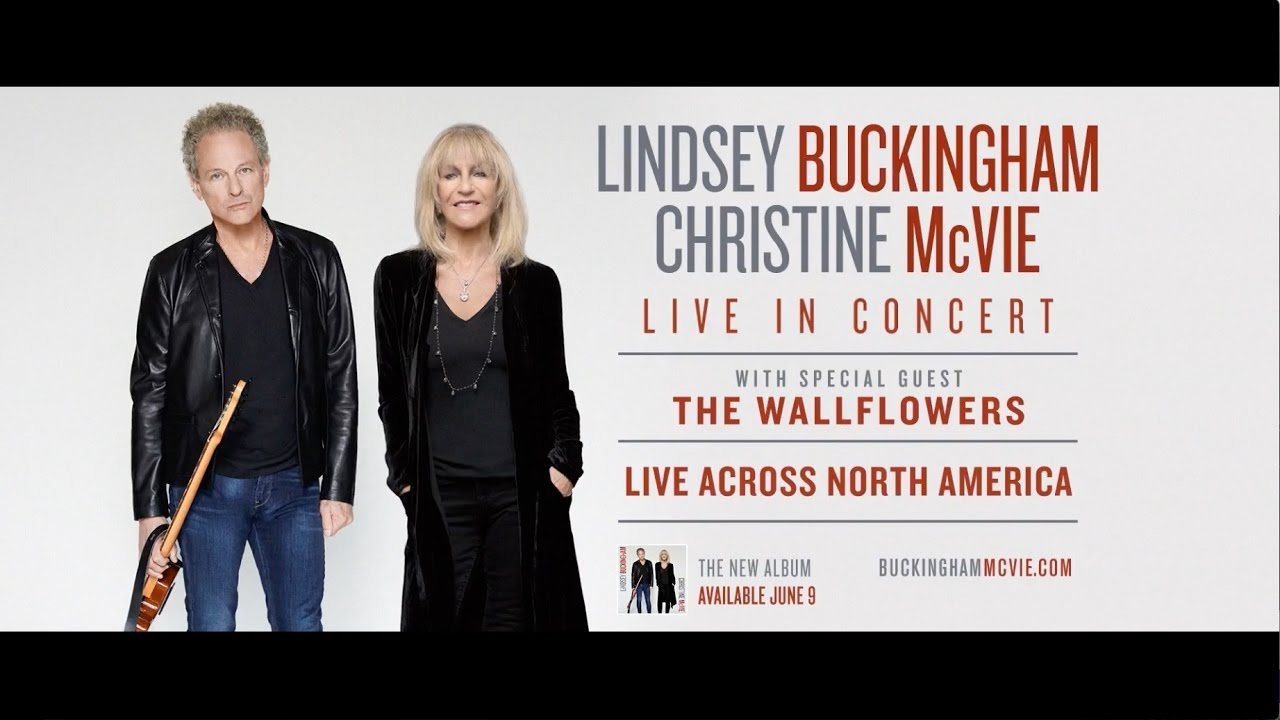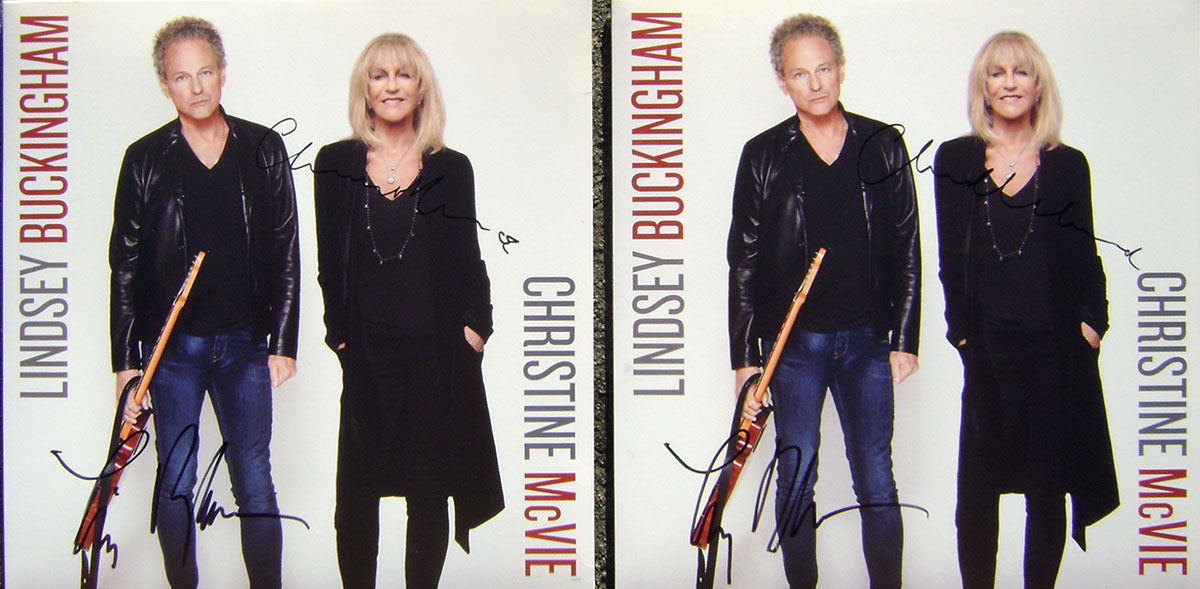 Pre-signed self entitled albums and sold during the
2017 Lindsey Bukingham and Christine McVie summer U.S. Tour.
I purchased a total of 6 of these pre-signed albums that night.
I still think it is fantastic to sell pre-signed merchandise at concert venues.
A group of about 4-5 fans waiting for hours in 112 degree weather to obtain the signatures of
both Lindsay Buckinham and Christine McVie as they arrived at the Comerica Theater on July 25, 2017.
Both artists refused to stop and sign and instead, simply waived (off/to) the "crowd".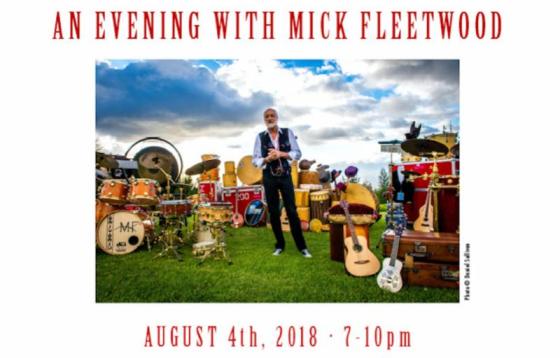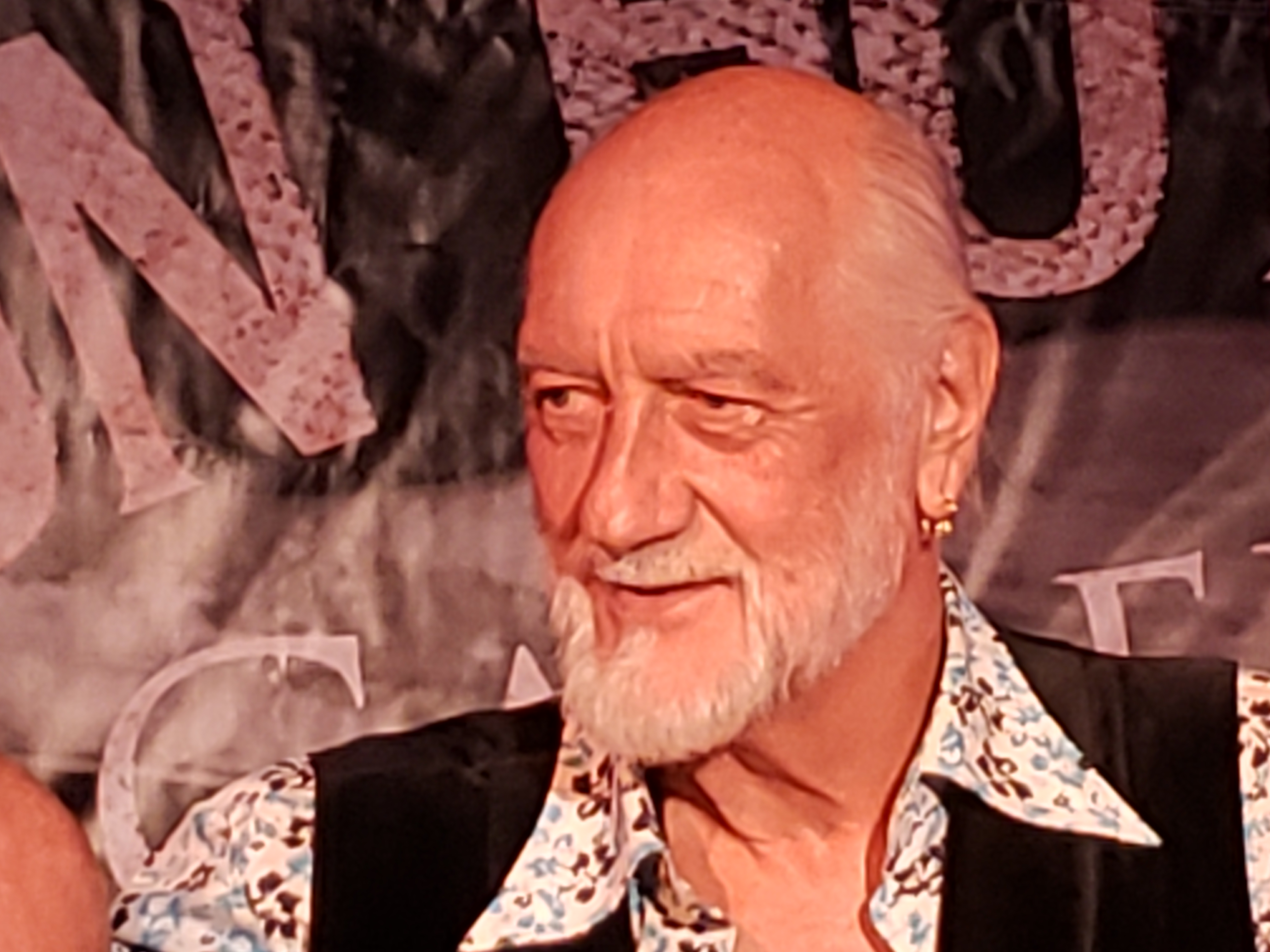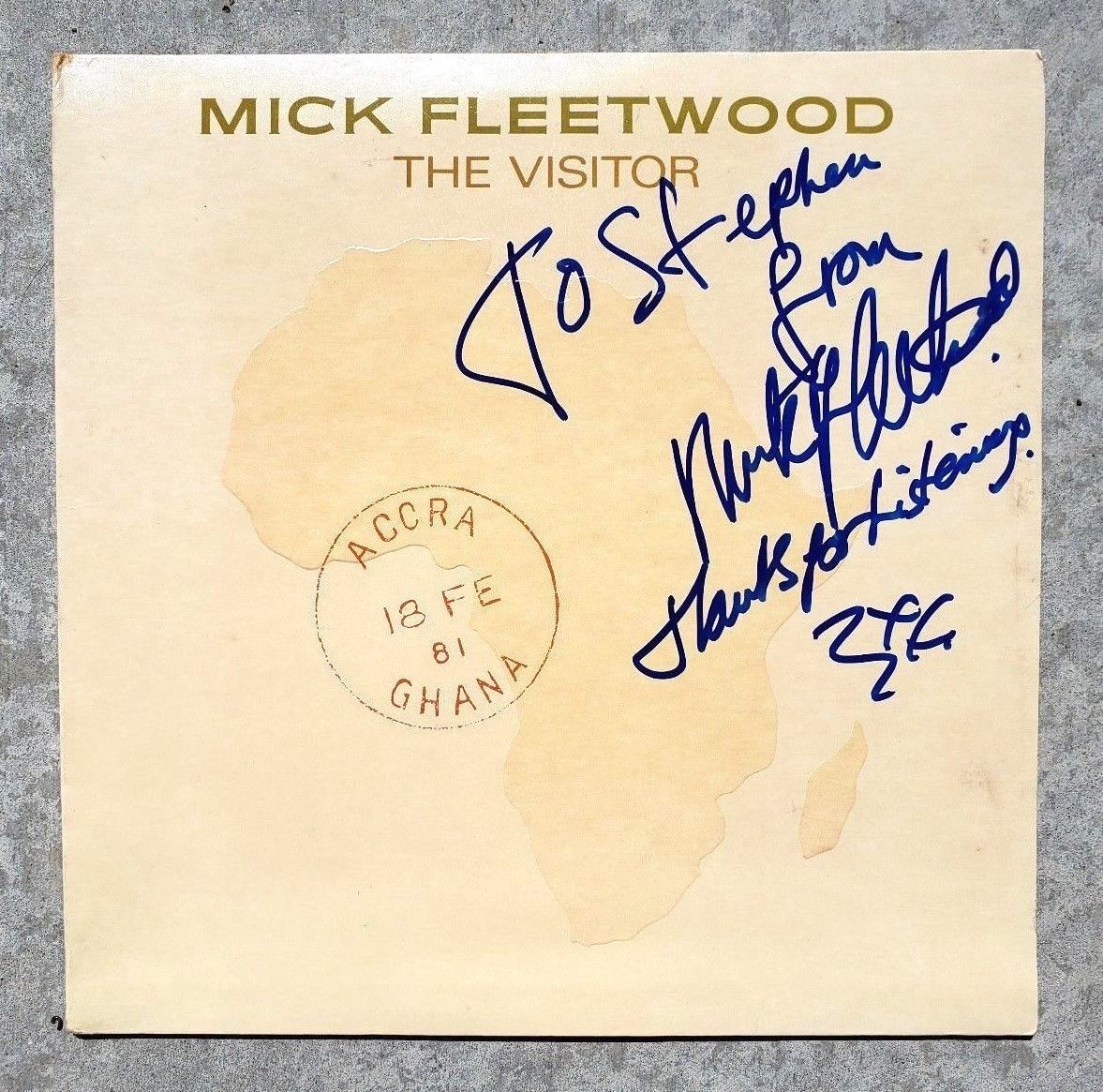 Mick Fleetwood signed the above album for me at The Sunset Marquis Hotel
at his MORRISON HOTEL GALLERY photograph exhibit on August 4, 2018.
(photograph of Mick from the same evening a bit before he signed the album)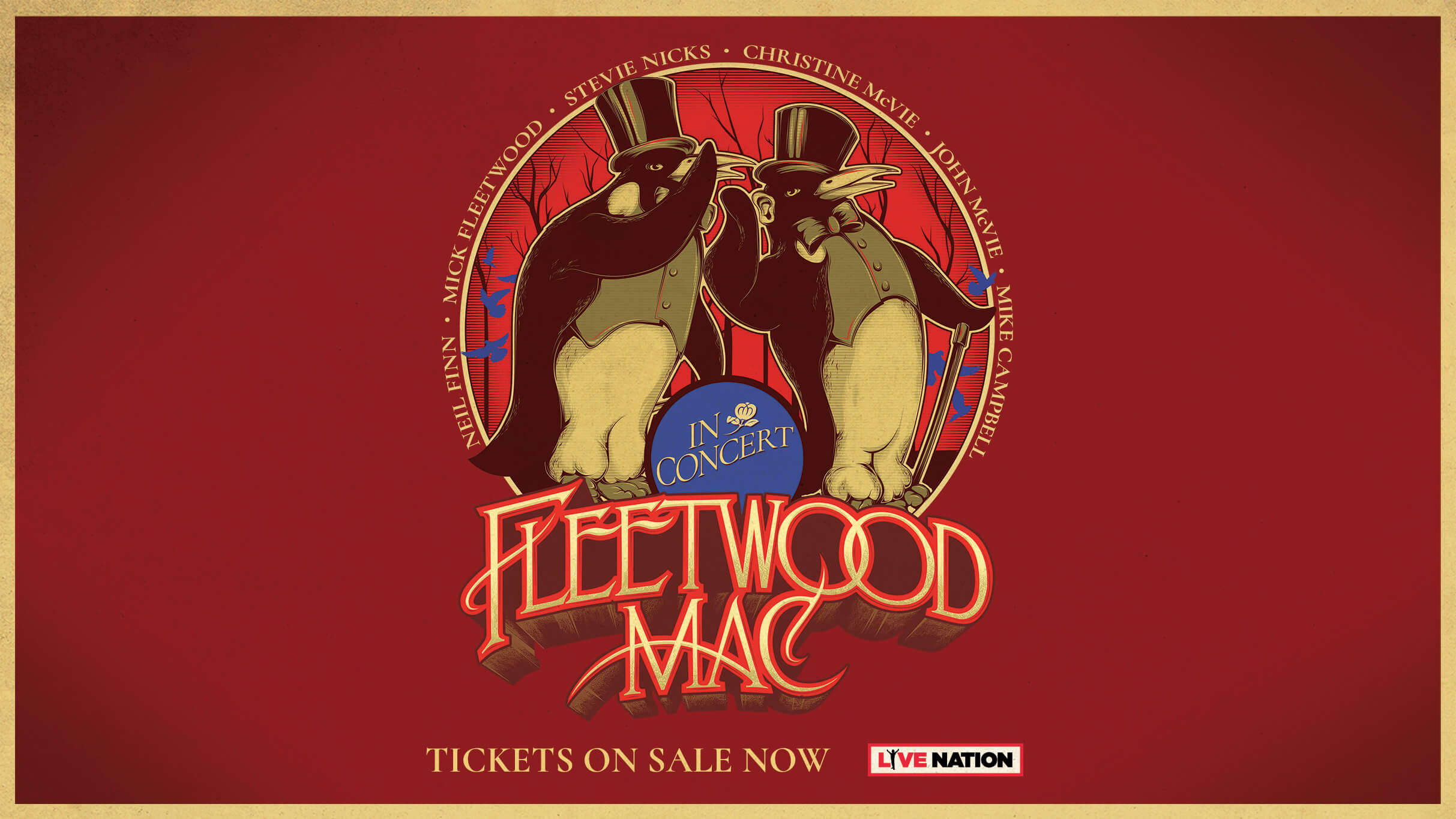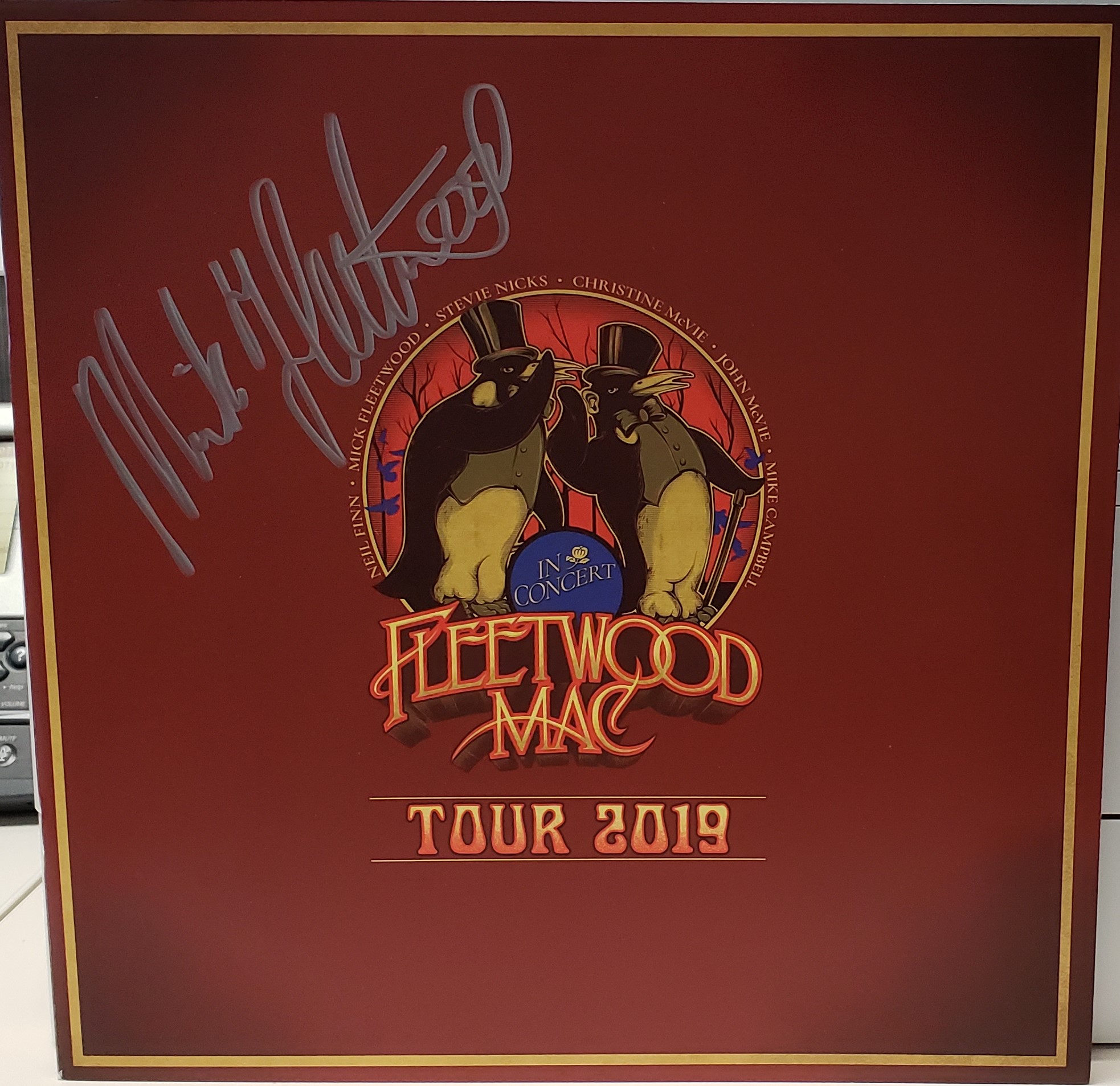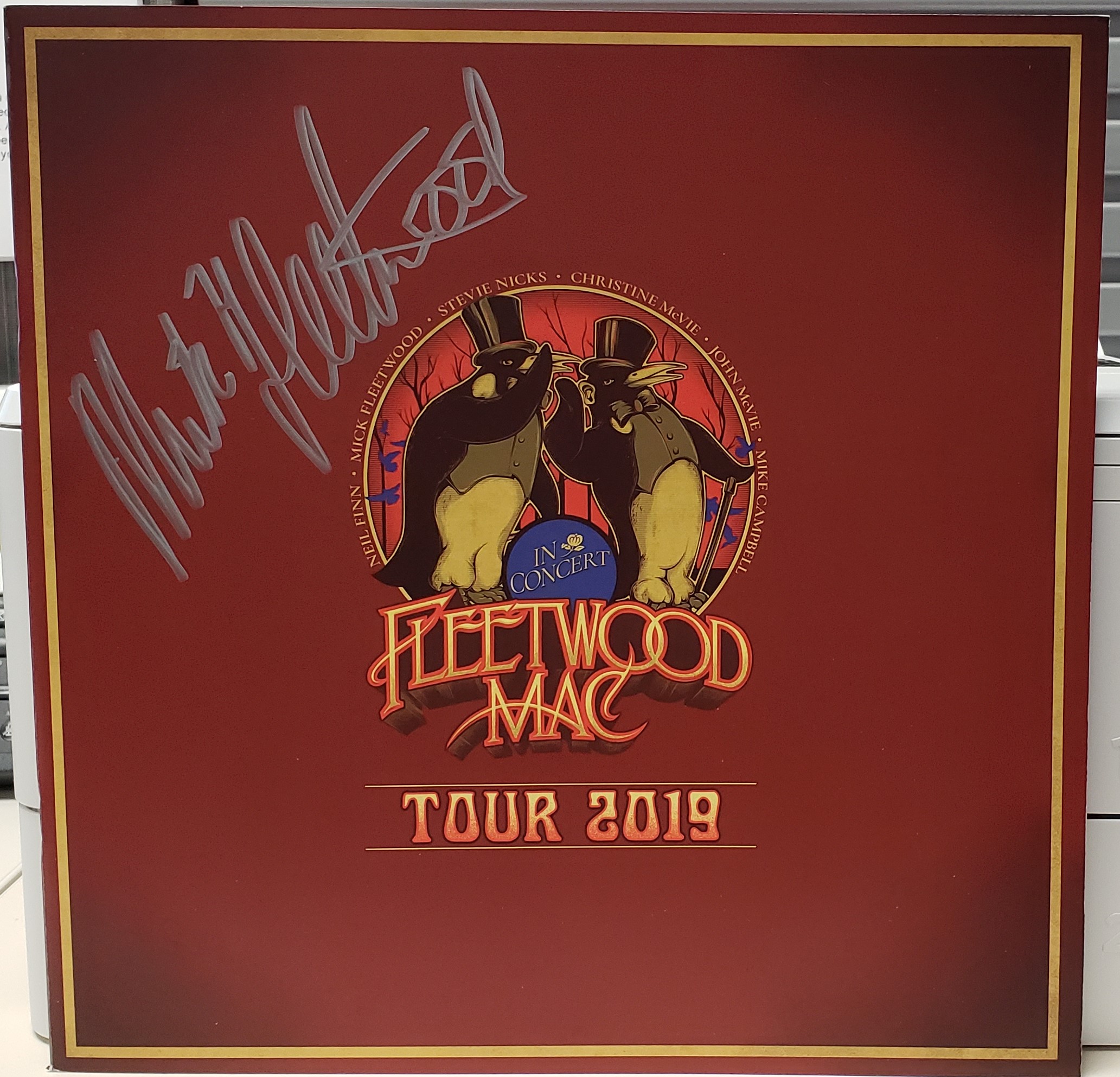 FLEETWOOD MAC CONTINUES ON IN 2018 AND BEYOND
………………….with a new line up.
TWO of the FIVE PRE-SIGNED Tour Books autographed by Mick Fleetwood
and sold directly from his website.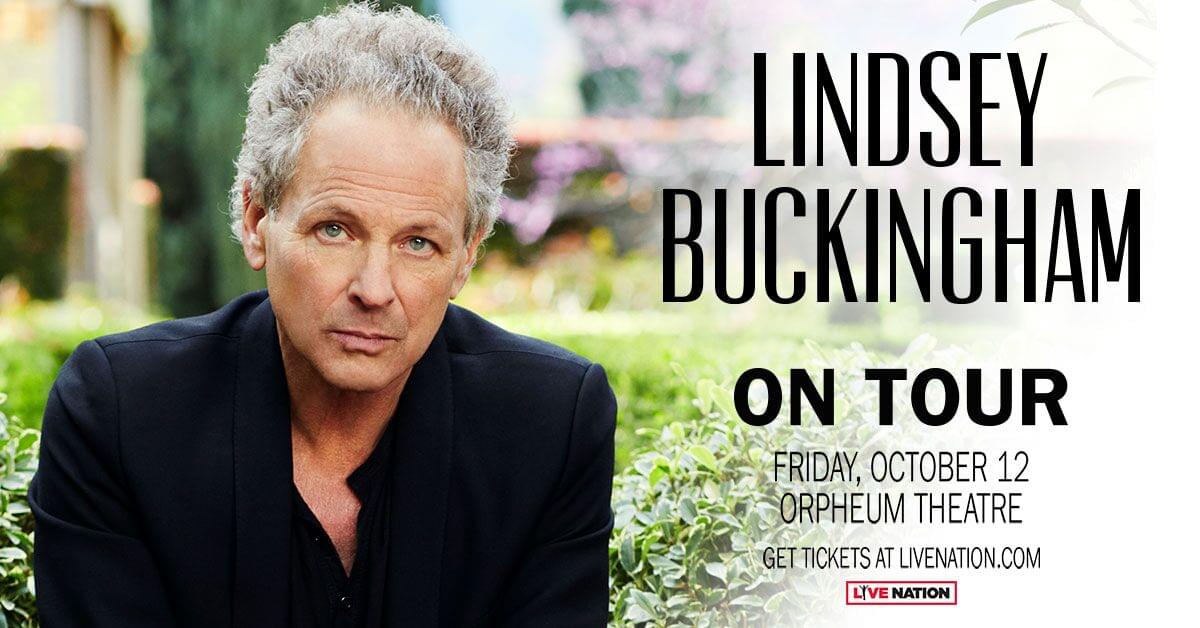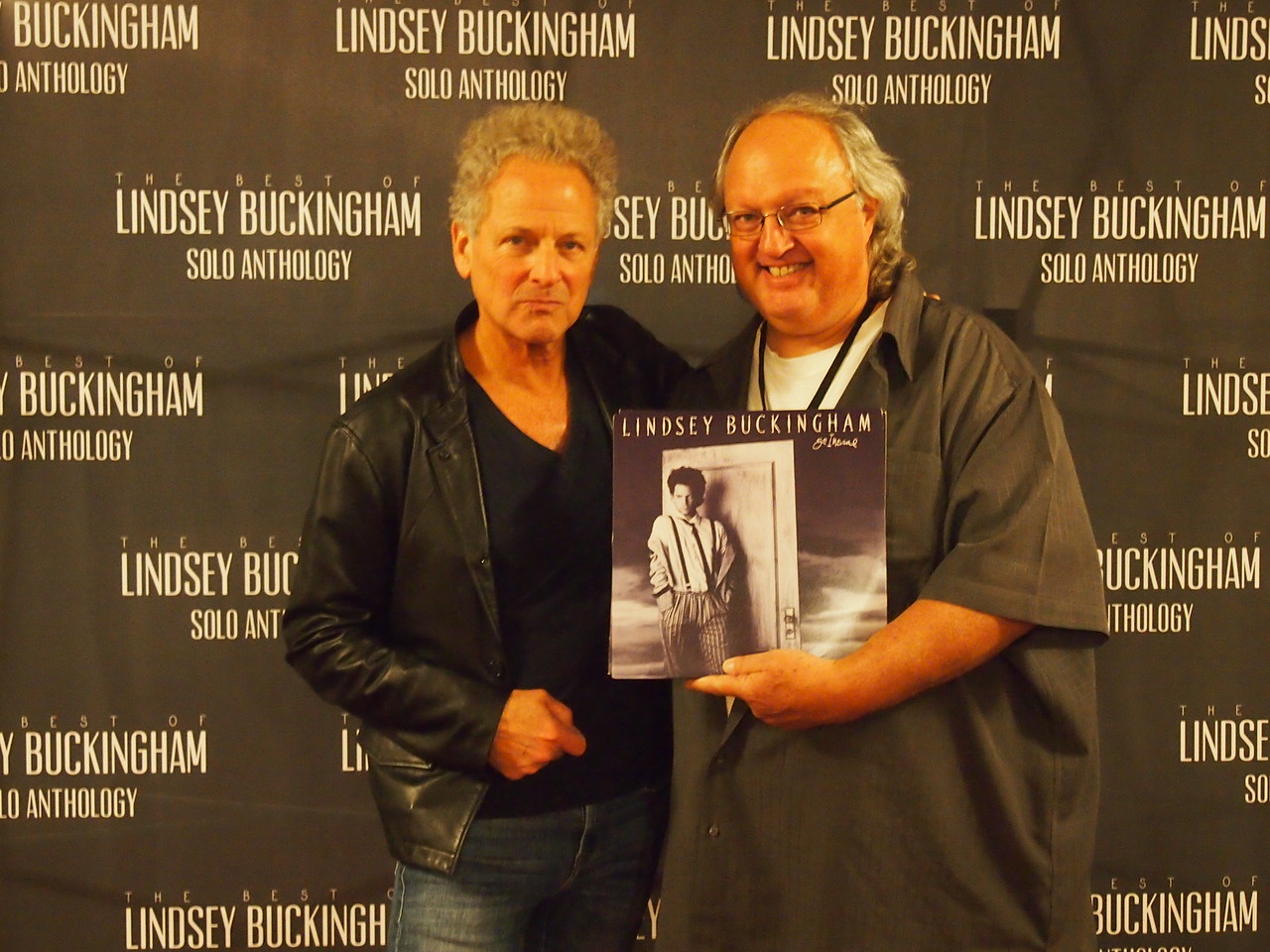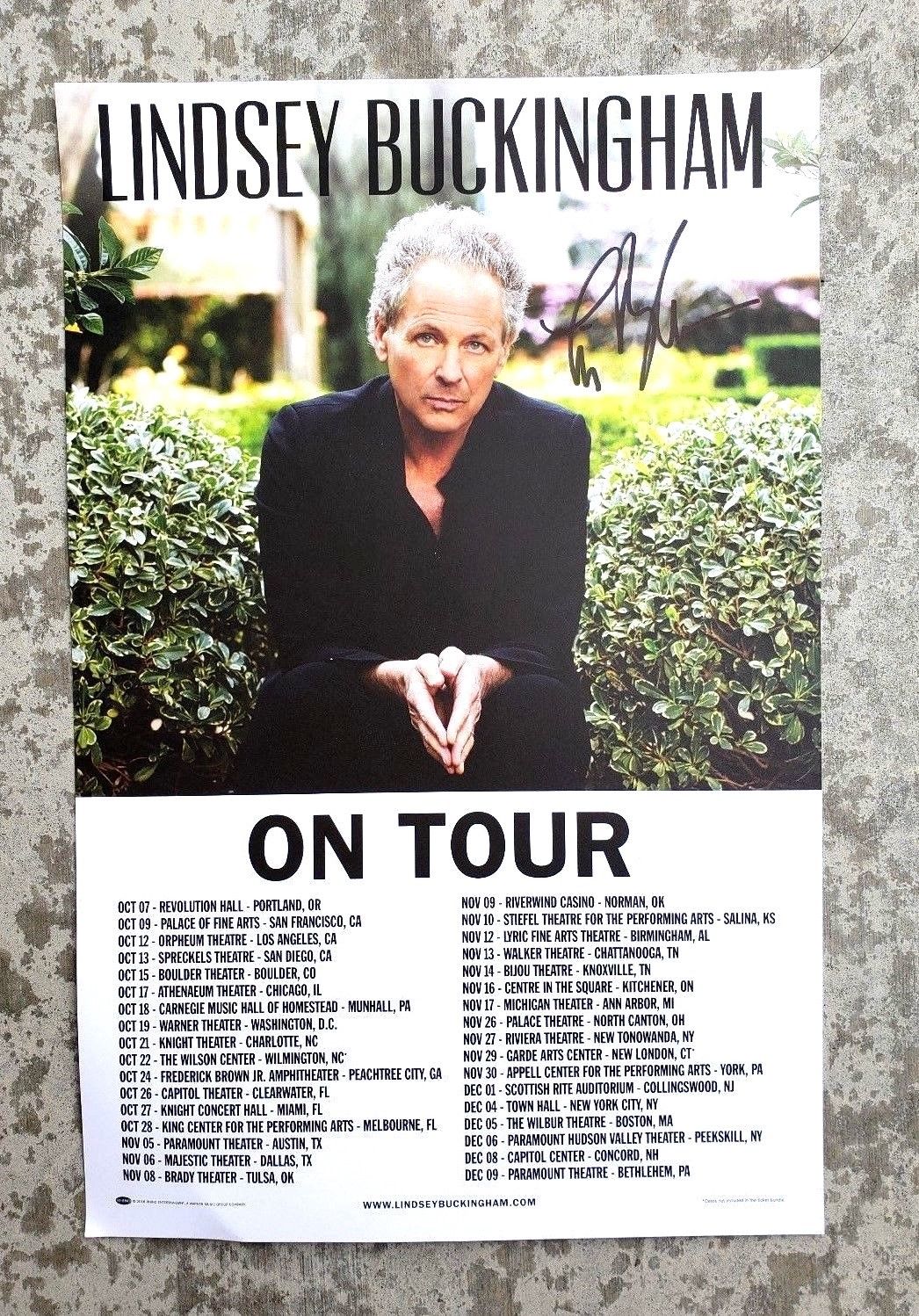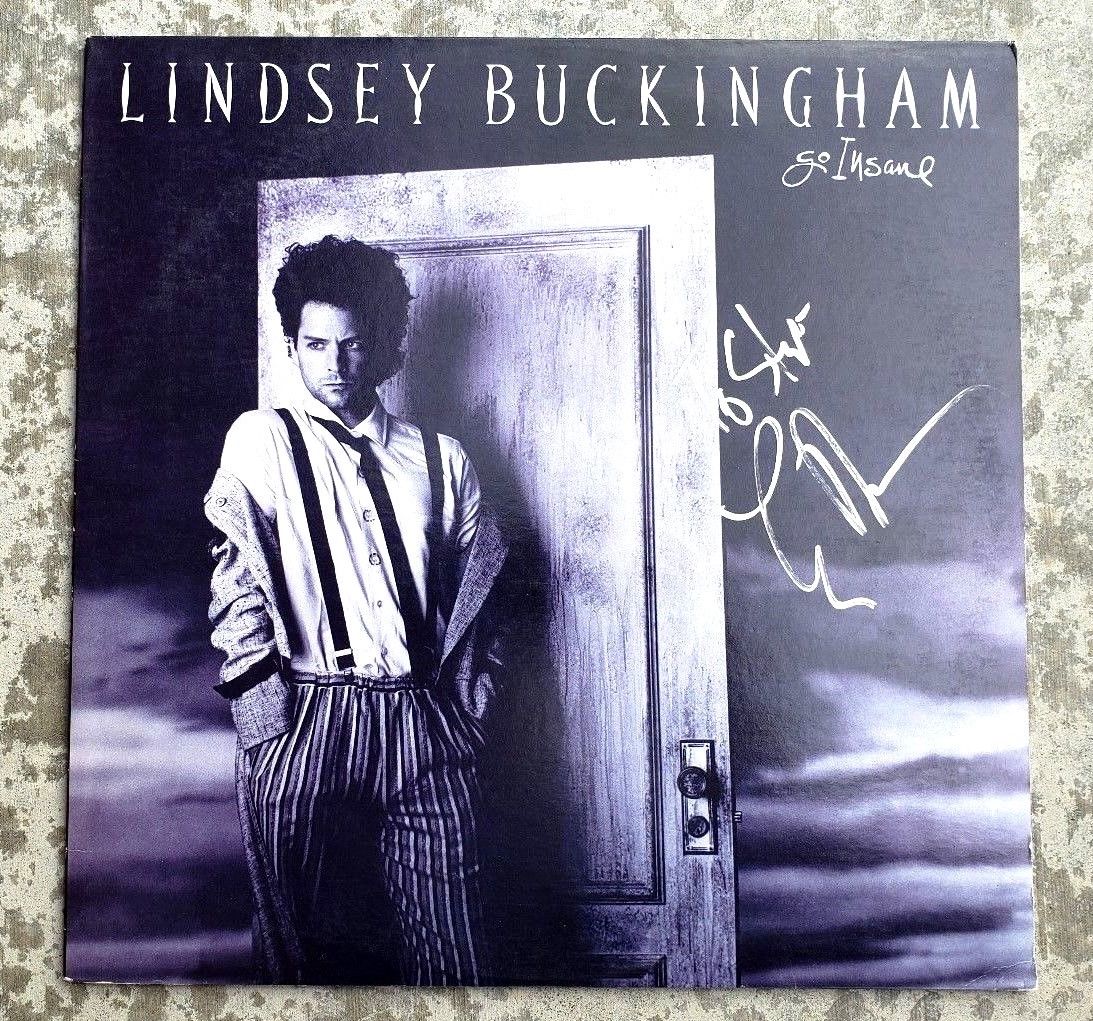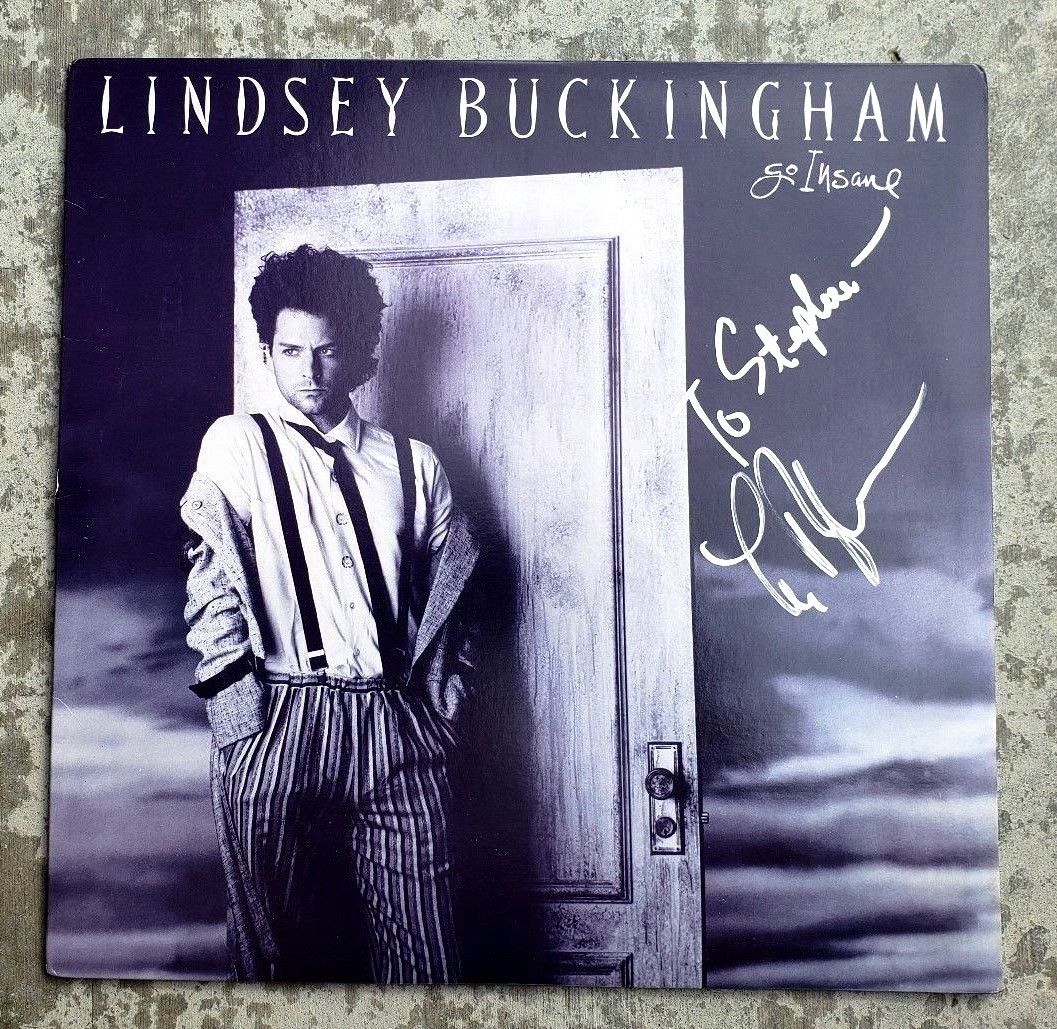 Of the over 40+ Meet and Greets that I have paid for since 2010
THIS ONE TONIGHT RANKS AS PROBABLY THE MOST DIS-ORGANAZINED AND
POORLY PUT TOGETHER OF ANY PREVIOUS, UP TO THIS POINT.
The focus here was more of a photo "opt" and not a Meet and or Greet.
Lindsey Buckingham at no time welcomed, addressed or thanked the crowd of about 40 fans once he appeared in the meeting room.
Instead, after popping out from a hallway door, he spent more time fiddling with and paying more attention to a very unorganized camera man with his camera trying to adjust for the poor lighting/lack of flash (who insisted that fans would not be allowed to take pictures with their own camera). As well, and prior too, his staff stated, "no autographs" thus those very few fans that had an extra item to get signed, had to sneak their items through only to receive the now common and standard very sloppily signatures autographed signed by Lindsey, much to the chagrin of the staff.
This was no MEET AND GREET as I am still very much waiting for "The Greet"!
What is was, was a very rushed and fast photo opt that seemed to be more of an inconvenience than a pleasure to Lindsey Buckingham. I cannot ever see myself spending my hard earned money again for such a sour experience, nor would I recommend any other fan to pay the extra unless they are prepared for much of what was provided at this encounter.
Lindsey could of easily spent 2 minutes (just 2 quick minutes) welcoming the crowd, thanking them for attending, or saying something in appreciation for those that cared enough for this man and his music, to pay $300 extra to meet him.
He chose to say nothing welcoming or warming to his fans.
ABOVE you will see the sloppy pre-signed poster as part of the Meet and Greet package, the two signed albums that I had to "fight" to obtain getting autographed, and a photo of myself and Lindsey. I have both tremendous respect and admiration for this mans talents and what he has contributed to R&R, however, on this day and this time, he seemed like he had some kind of a bug up his boo-boo.