EASILY ONE OF MY FAVORITE BANDS EVER.
I AM SO IN AWE TO HAVE COLLECTED THE FOLLOWING SIGNATURES:
My autograph relationship with Led Zeppelin is primarily
from the years of 1986 through 2004, with thus far no personal encounters since.
SPECIAL NOTE ABOUT THE LED ZEPPELIN AUTOGRAPHS ON THIS PAGE:
I did not ever obtain any John Bonham autographs as he died before I started collecting.
There is one very special signed item below piece noted below signed by Jimmy Page and Robert Plant,
that I obtained at the June 29, 1990 rehearsals for the June 30th, 1990 Knebworth Pop Festival in Stevenage, England.
The remaining Robert Plant and Jimmy Page, as well as John Paul Jones signatures were all obtained in Los Angeles.
_________________________________________________________________________________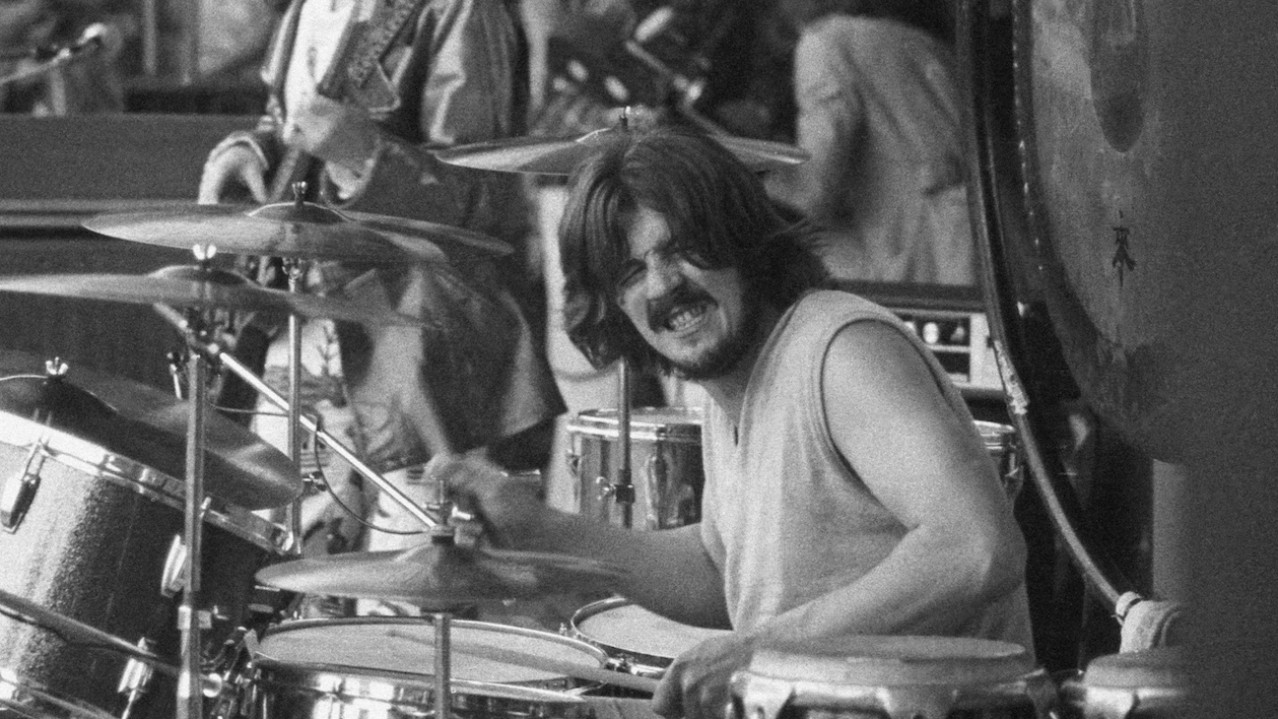 The greatest drummer of my lifetime:
REST IN PEACE MR. JOHN BONHAM
May 31, 1948 — September 25, 1980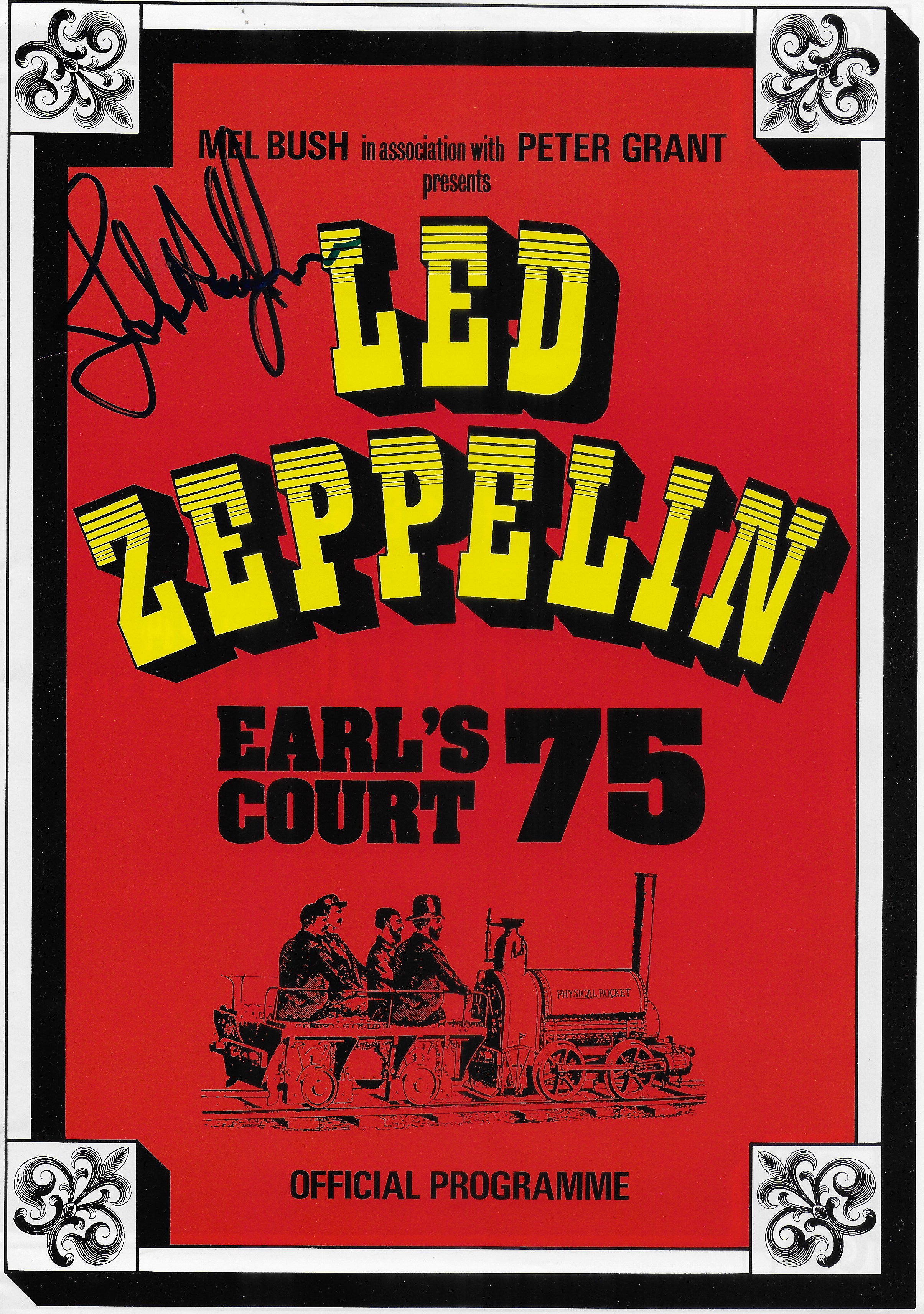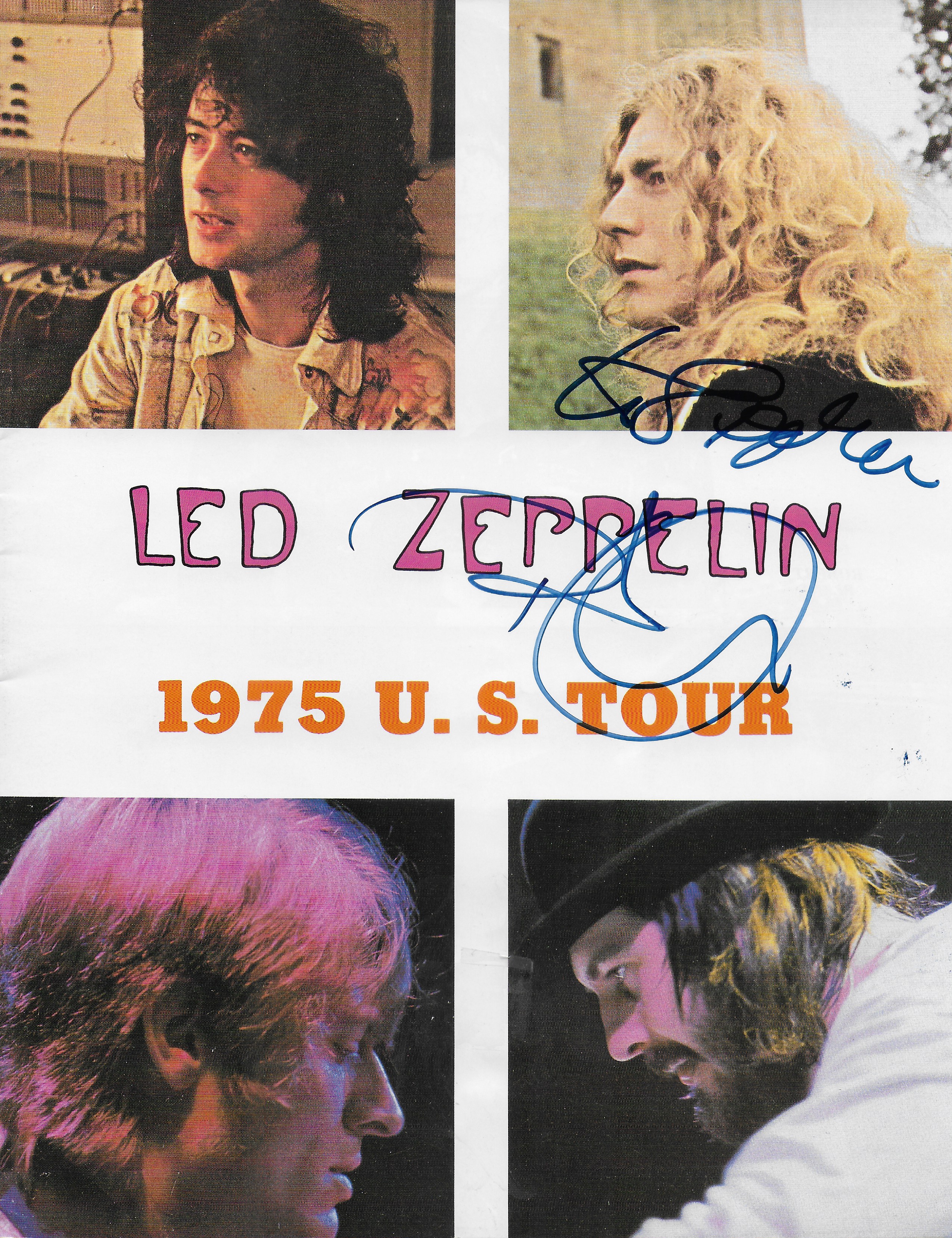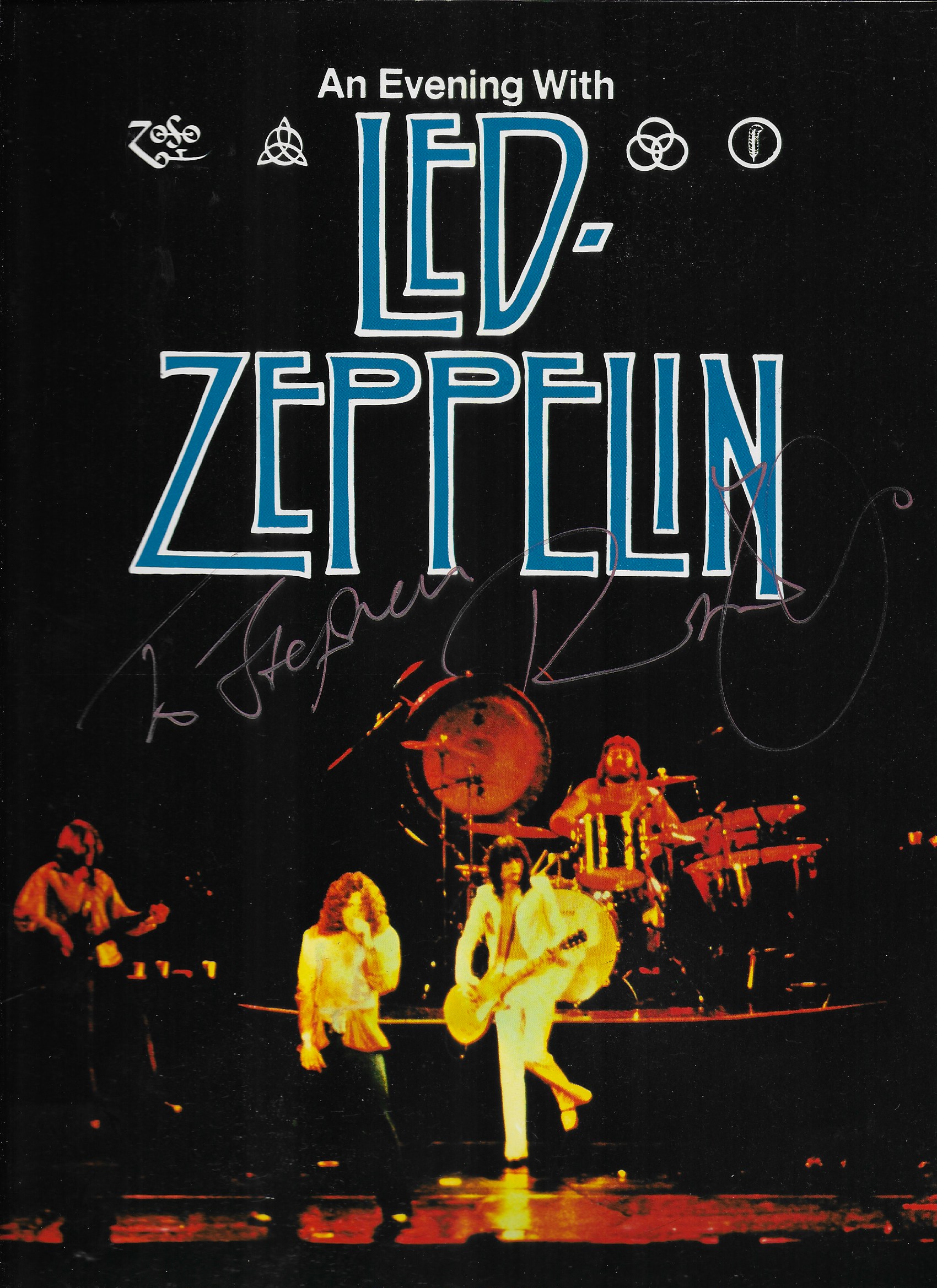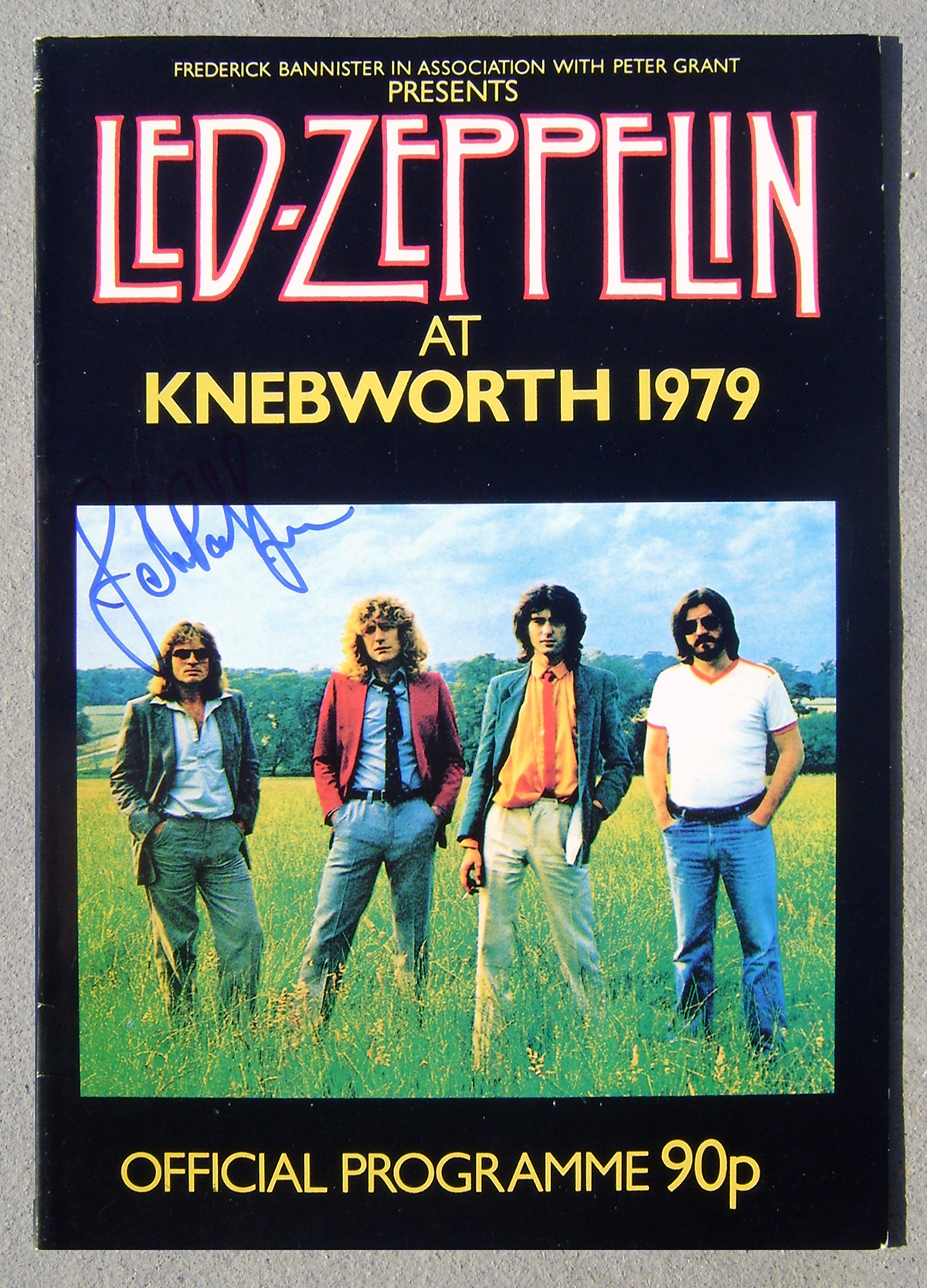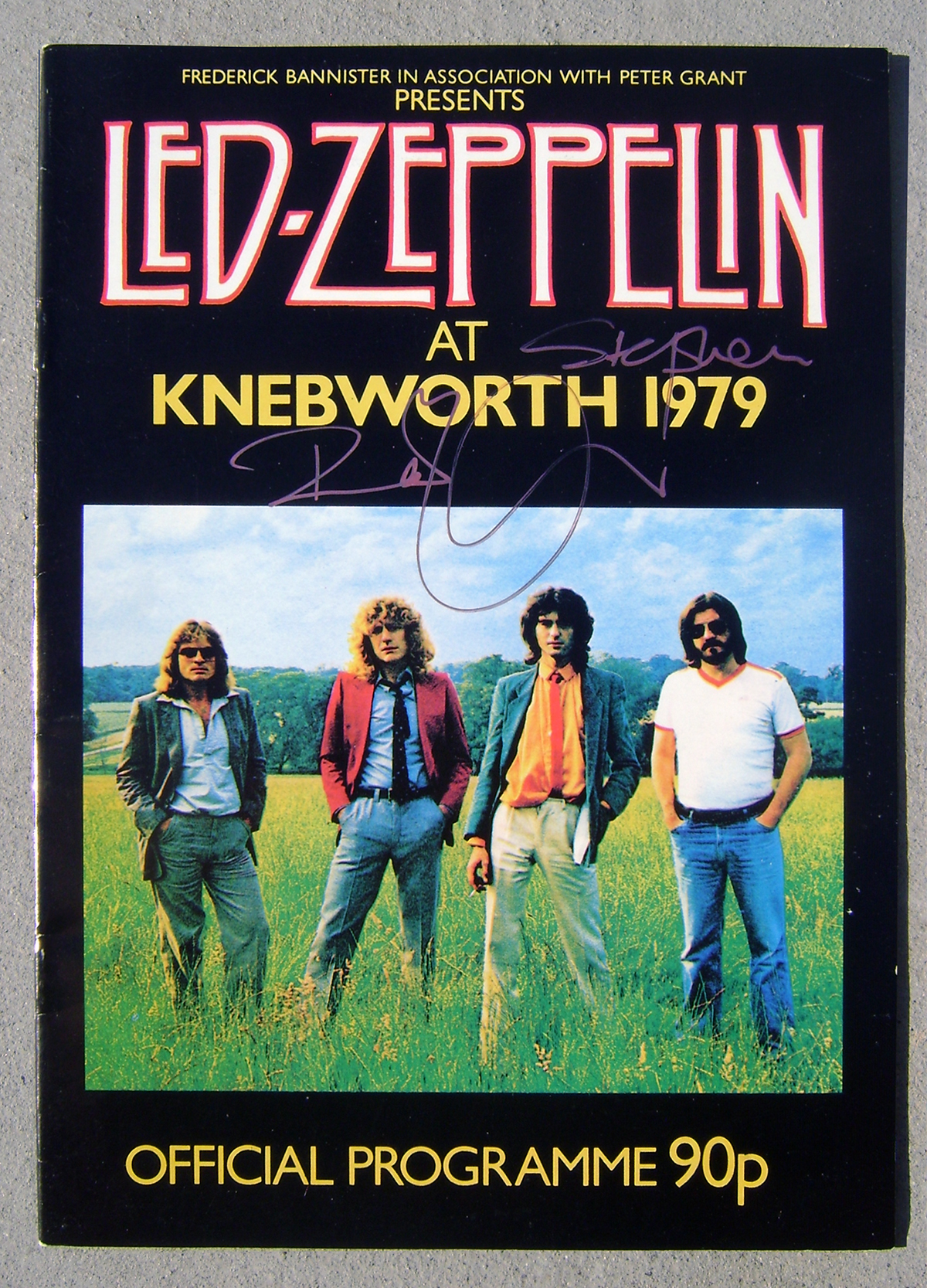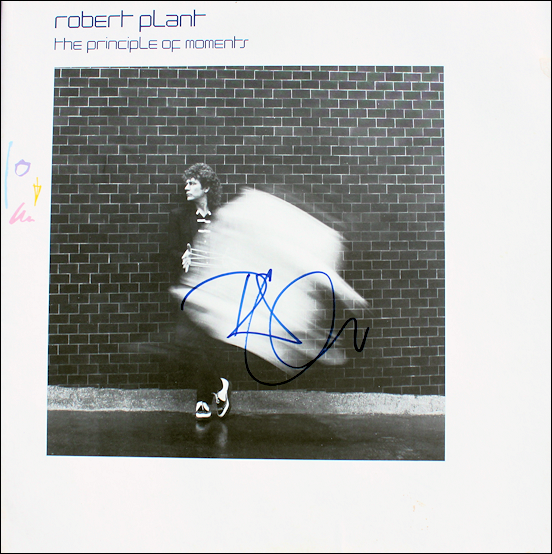 Signed by Robert Plant outside the Rainbow Bar and Grill
in West Hollywood on September 12, 2002.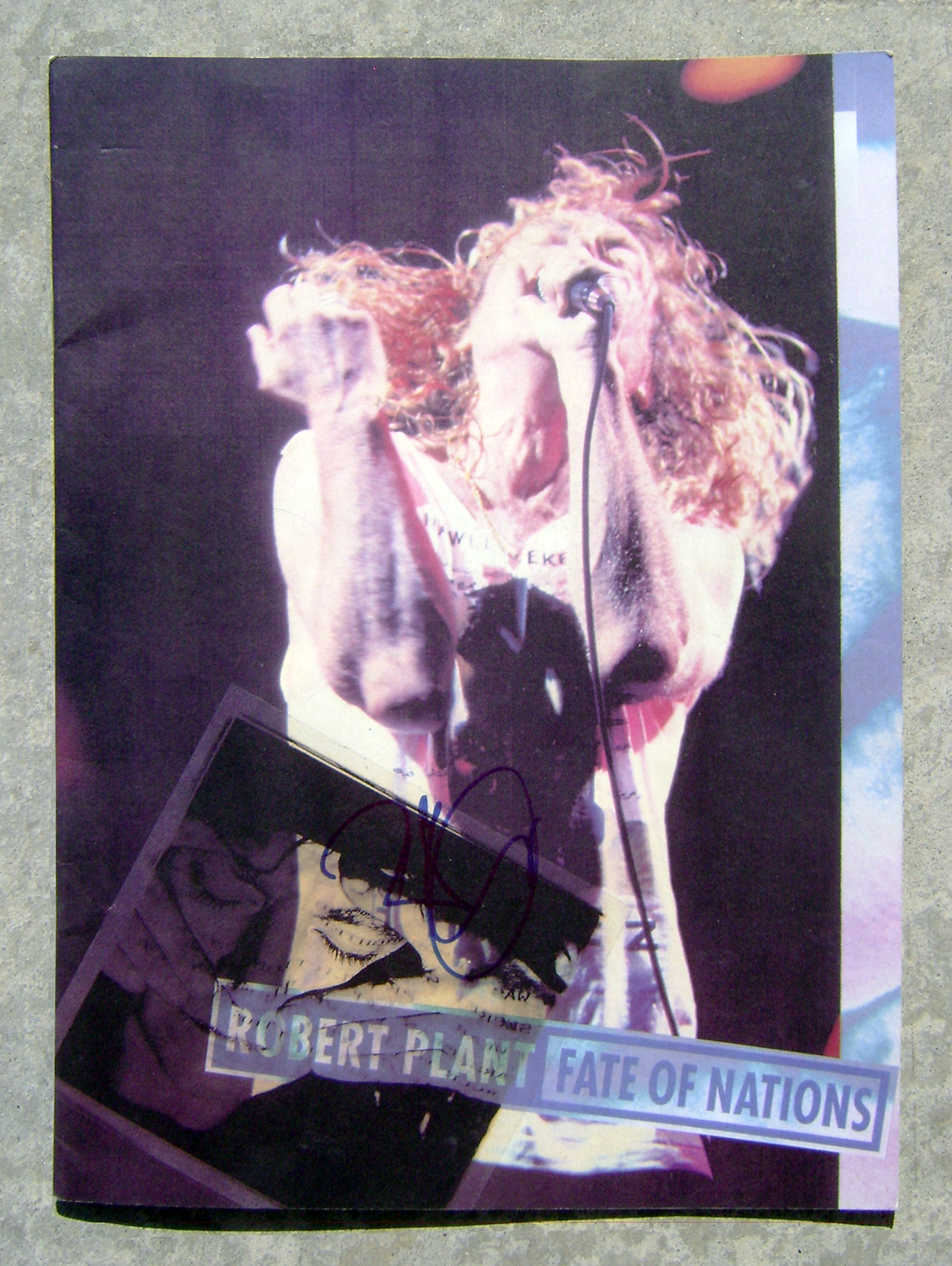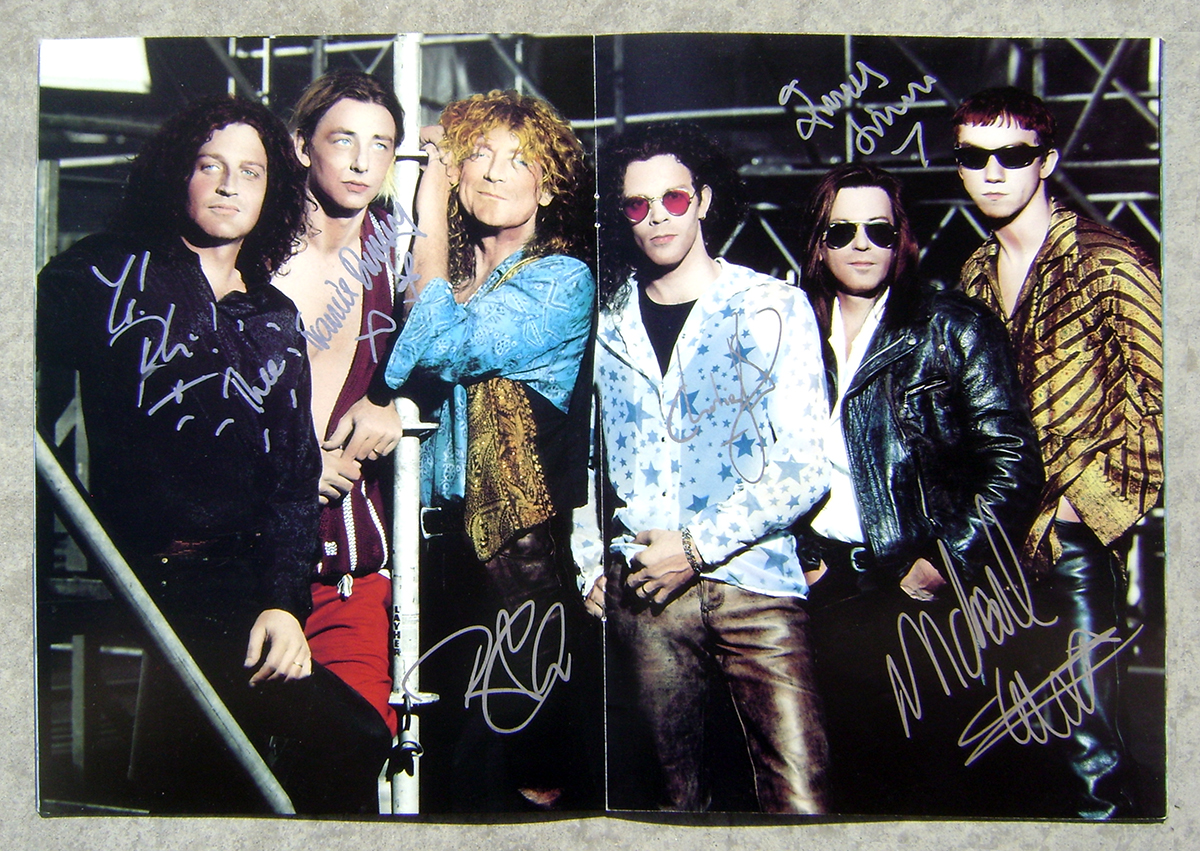 A real gem of an autographed Robert Plant item of memorabilia:
Signed cover of the "Fate Of Nations" Tour Book by Robert Plant
and the inner sleeve pages again by Robert, and his band.
Signed in full at The Rainbow Bar and Grill in West Hollywood
and at The Four Seasons Hotel in Los Angeles,October 18, 1993.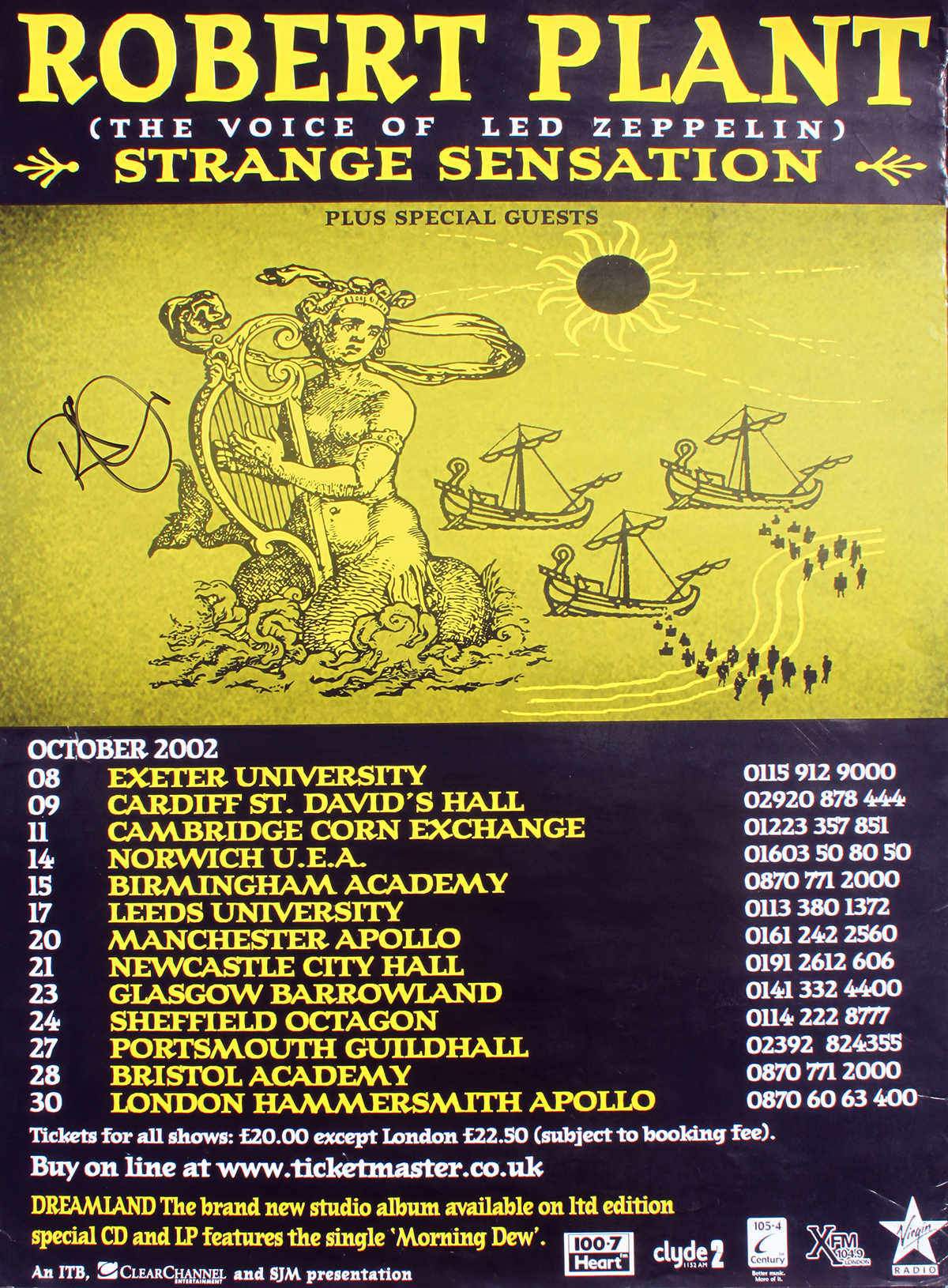 While in line at The Greek Theatre in Los Angeles on September 12, 2002,
I saw a fan who was also in line with me at the pre-concert "Meet and Greet", with this poster.
It took both some convincing and a trade of items that I had, but this other fan after he received this
poster signed by Robert Plant, traded me for some pictures that I had just gotten signed.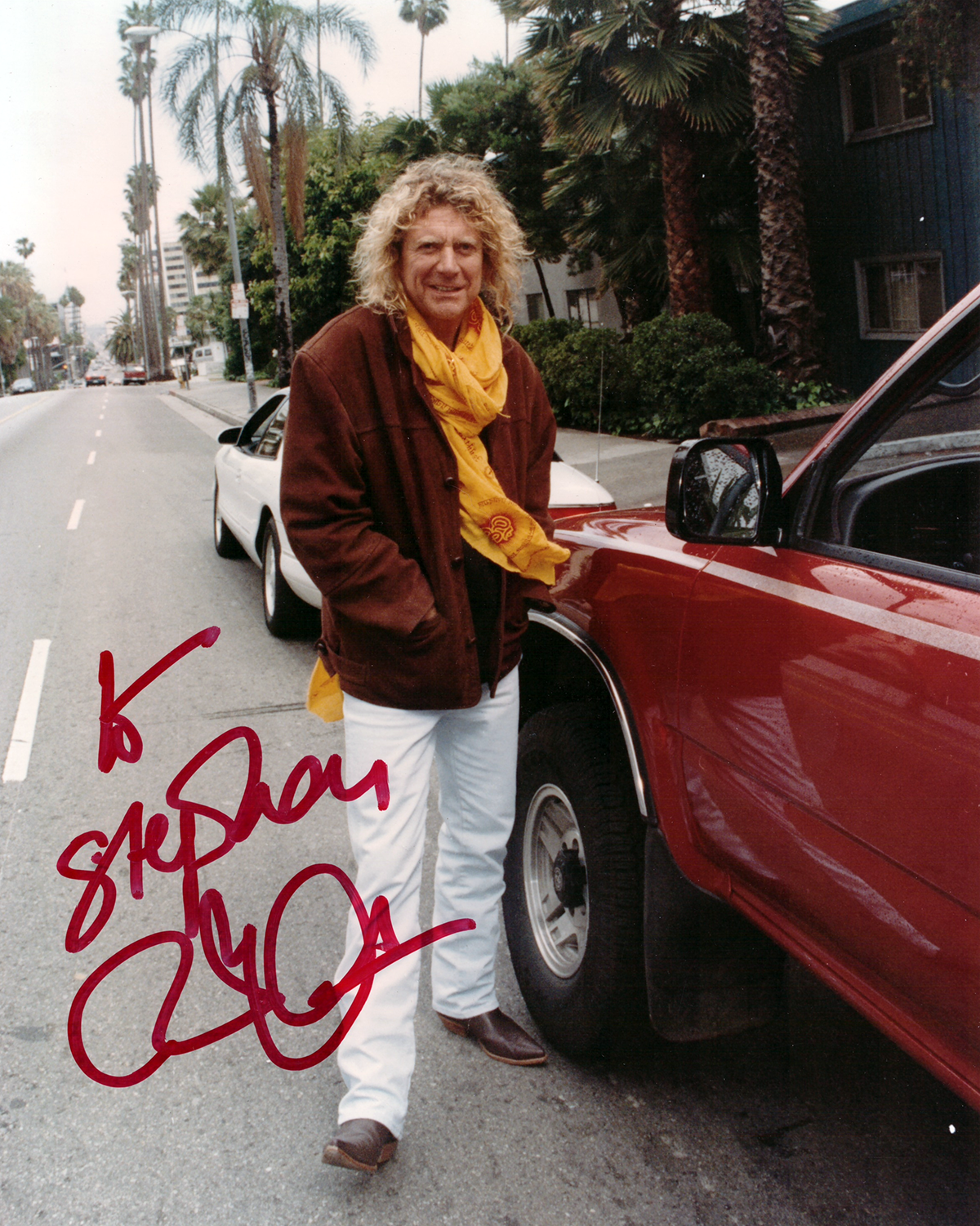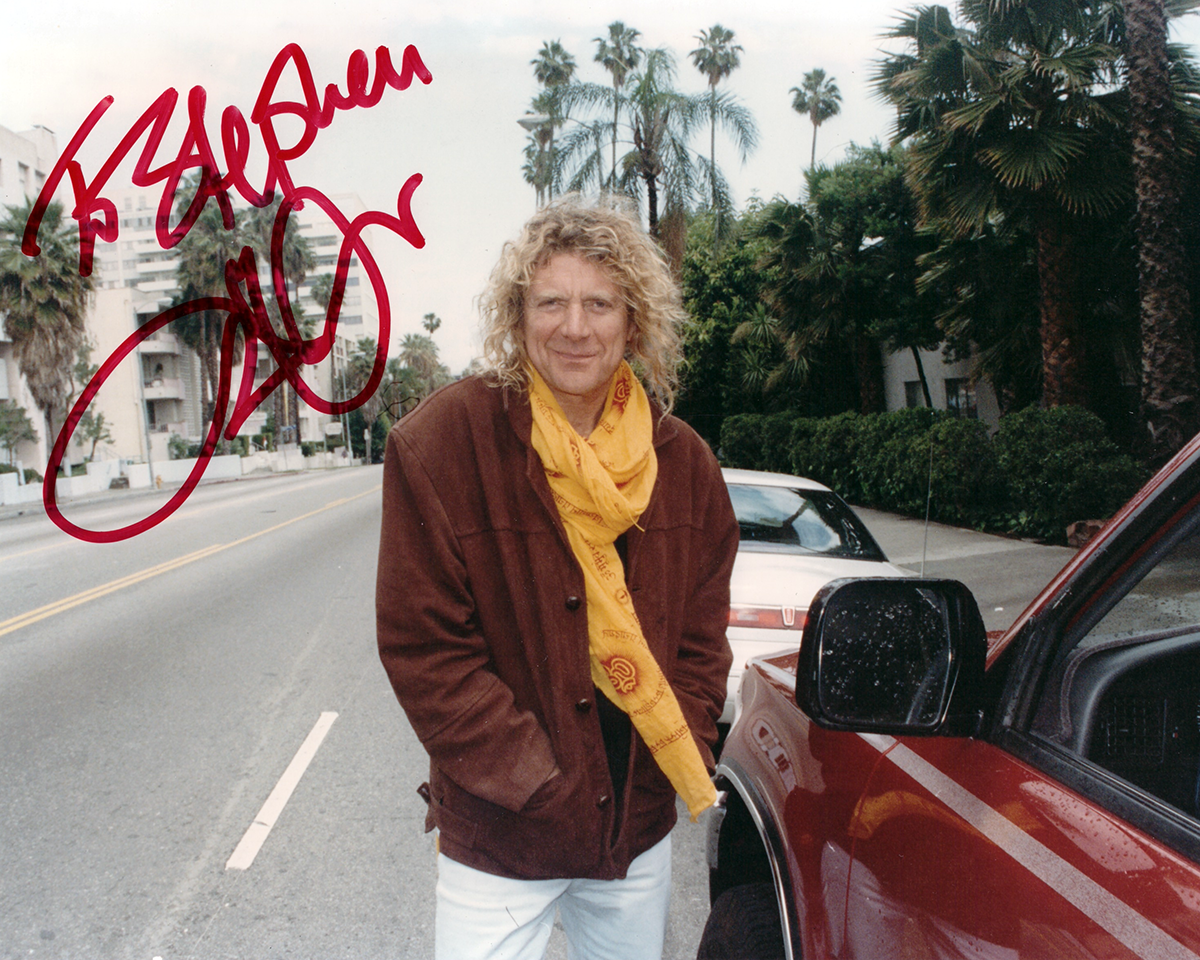 I took both of the above photos of Robert Plant on Hollywood Blvd. in May 16, 1995,
standing next to my then red Toyota 4-Runner. I later got both photos signed
on his "Dreamland" tour at The Greek Theater
pre-show signing "Meet and Greet" on September 12, 2002.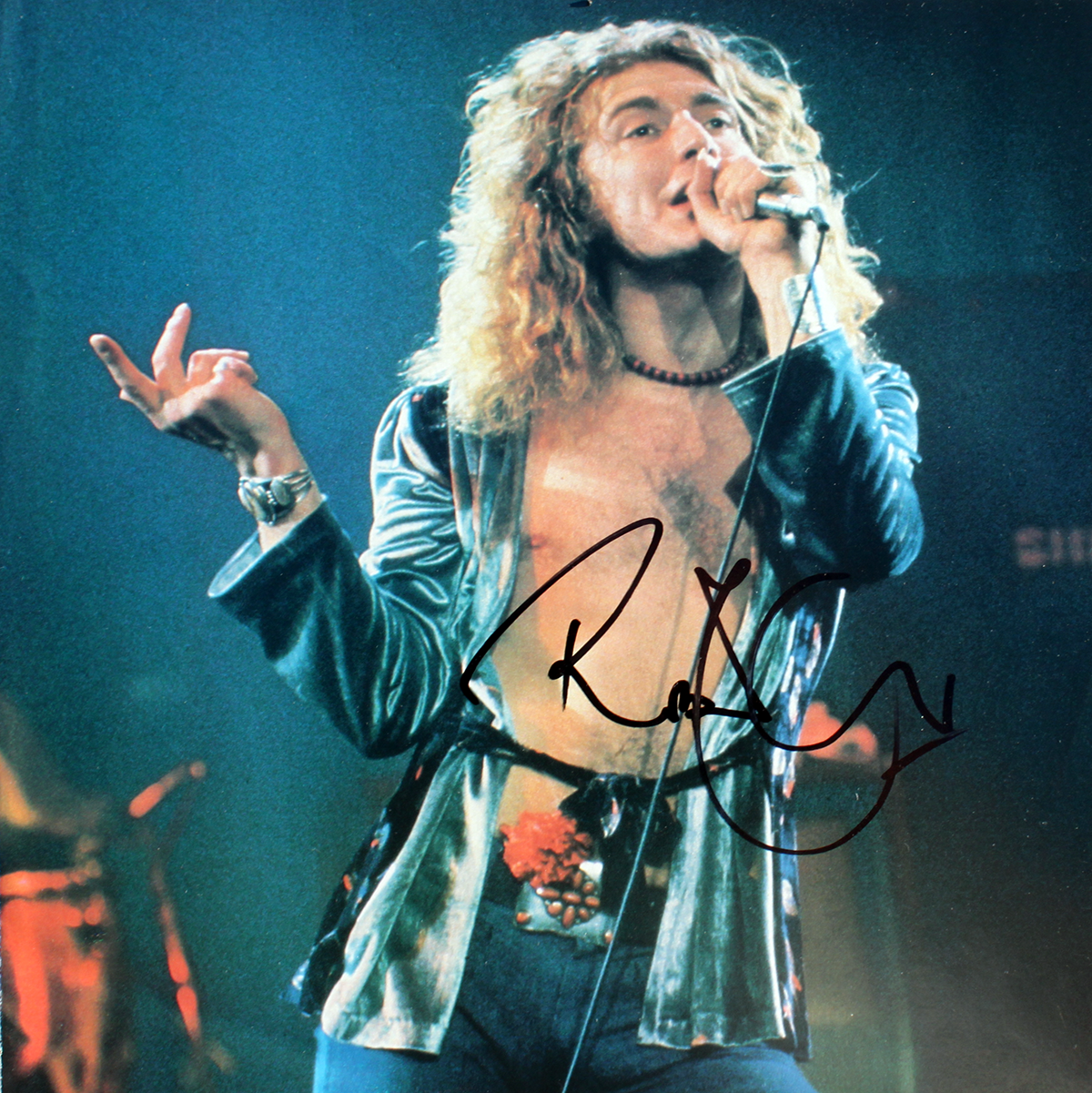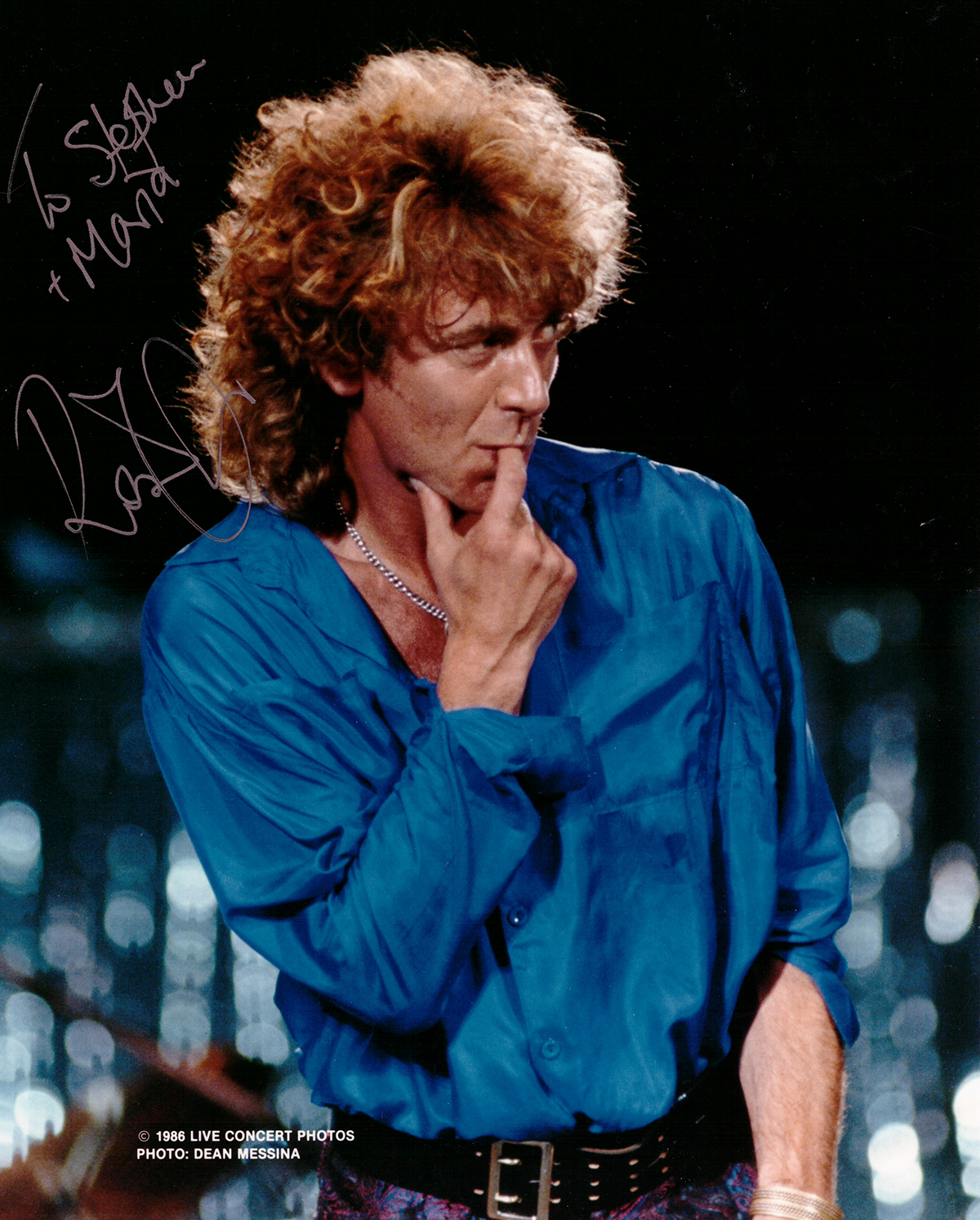 The two above identical photos are of Robert Plant
at Live Aid on January 13, 1985, and autographed

  as he entered the Rockline Studios in Universal City on April 18, 1988.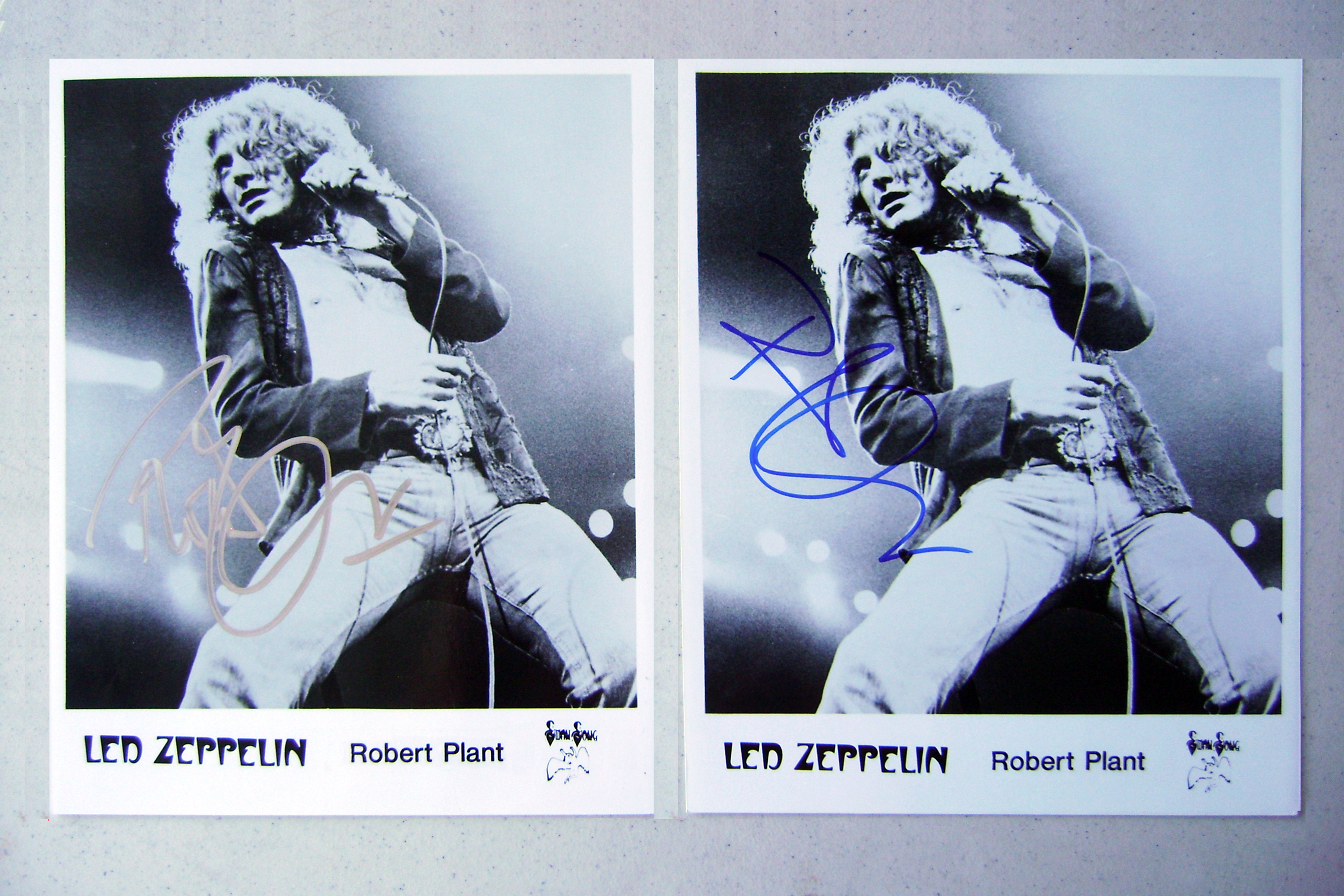 A PERFECT EXAMPLE OF "THEN" AND "NOW" 14 YEARS APART:
The photo signed in silver on the left, was signed on June 14, 1988
and the photo on the right was signed on September 12, 2002, over 14 years apart.
You can easily see by these examples the digression of a full Robert Plant signature.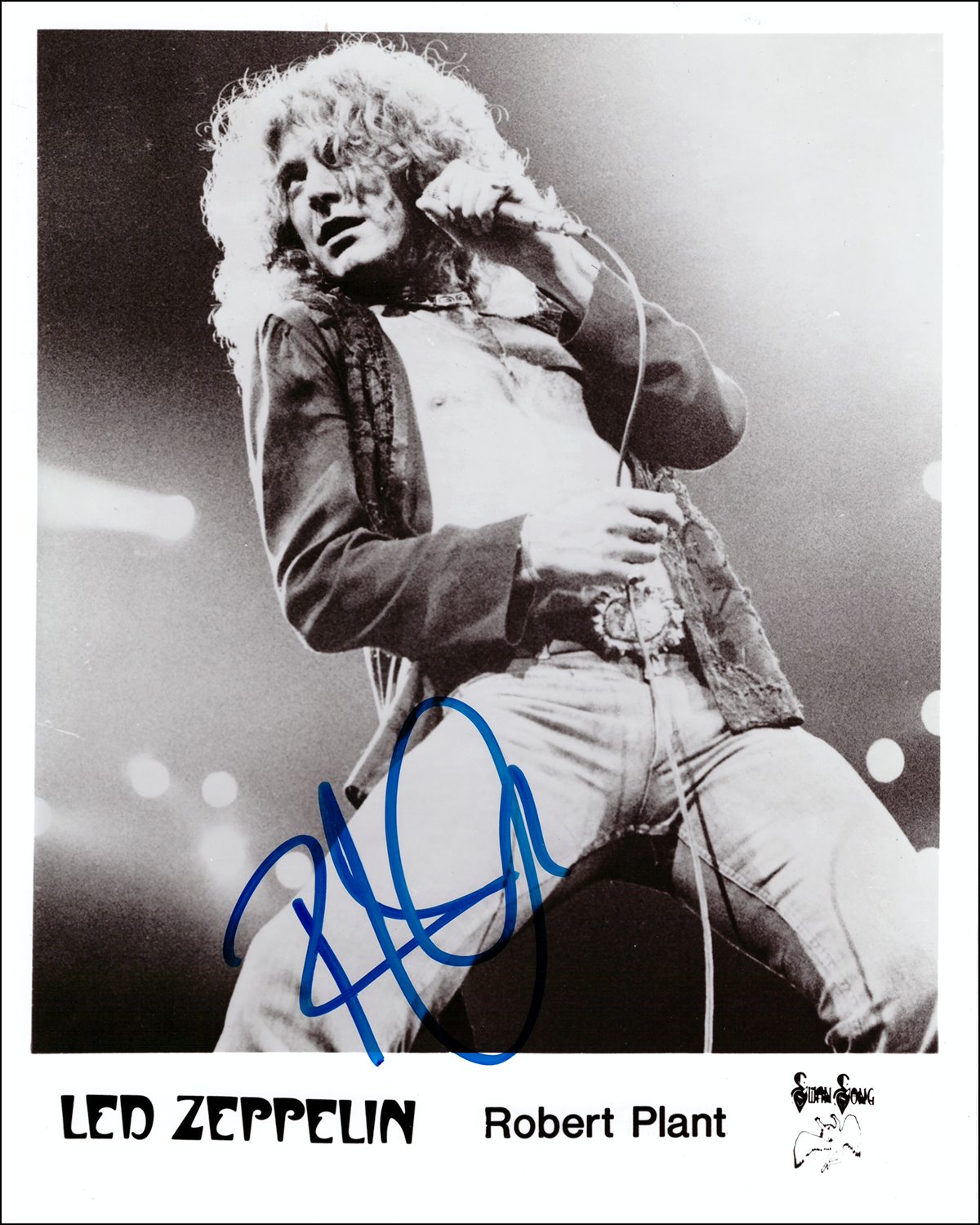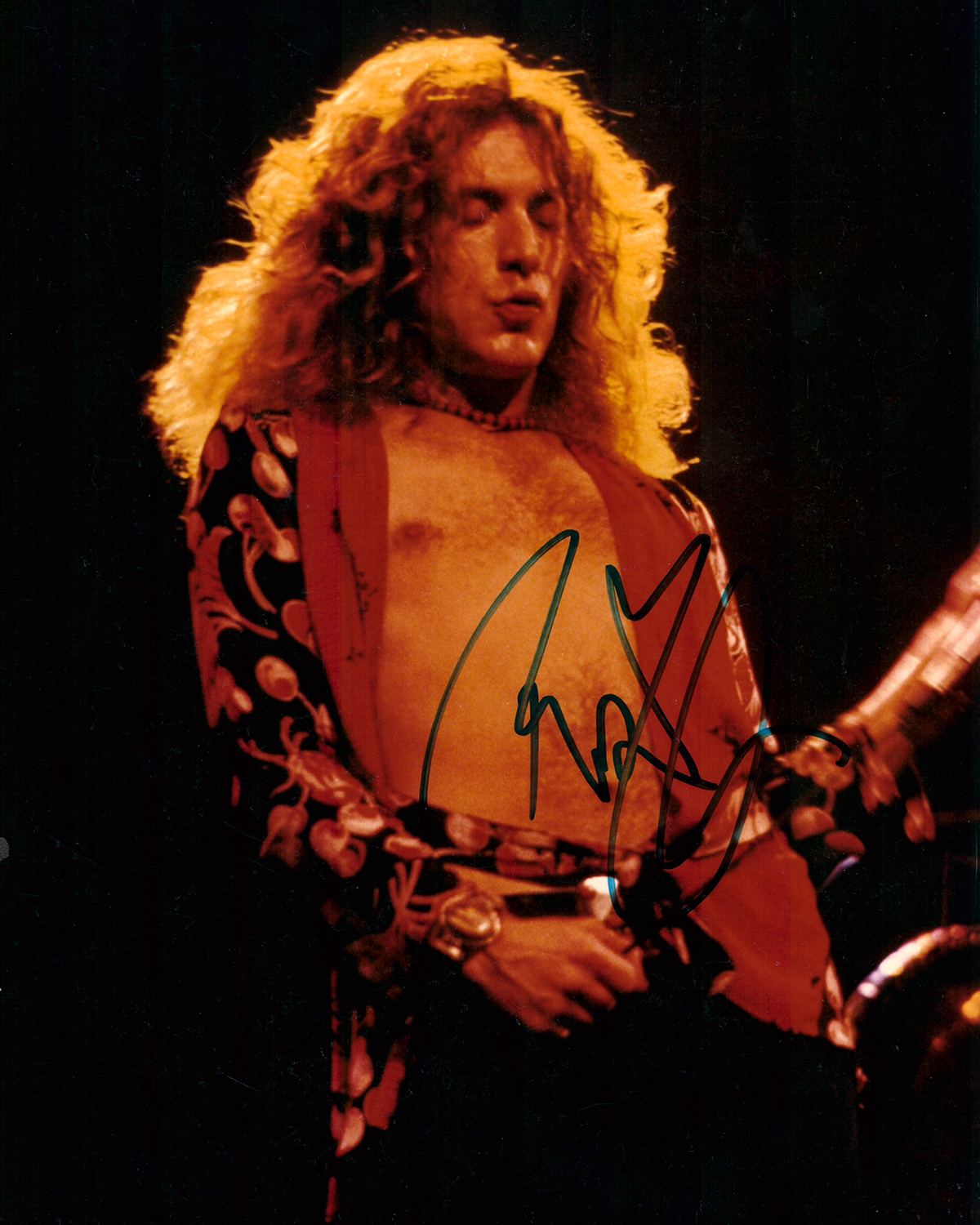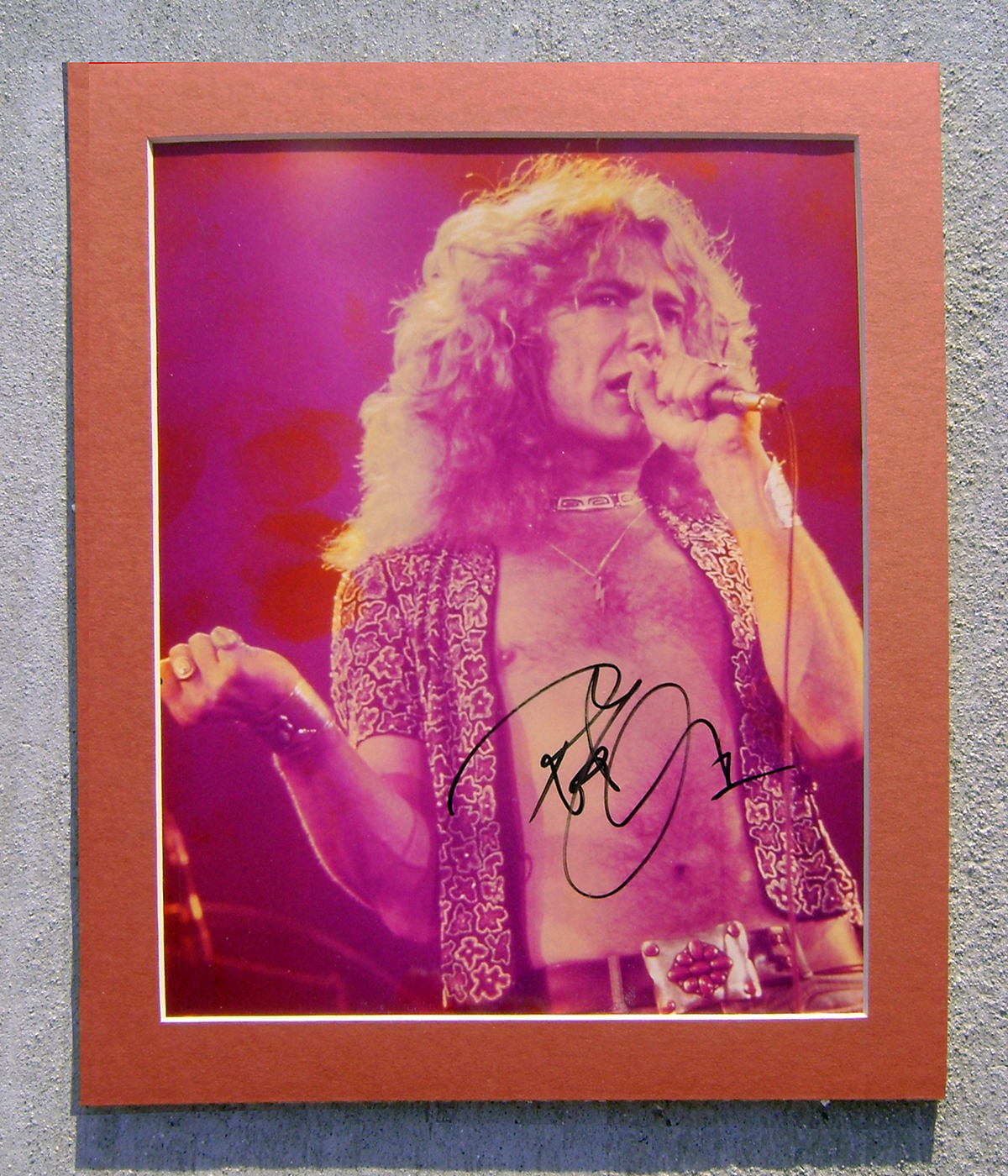 One of the very first Robert Plant signatures I ever obtained
(if not the first, along with the below The Principle of Moments LP)
Both signed on April 18, 1988, in Los Angeles.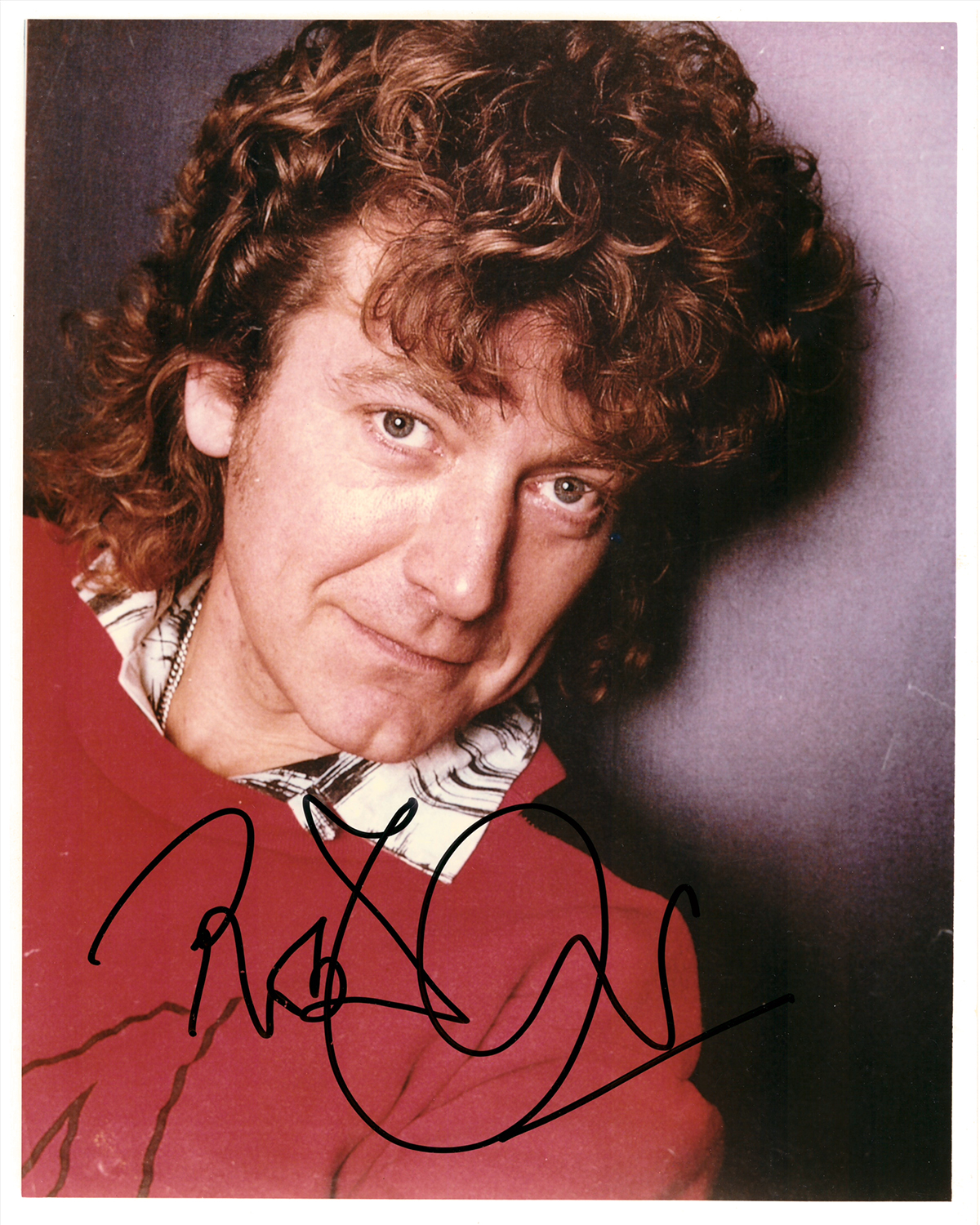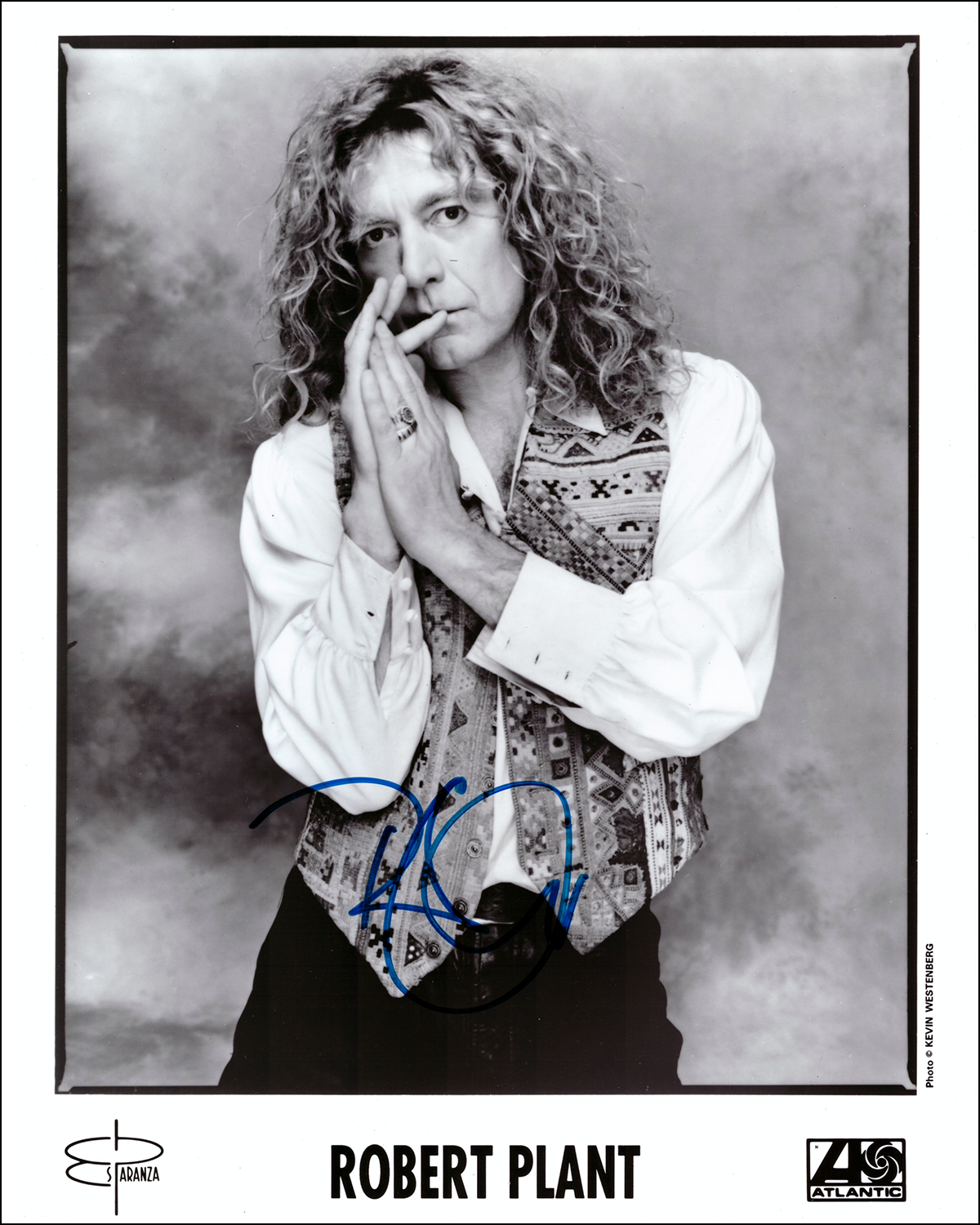 _____________________________________________________________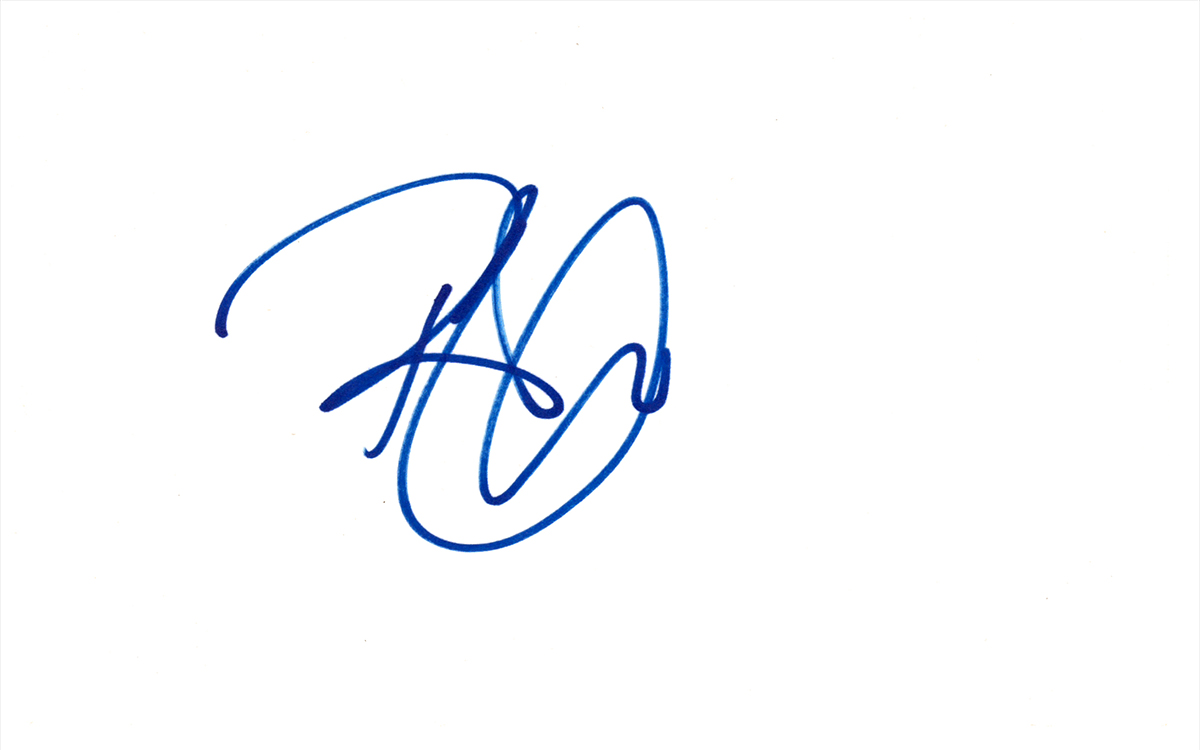 _____________________________________________________________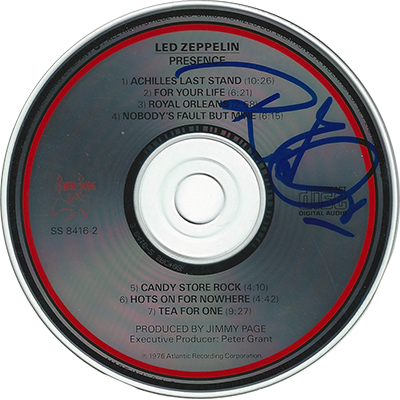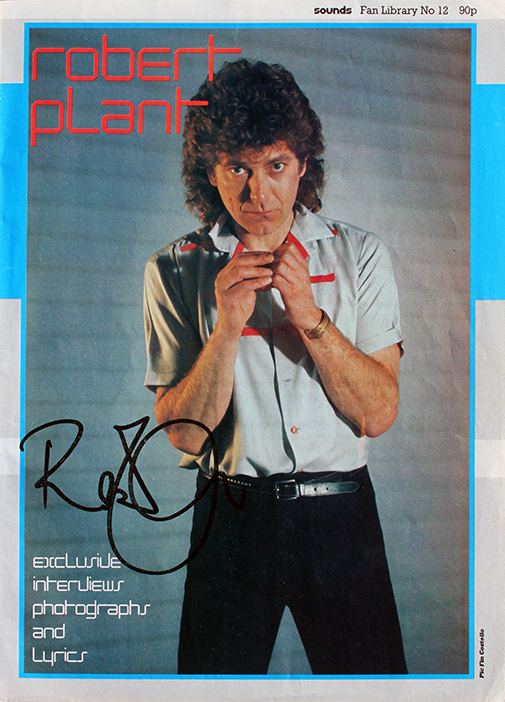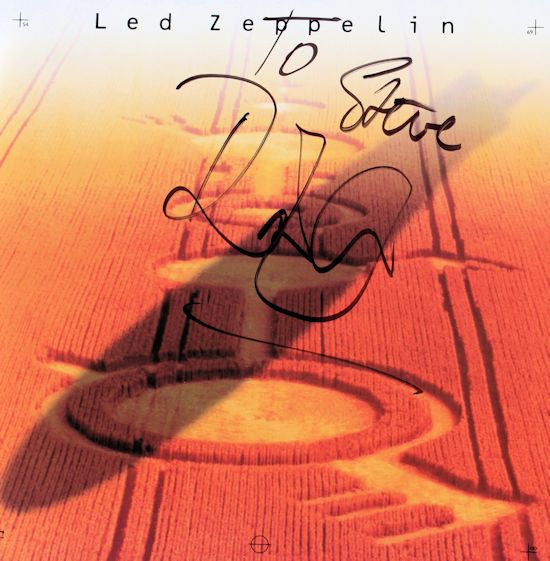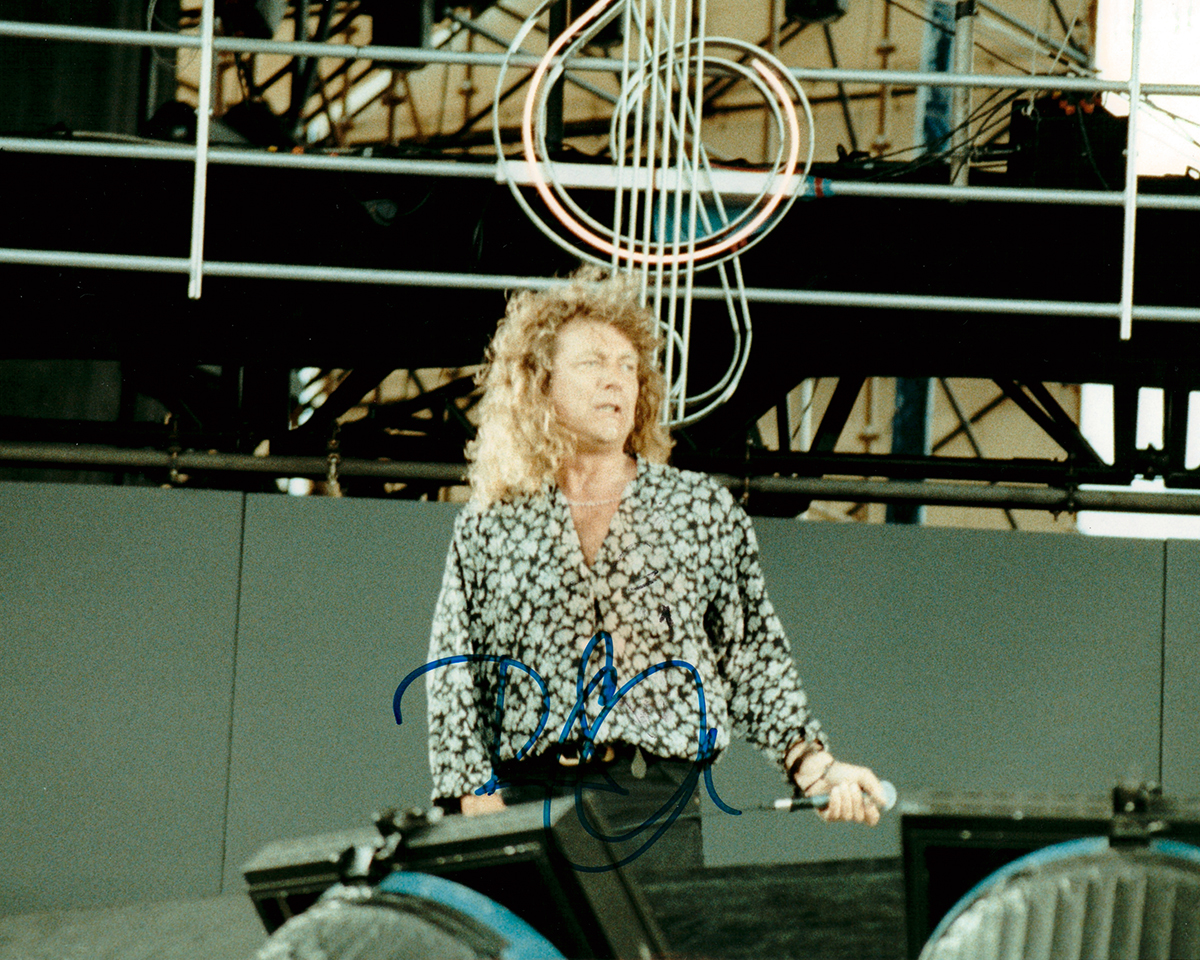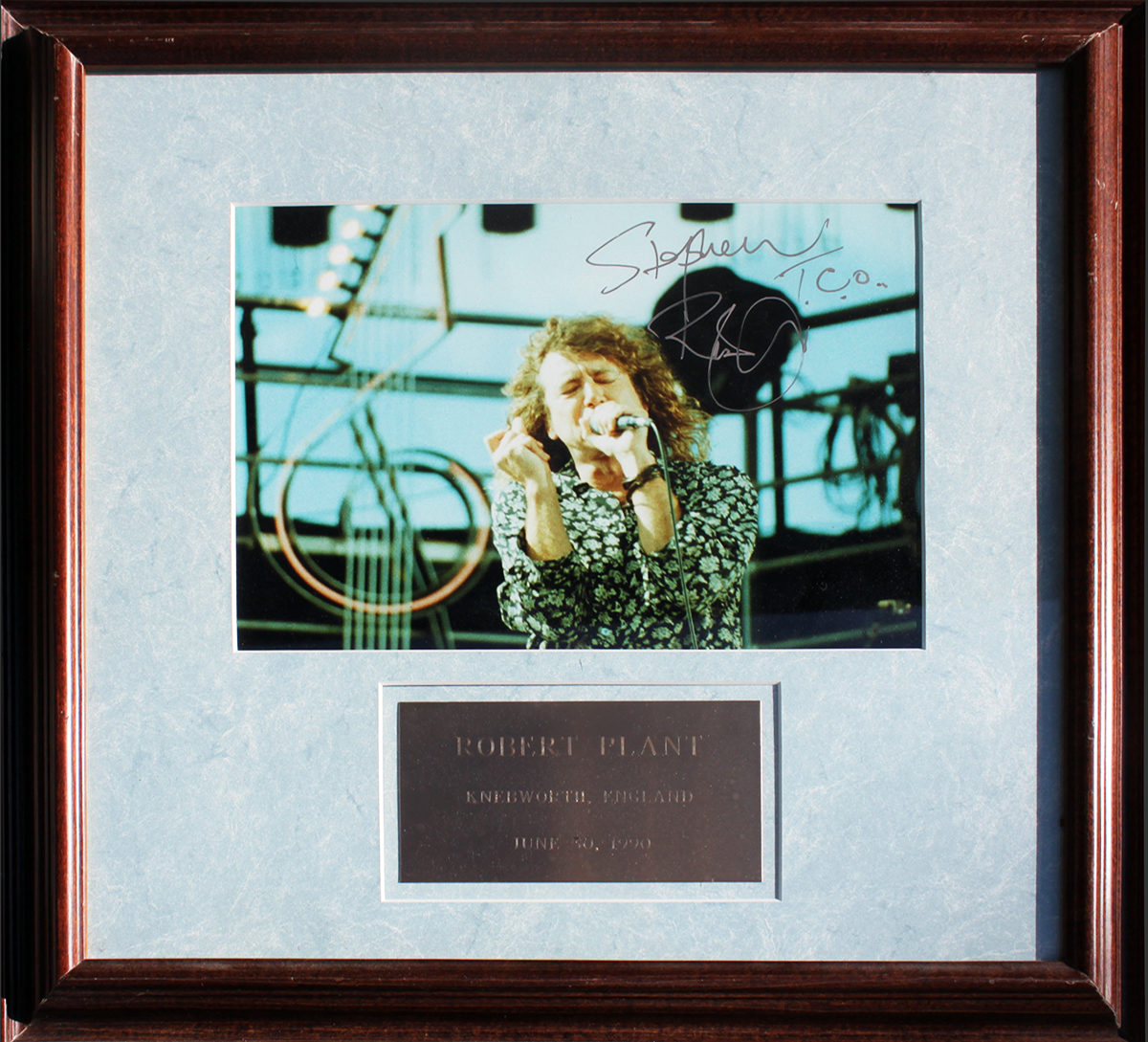 These photographs I personally took of Robert Plant 
on June 30, 1990 at the Knebworth Pop Festival, UK.
I later got both photographs signed by Robert on August 10, 1990
at the Irvine Meadows Amphitheater in Laguna Hills.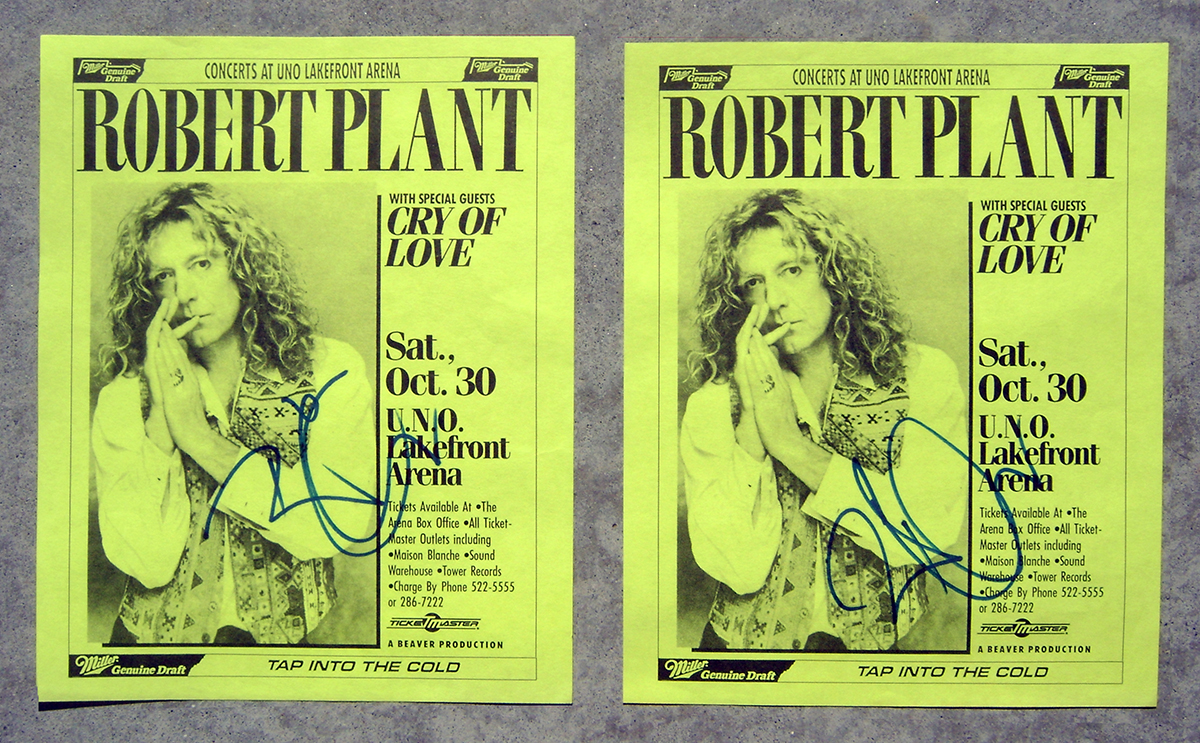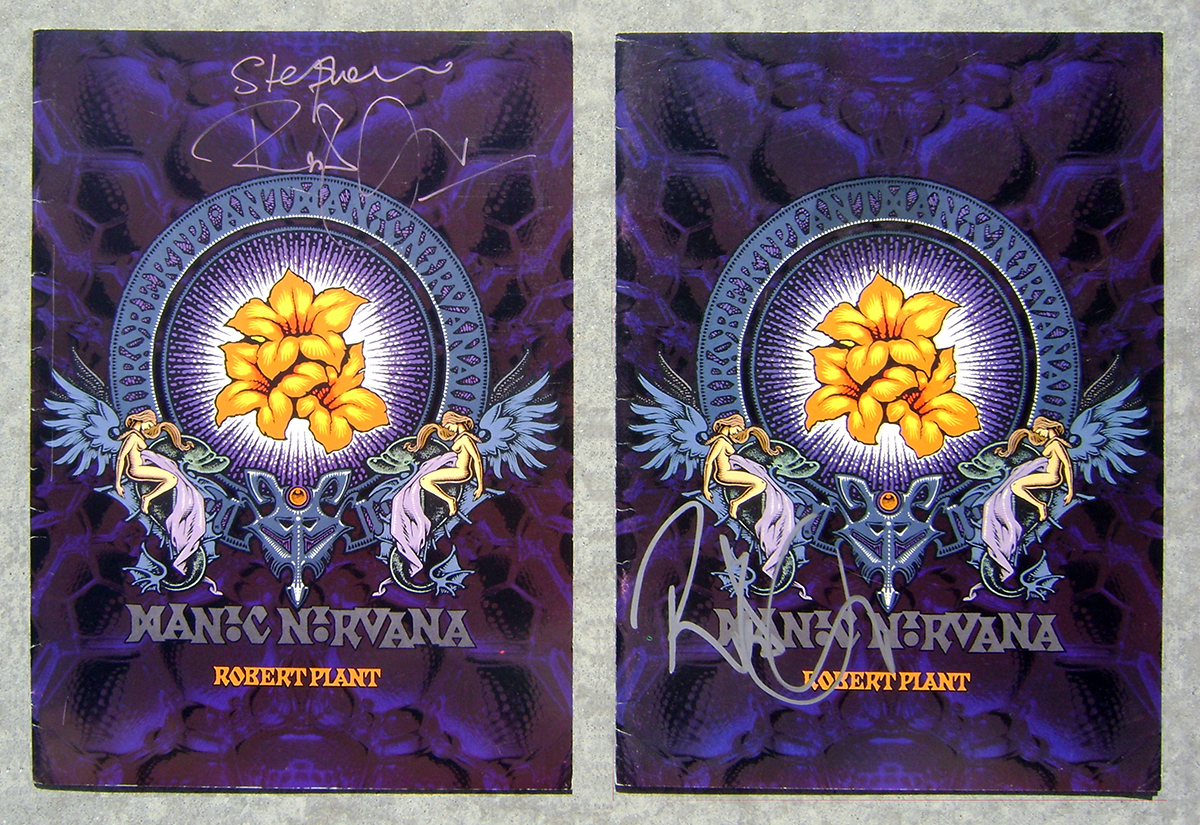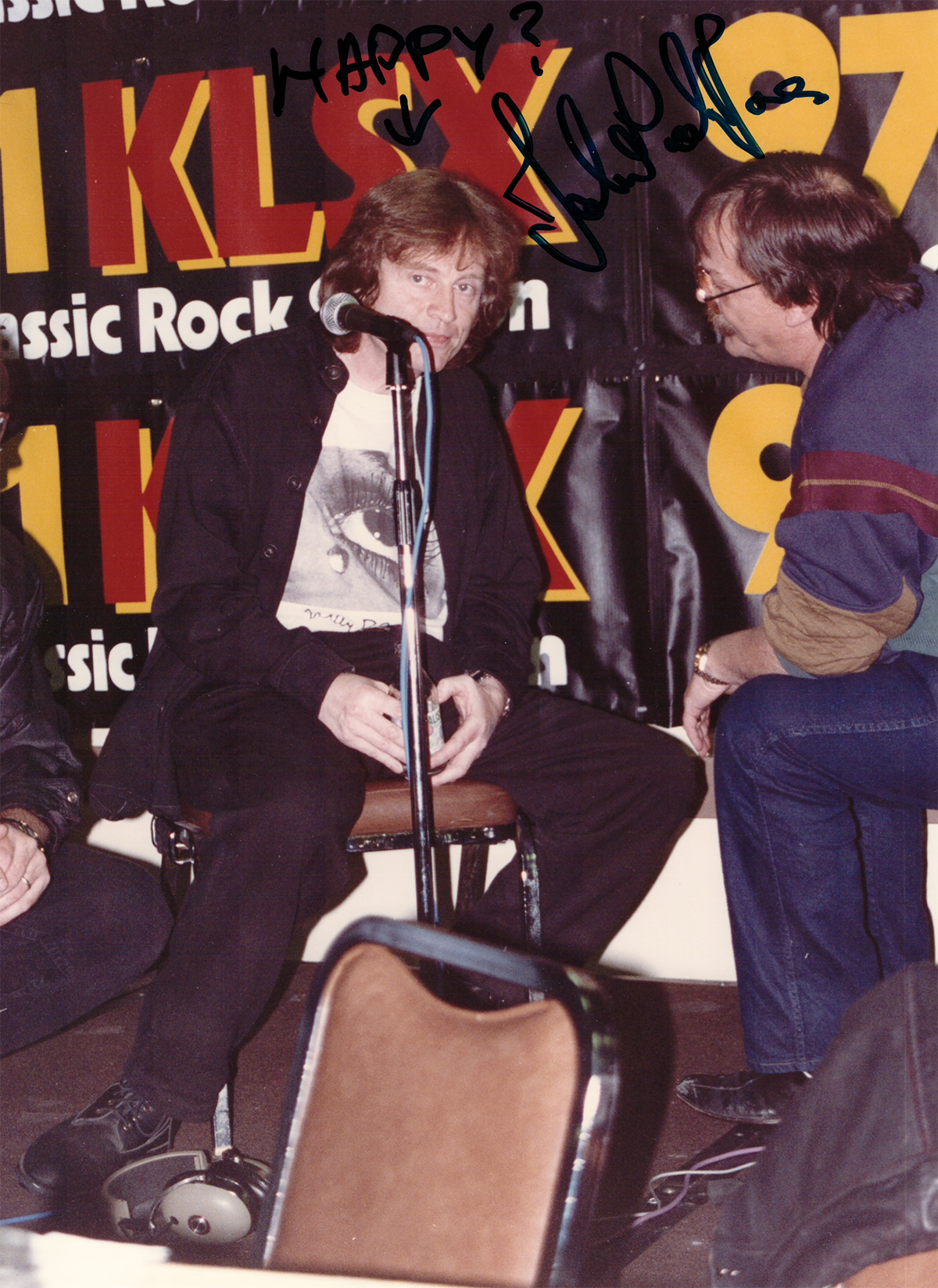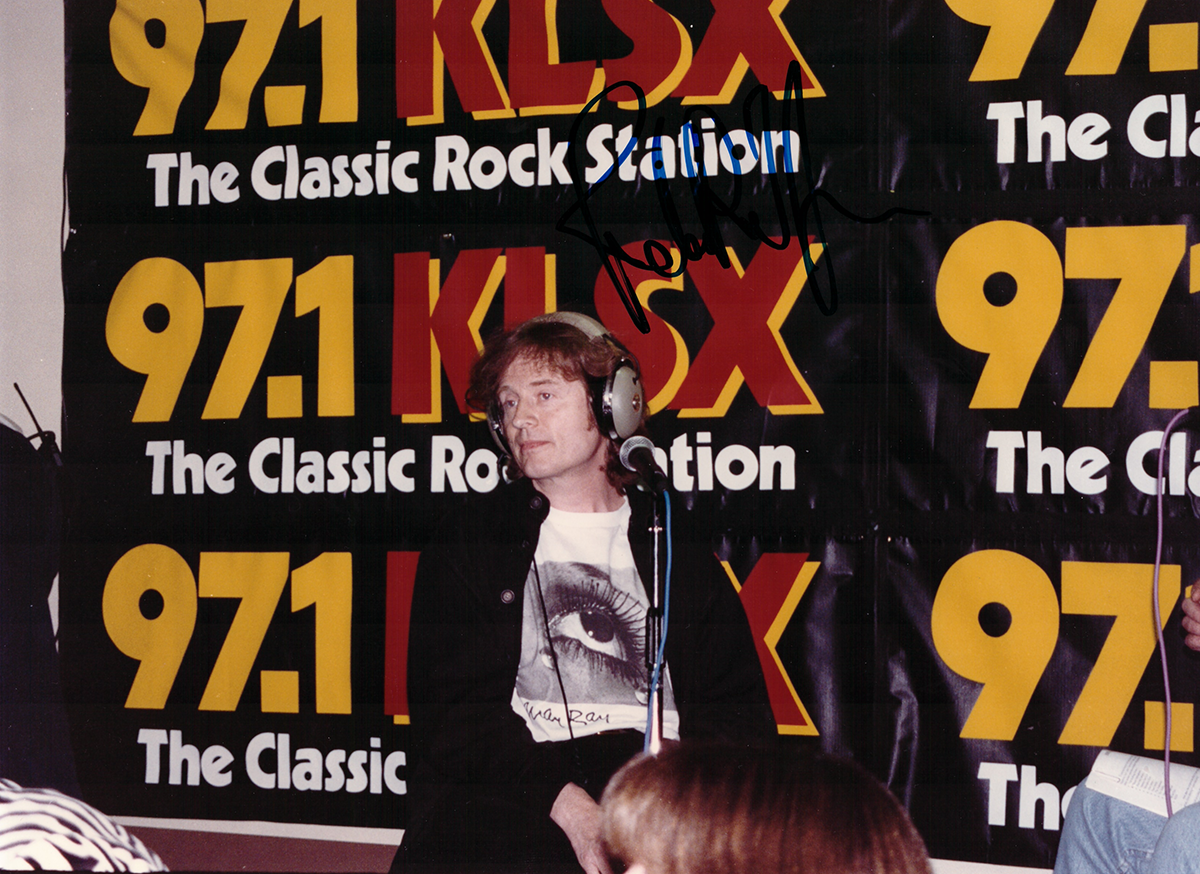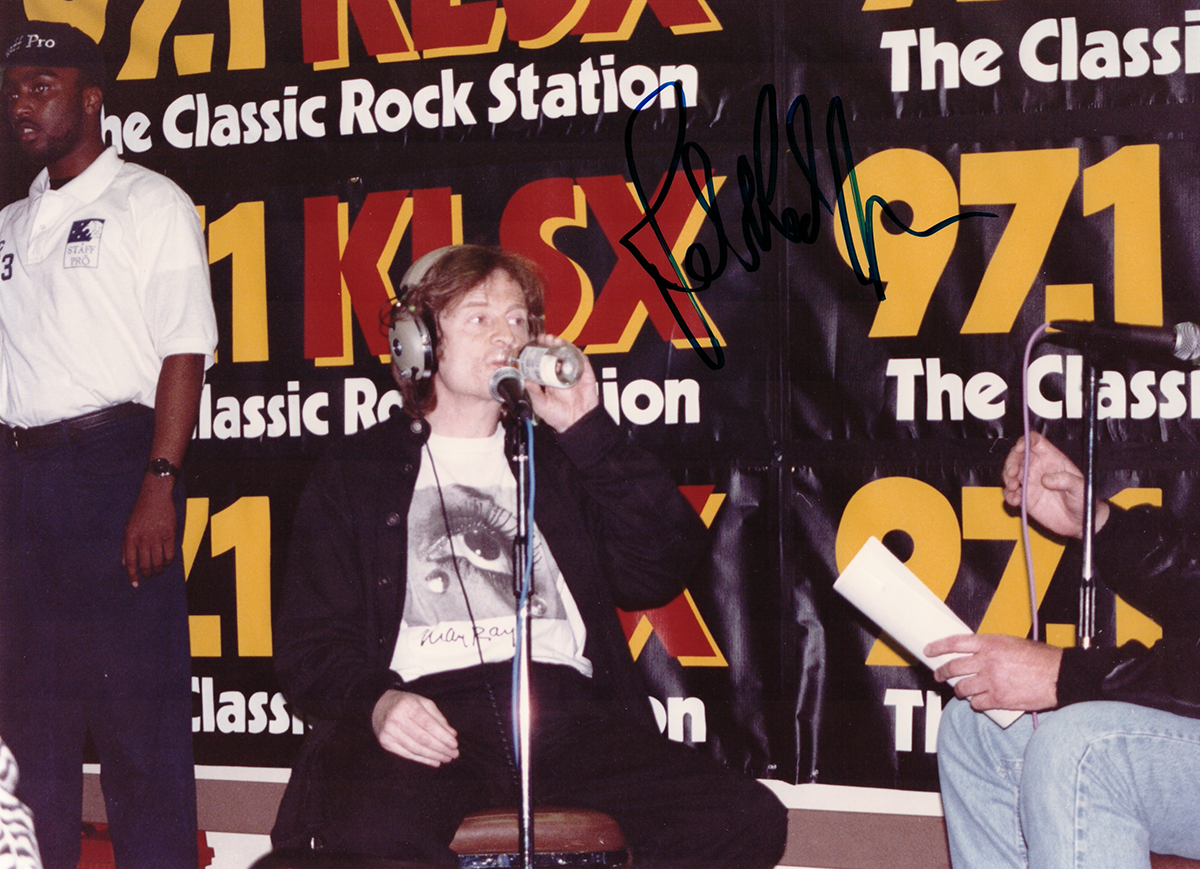 The above three photographs of John Paul Jones were photographed by myself
at the fifth KLSX Radio Classic Rock Expo at the Westin Bonaventure Hotel,
on December 3, 1994. The photos would later be signed while JPJ was in Los Angeles.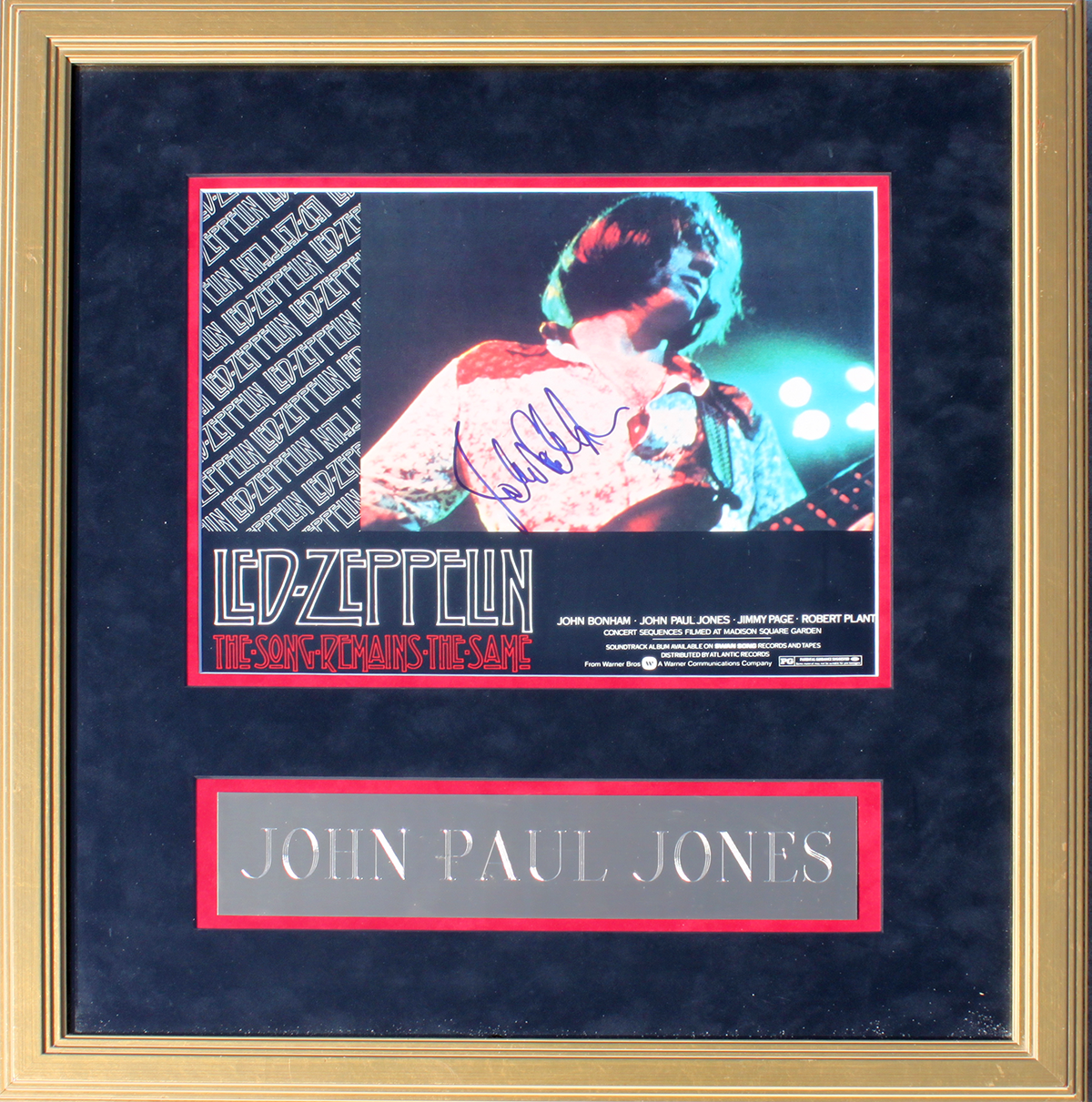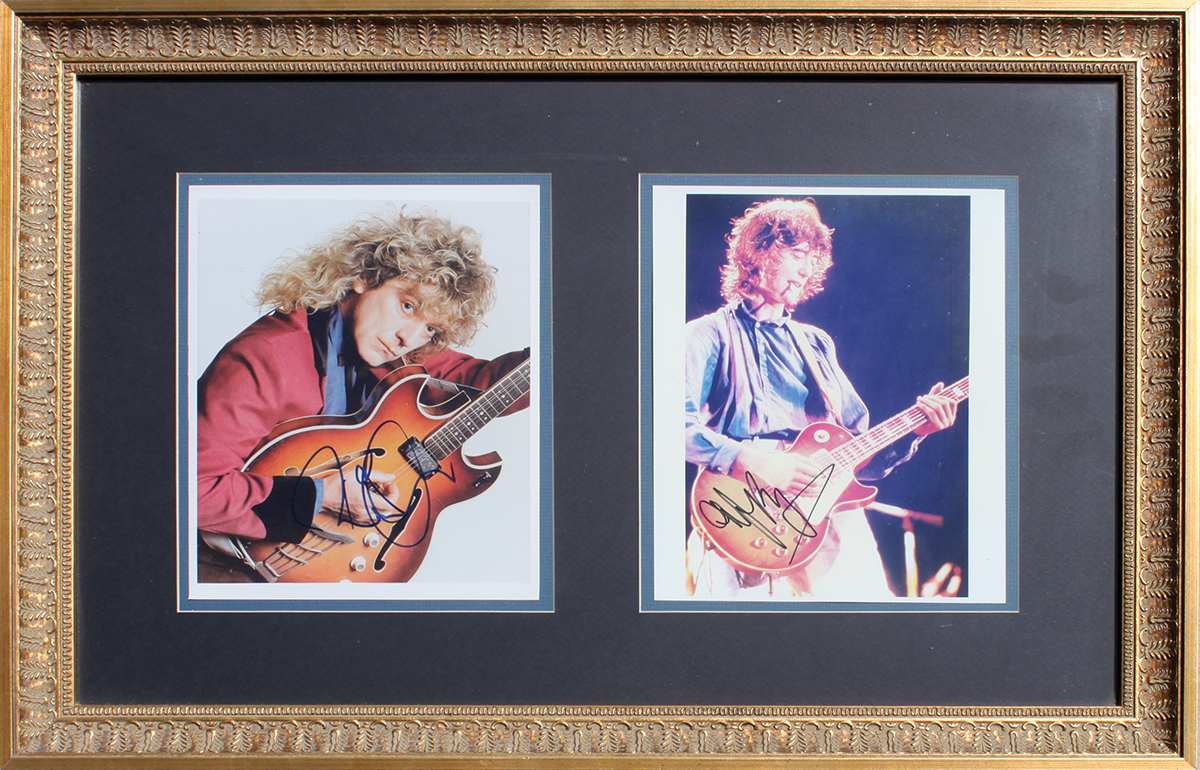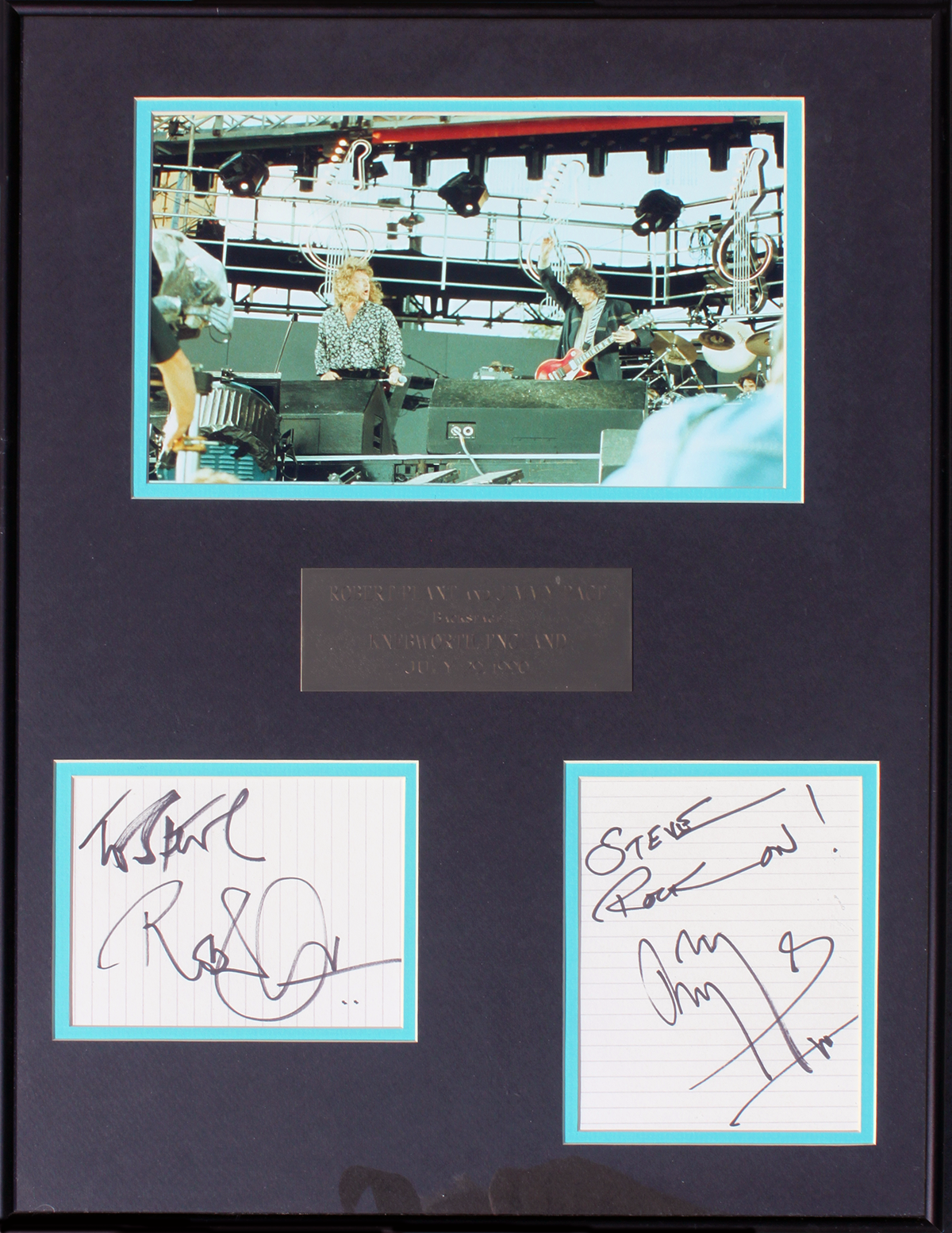 HERE IT IS, ONE OF MY MOST FAVORITE SIGNED PIECES WITHIN MY COLLECTION:
I personally took this photo, along with another dozen, at the June 30, 1990 Knebworth Pop Festival.
I obtained both Robert Plant and Jimmy Page's autographs one day prior at the soundcheck/rehearsals.

FULLY SIGNED ALBUMS, (HOWEVER, ARE THEY REAL)?
(I can use ALL THE HELP I can get.  I need anyone with any comps or
examples of anything that the members signed in or around 1980 to please email me).
PLEASE READ THE STORY BELOW THE IMAGES REGARDING
THE FOLLOWING "AUTOGRAPHED" ALBUMS: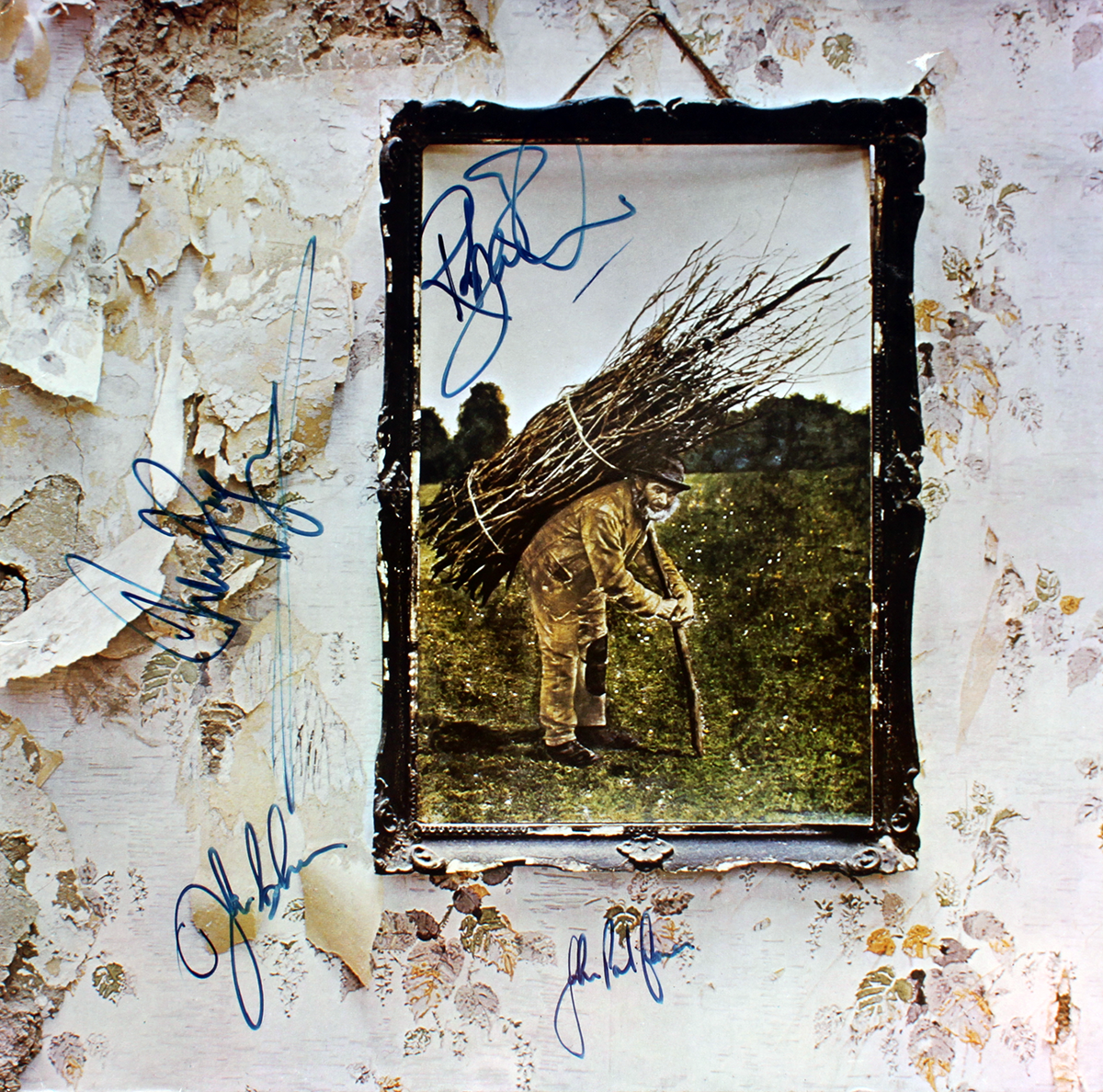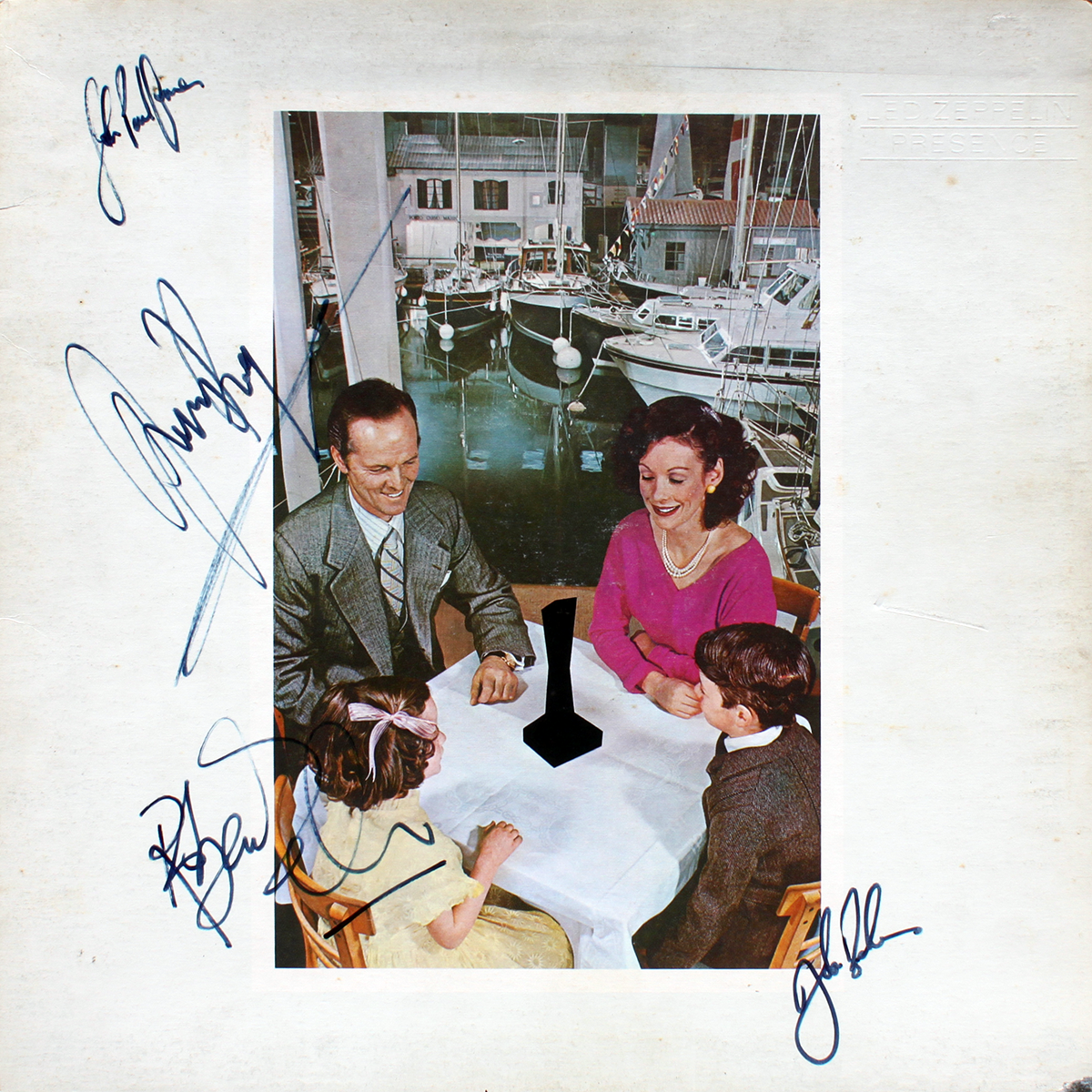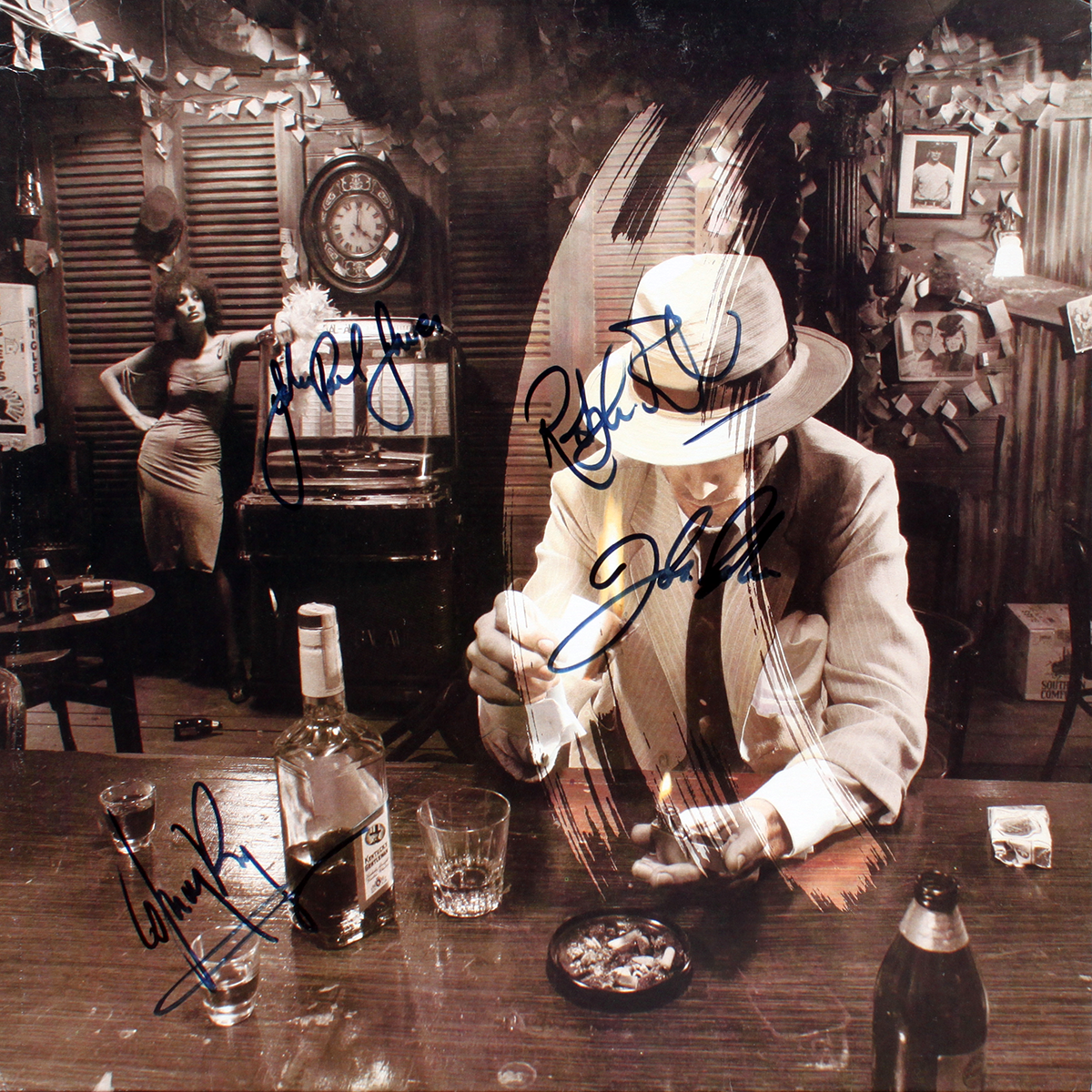 SECOND TO PROBABLY ONLY THE BEATLES,
FULLY SIGNED LED ZEPPELIN ALBUMS

are often the most forged of all Rock and Roll band signatures.
The chances that these three above fully signed Led Zeppelin albums contain
real and authentic signatures by the four band members, have both odds
and probability stacked high against them.
However, if these signatures are real,
especially on the "In Through The Out Door" album released less
than 13 months prior to the death of John Bonham, it would be one of
the greatest financial and historic bonanza's that Led Zeppelin Memorabilia
may ever see. There are so very few John Bonham signatures in circulation and
even fewer fully signed Led Zeppelin albums. Though some do exist, as the
internet has some very reliable examples and stories of where such albums
have originated from. Sadly, the forgeries of this band's "signatures" increase
with each passing year, and those few items that are real, seemingly disappear.
Here is what I know about the above three "signed" Led Zeppelin albums:
In early 1985, I purchased each of these 3 albums from Led Zeppelin
memorabilia collector Rick Barrett. Rick is well known within the world of
rare Rock and Roll collectables and the memorabilia industry. He has a
long and very solid reputation, especially in regards to rare Led Zeppelin
hard to find and long outdated memorabilia. Rick is from Houston, Texas.
Each of these albums have been secure and in my possession ever since.
Rick stated each of these LP's were signed at The Rainbow Theater in London,
during the rehearsals for the 1980 Led Zeppelin "Tour Over Europe" in May
of 1980. Led Zeppelin fan pages abundantly confirm and well document
these rehearsals by the entire band during such time.
Rick explains that he purchased these albums several years earlier from a man
by the name of Michael Ainscoe. In 2017, I set out to find this man and pick up
whatever trail may still exists and backtrack the possession history of these
albums. Mr. Ainscoe lives (as of May/2017) in Bury, England, U.K. I got ahold of
Mr. Ainscoe through the internet and Facebook and he remembers these albums
well, especially selling them to Rick. He was very willing and very enthusiastic to
offer any bit of information that he could remember to help facilitate my quest.
Michael Ainscoe's words and response to me via email is below:
"Bear in mind it was over 30 years ago when I got those albums and contacted
Rick to see if he was interested…….and we ended up making a trade. I actually got
hold of the records back I think towards the end of 1980 – it was around Xmas I
think – as I met a guy at University who sold me various things including those
records. His name and this is where I am struggling with memories…….Jon/John
and something beginning with an F (Finch?)…….His connection was that he (or his
family) had connections with a couple of people who were part of the Page
organization…….domestics who looked after the Windsor home. I certainly
almost remember the name Bernice. He (Jon/John) was told of and where the
rehearsals were at, and then went to (The Rainbow Theater)……and waited out by
the stage door and (obtained the signatures as the band entered and left)
….the venue. Jon/John and the part of his family that I did get to meet,
gave me no reason whatsoever to doubt their integrity ………or their story.
Mike goes on to say that he has no contact 37 years later with Jon/John and
has no idea of how today to contact this man. Mike reiterates that he met him
and some of his family while in college, became friends, and had no reason to feel
any distrust for him or his story. The albums were a result of both kids passing
them on to the next (then to Rick) as a means of earning tuition money.
I know that this does not prove authenticity by any stretch of the imagination.
However, its "information" that does give accountability as to a trail that just
might lead back to all four members of Led Zeppelin signing these albums.
MY QUEST TO FIND AUTHENTICITY OR FRAUD
OF THESE 3 LP'S IS CONTINUAL.
(I have written to the 3 surviving members during 2016-2018 with no responses of any kind).
I encourage anyone who may have any information or can assist in this request to email me  
anything that can further this riddle of authenticity or non authenticity request.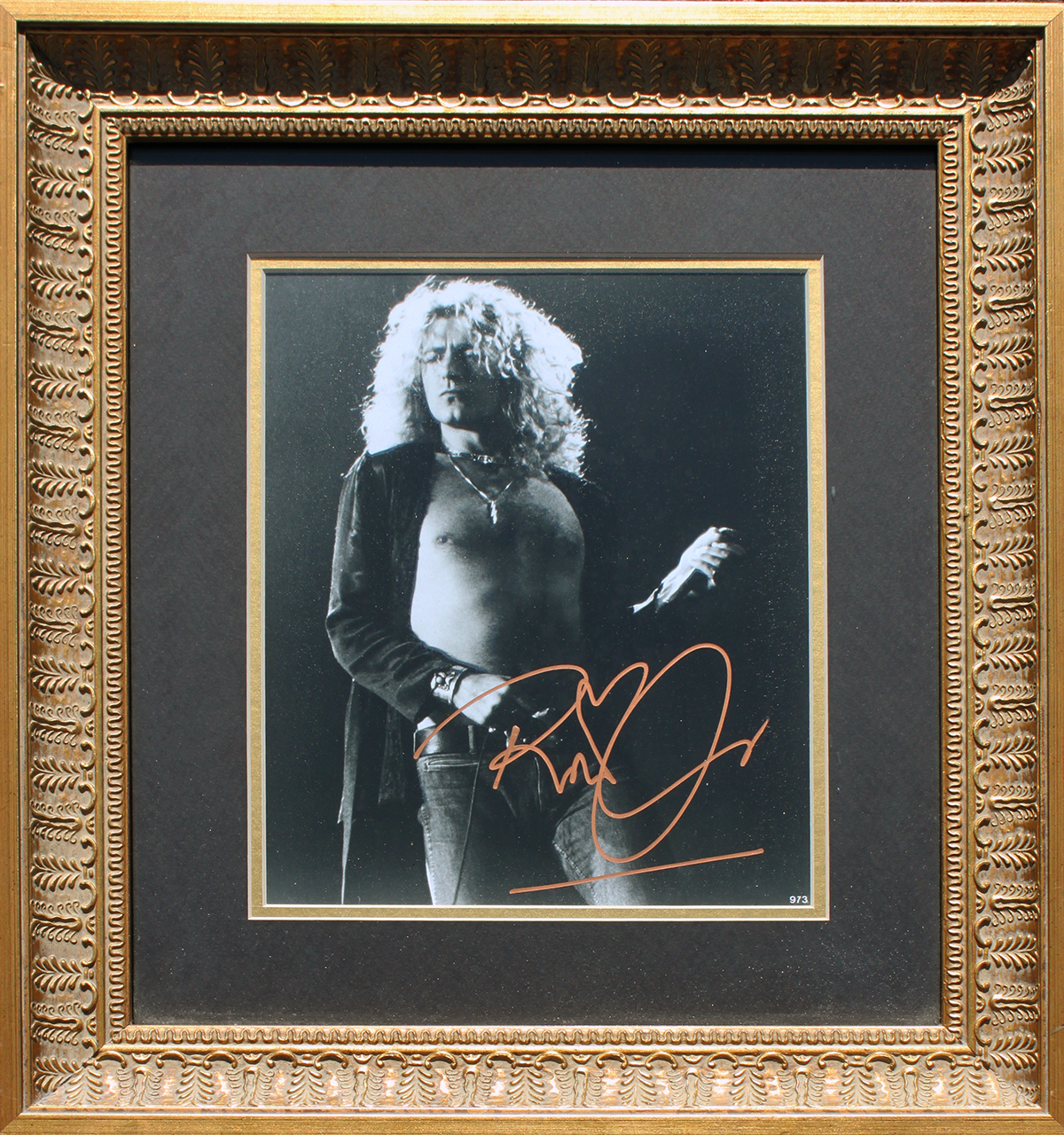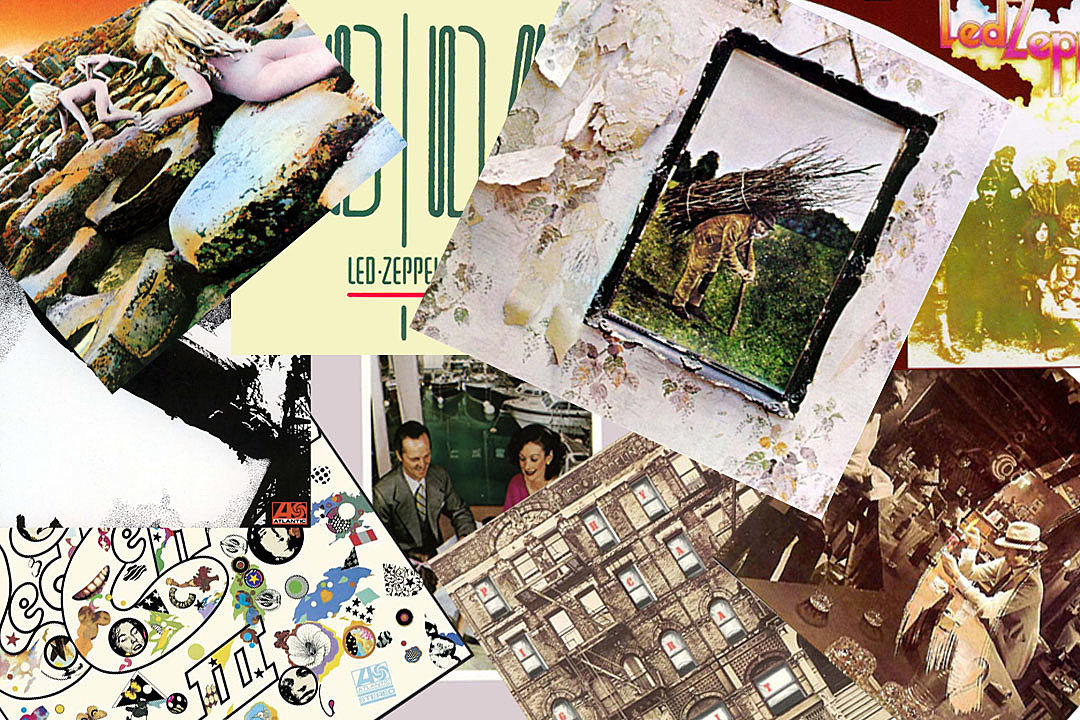 LED ZEPPELIN AUTOGRAPHED ALBUMS
Each of the following autographed albums I received in person myself: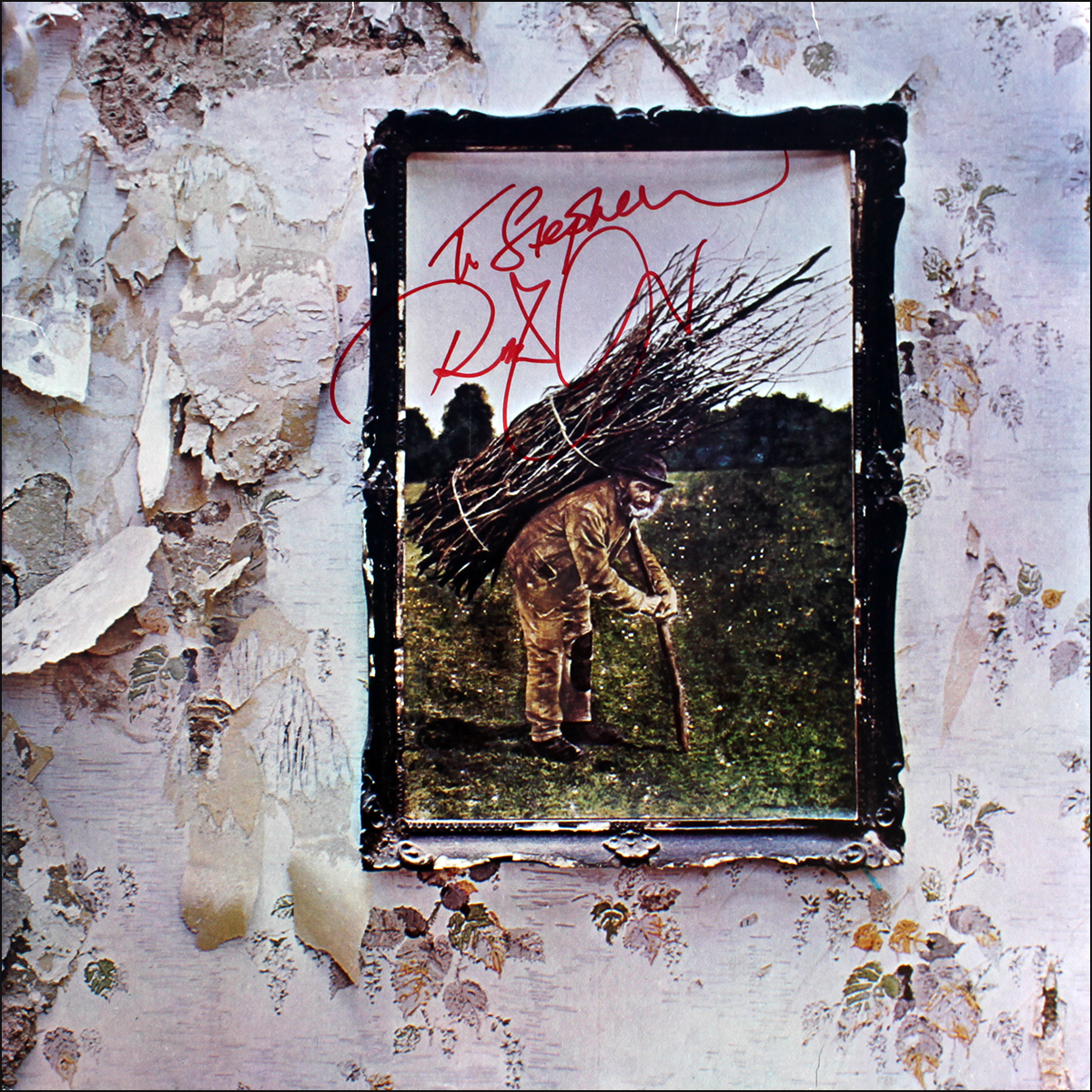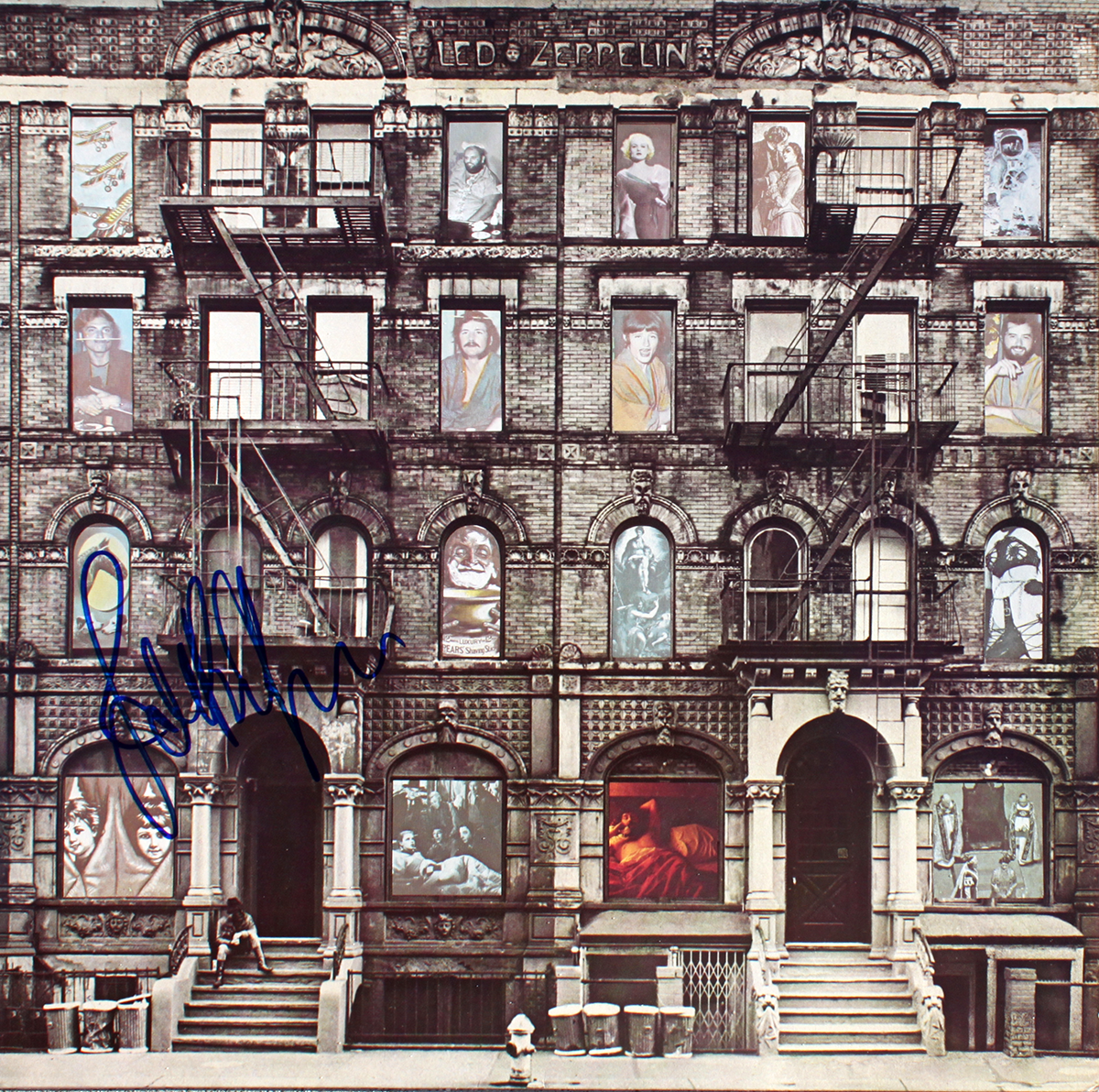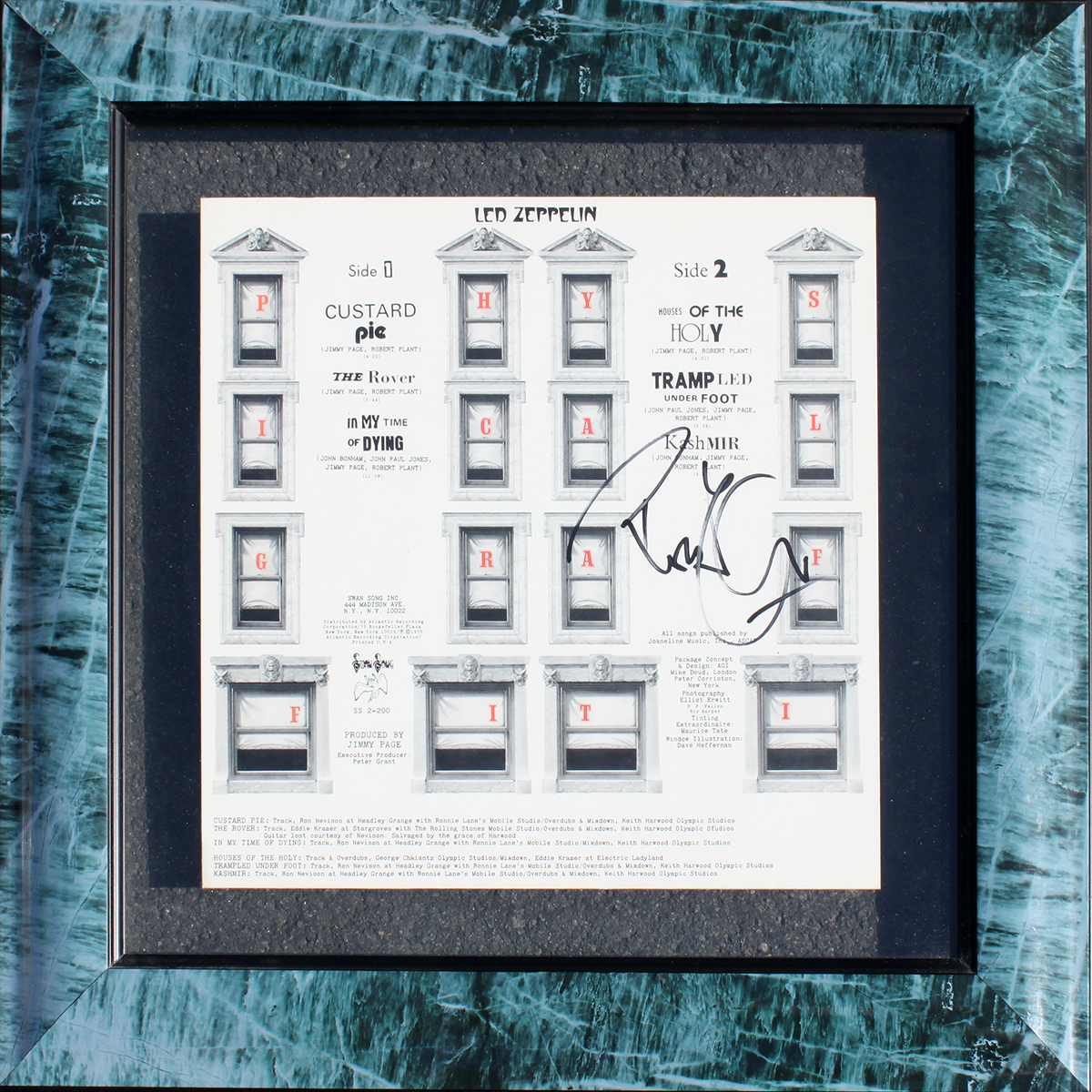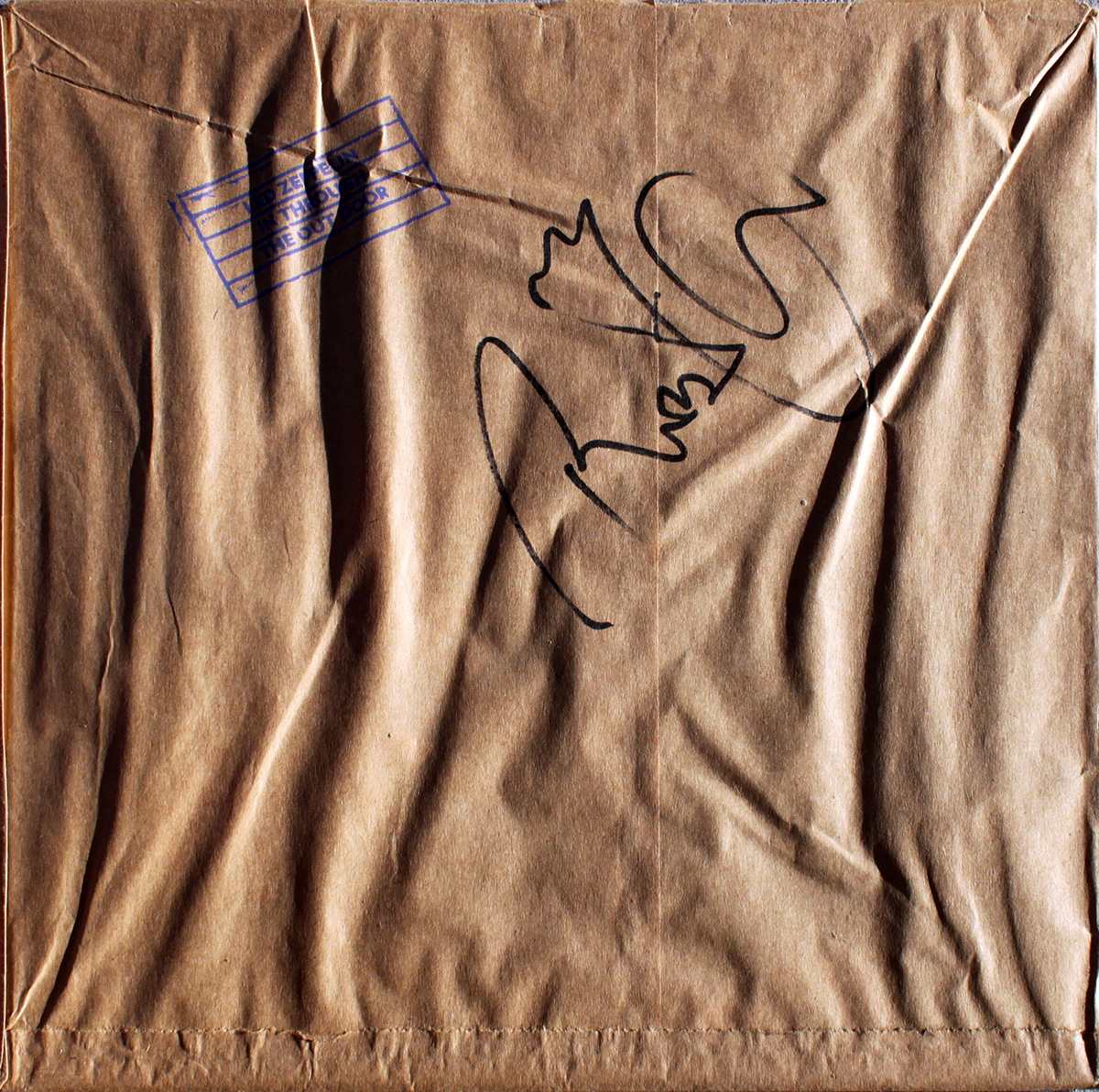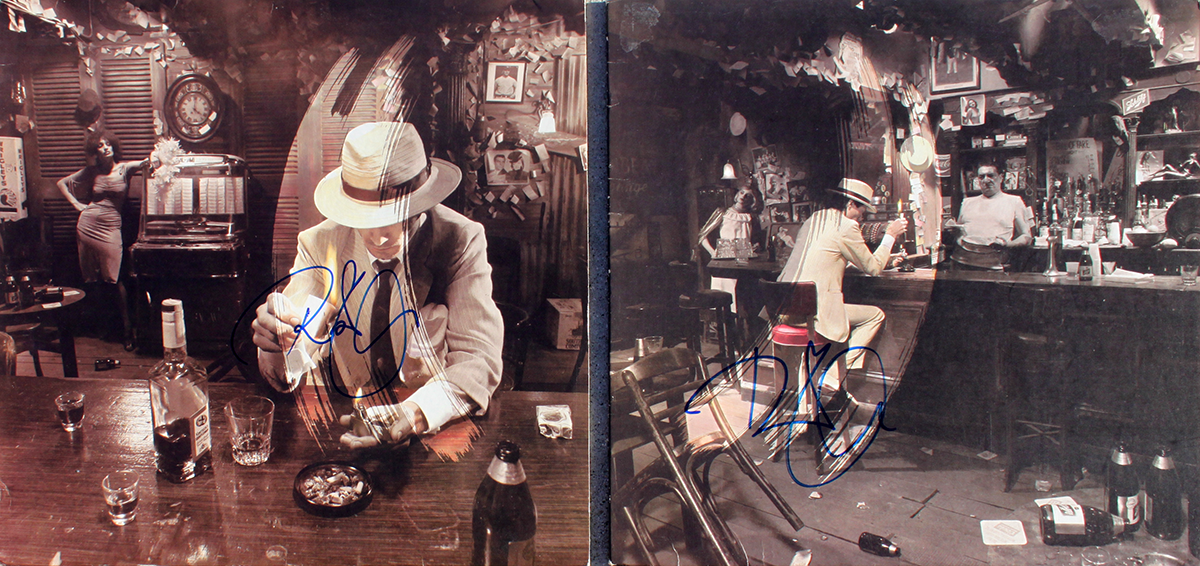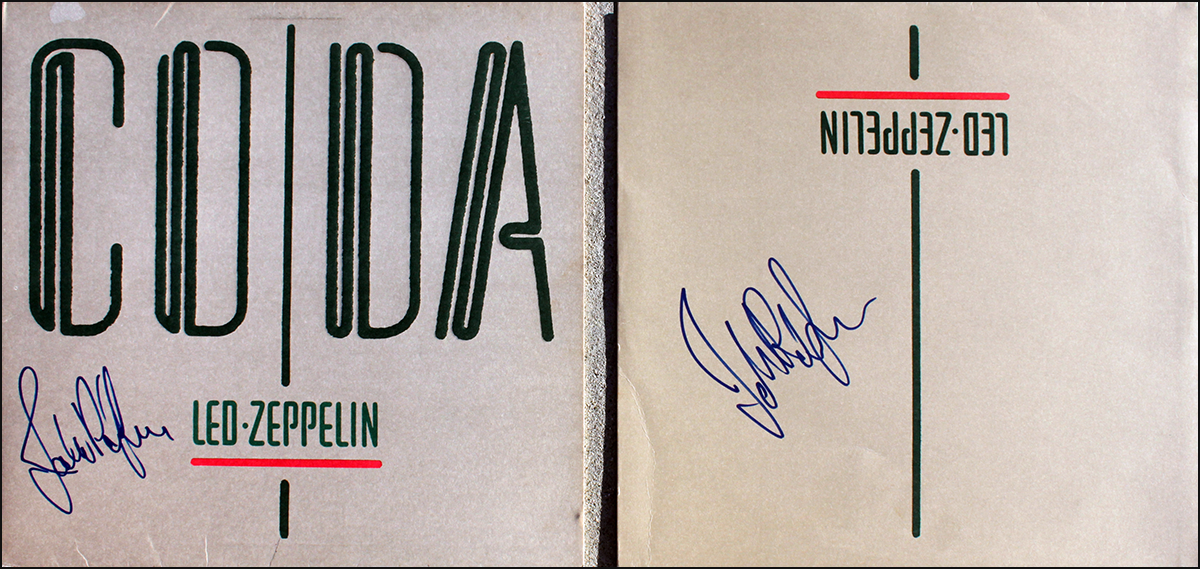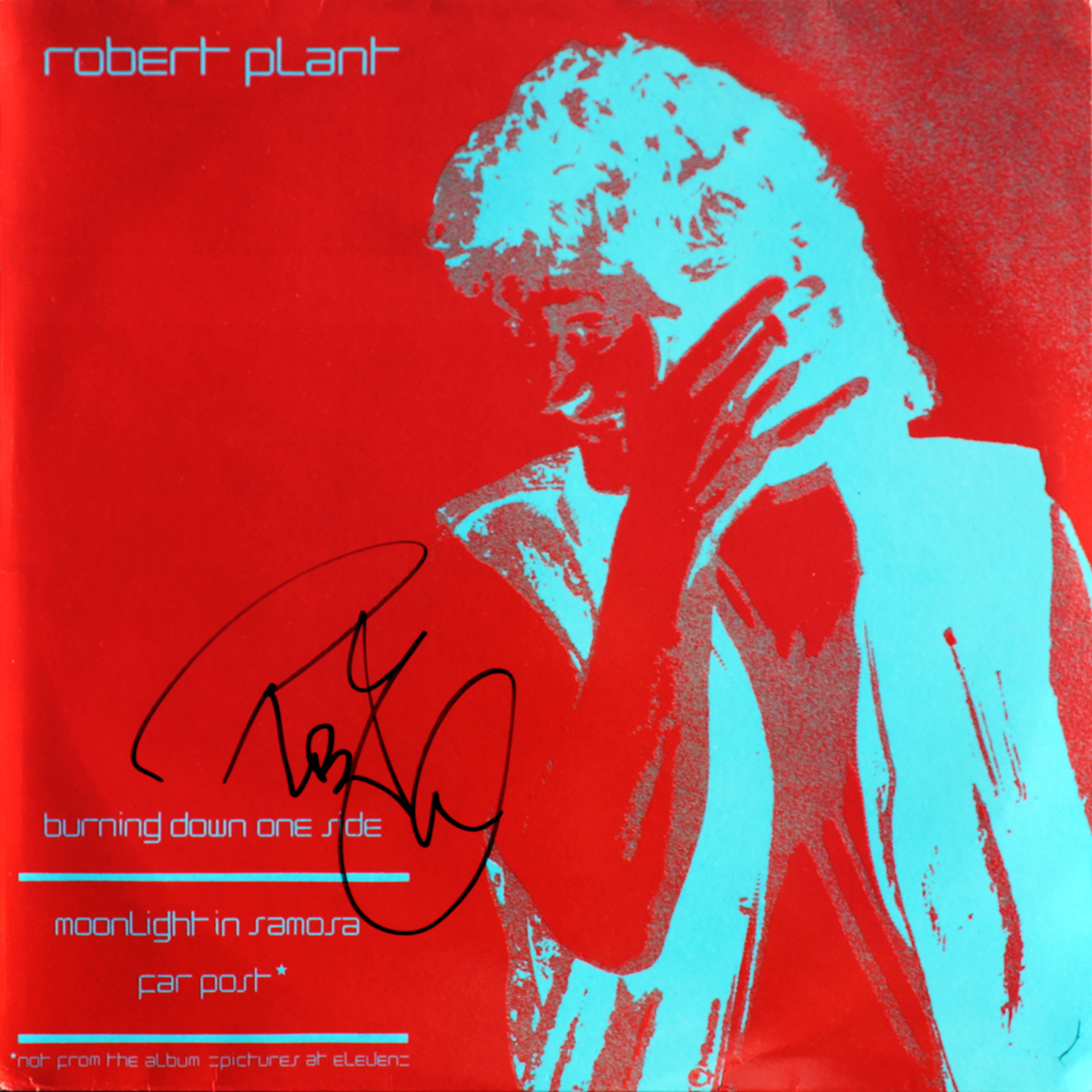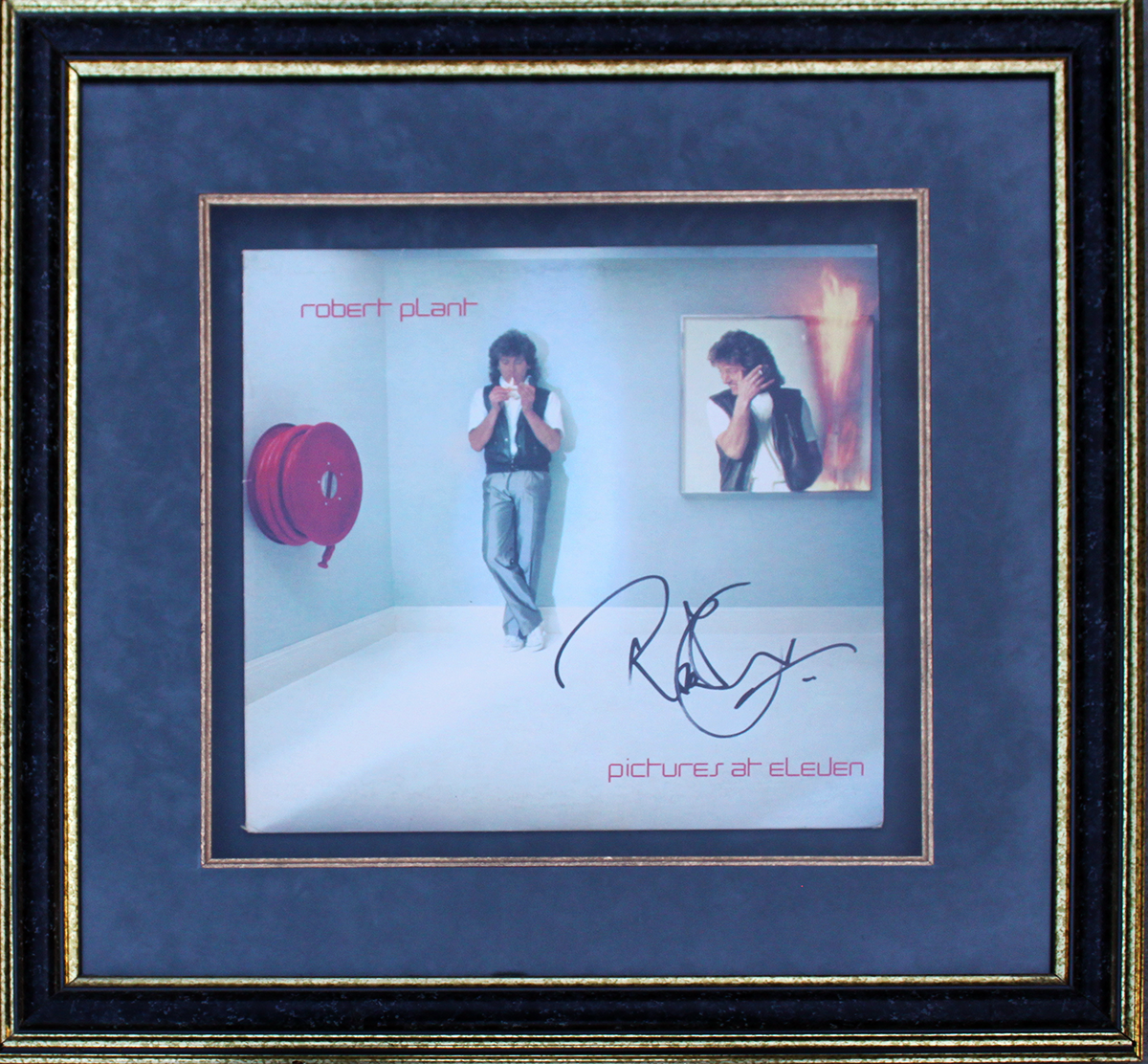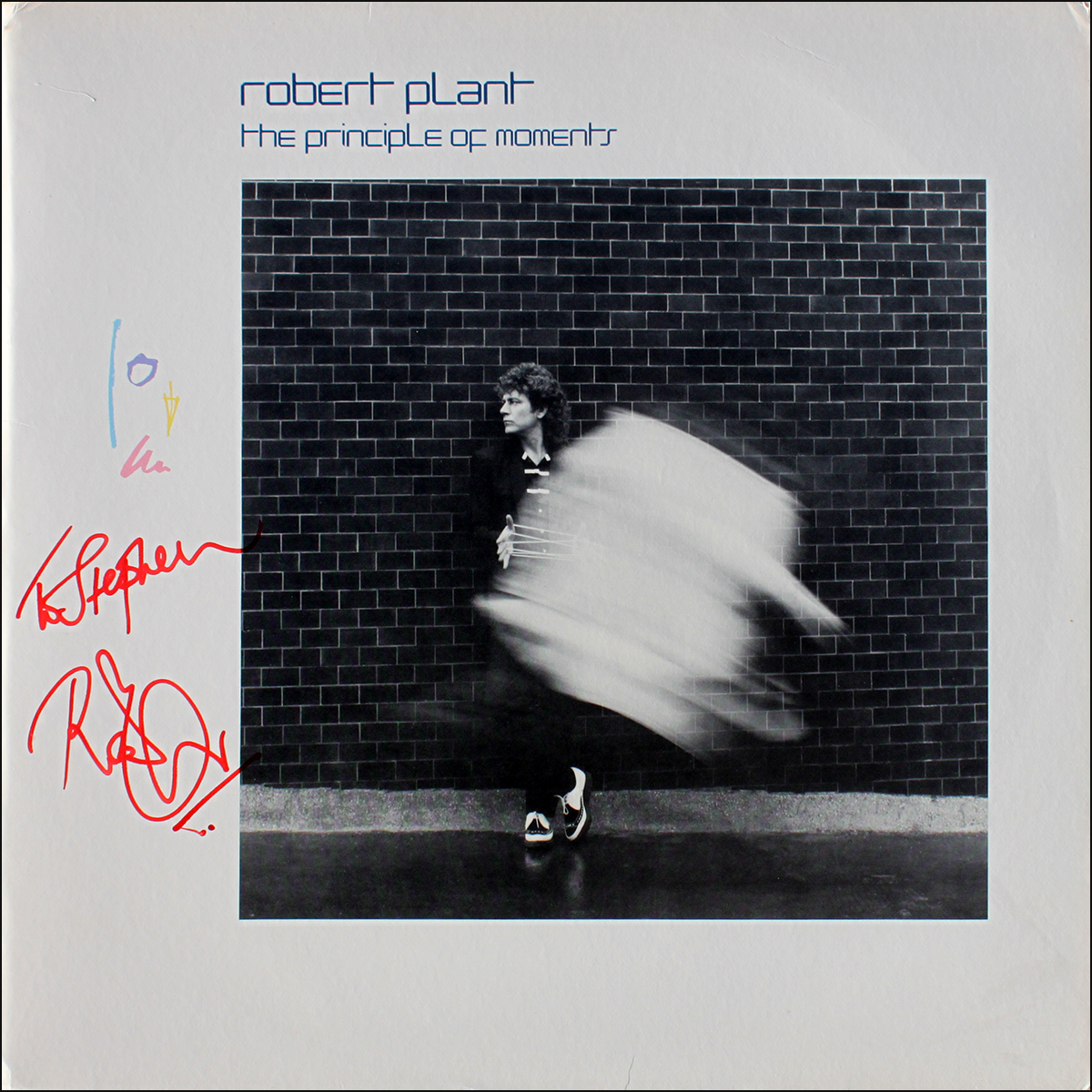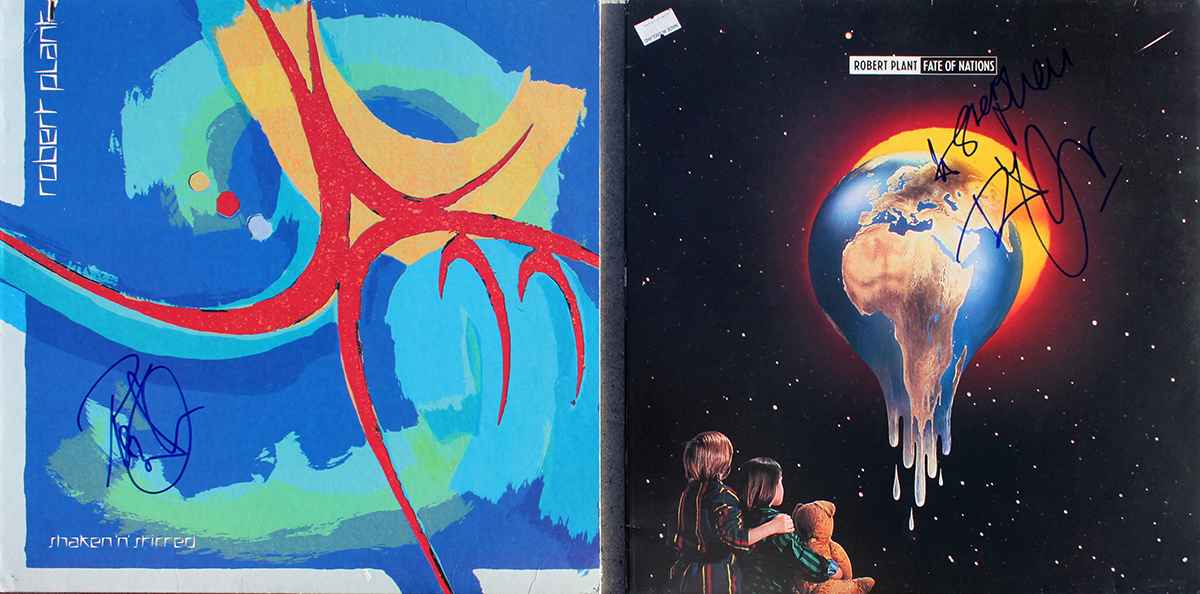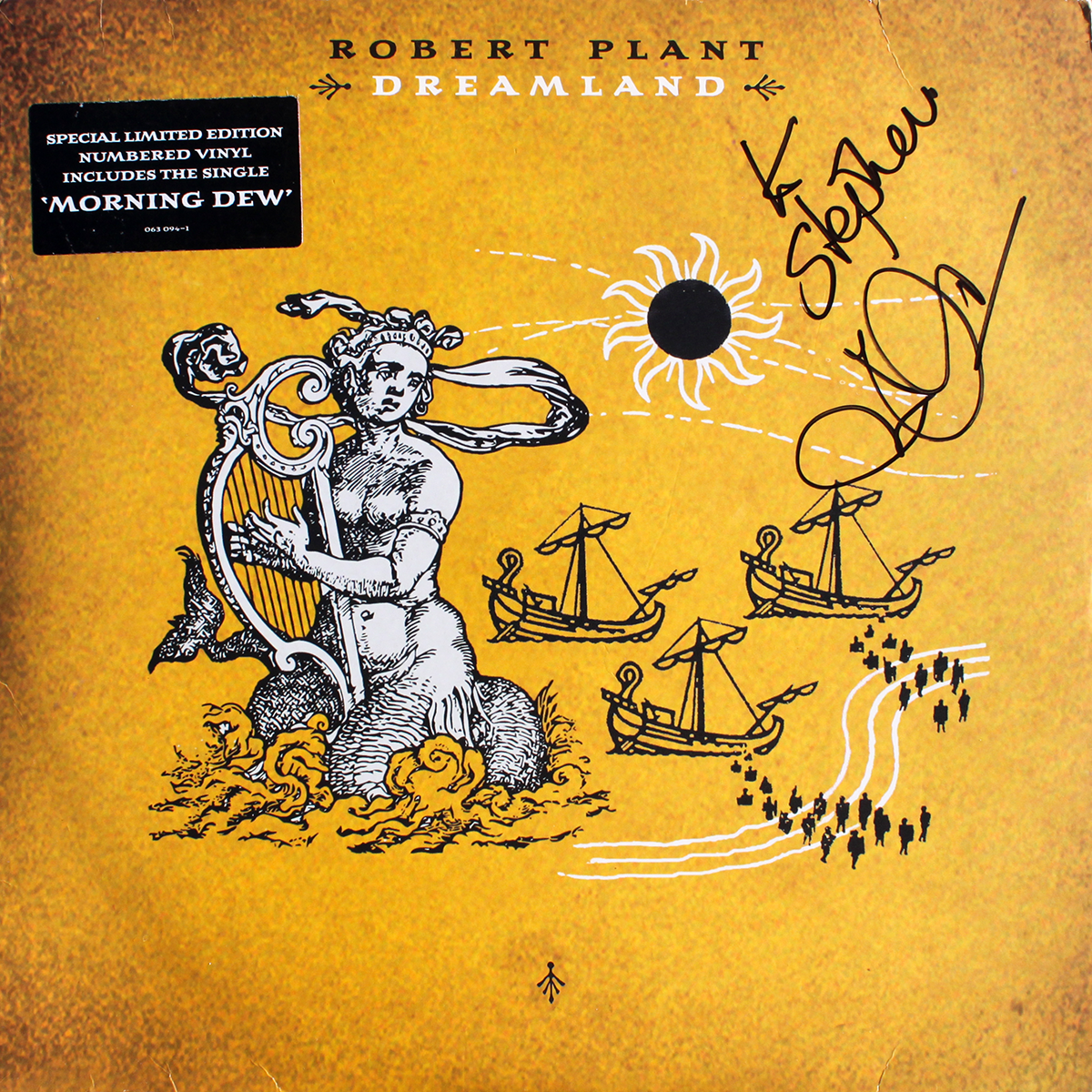 LED ZEPPELIN:  Simply put, BEST band ever.
Since first hearing KASHMIR on KMET during the summer of 1975,
I have been memorized by the music of this band.
Their music has been enjoyed by myself my entire teenage and adult life.