IT'S NICE TO HEAR AND READ NICE THINGS ABOUT MY COLLECTION.
I am thankful to so many folks who have emailed me over the years and complimented me on my collection or have enjoyed my website and too have shared their encounters and stories of themselves with their favorite rock bands and artists.
Below, are actually a few accolades in print from those who have enjoyed my collection.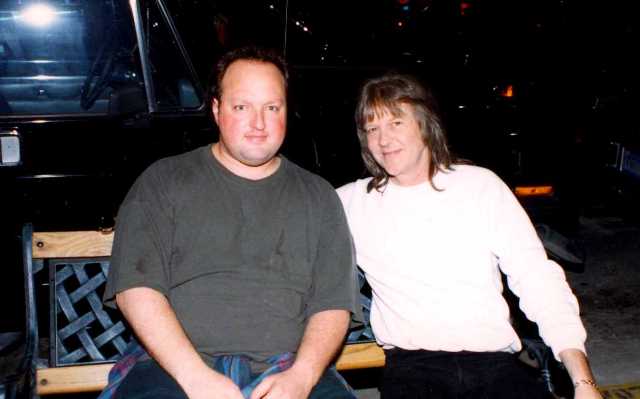 After signing many items of mine in 1994, founding Eagles band member
and original bassist Randy Meisner states,
"You have more items than I have and I was in the band".
---
April 1996, AUTOGRAPH COLLECTOR magazine ran an article I submitted concerning reluctant autograph signers, and the difficulties on being an autograph collector.
---
"Thanks…Good stuff…made me want to put on my Rock and Roll shoes…"
– former KMET disc jockey Ric Scarry
in an email dated July 26th, 2008
"The Site Is Lovely"
– former KMET disc jockey Raechel Donahue
in an email dated August 5, 2008
---
In September 2008, AUTOGRAPH COLLECTOR magazine ran an article that I submitted highlighting my celebrity encounter with Lee Fierro, who played Ms. Kintner in the film "Jaws". Mrs. Fierro had the memorable scene in where she slaps Roy Scheider (Chief Brody) in grieving the loss of her son, after learning a girl swimmer had previously been killed.
---
"Yes I've checked out your website. Very Impressive!! You've pretty much covered it all. A few years ago there was a film producer attempting to do a documentary on KMET. Many of us met on a sound stage and remembered the good times. He was putting together a short presentation to get financing. I guess he never did.
Again, great site!"
– Former KMET disc jockey Jeff Gonzer
in an email dated January 7, 2009
---
"Dear Stephen & Maria,
We enjoyed your page – a great thrill to have caught the soundcheck! We were living in LA at the time and enjoyed seeing the "Knebworth" billboard on Sunset.
Many thanks for sharing – and I hope you get to visit Knebworth again one day… a Led Zep reunion?"
– VB, Henry –
Henry Lytton Cobbold


 in an email dated February
11, 2009
---
"It was very nice, well written and put together, and I salute you for your labor of love."
– Former KMET program director and celebrity Shadoe Stevens compliments me on my tribute to his former radio station in an email dated November 9, 2009.
---
"Thanks for sharing your rockandrollcollection with me. wow… quite a collection, that's for sure."
– Former KMET
disc jockey Pat "Paraquat" Kelley
in an email dated November 10, 2009
---



Please Click Here to read the May 24, 2010 article written by Matt Horman entitled, "Remembering Pasadena's Palace of Rock," from the Hometown Pasadena website. Mr. Horman interviewed me regarding my memory about this one time treasure of a San Gabriel Valley concert venue.
---
---