In early 1990 rumors were circulating around that Robert Plant would be playing a show as part of his "Manic Nirvana" solo LP tour, at the Knebworth Rock Festival. Fueling this rumor, or at least enhancing it, was the added attraction that Jimmy Page would be joining Robert for his encore(s). That was all I needed to hear…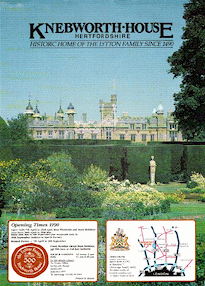 Knebworth, England, is a very small village just outside of Stevenage, Hertfordshire, at about 45 kilometers beautifully north of central London. For me, it could have easily had been Timbuktu or Kalamazoo for all I cared. All I knew is here would be my first chance ever to see live on stage two of my favorite rock legends.
Prior to the internet age, I had no idea where to even find out anything about Knebworth. I had no idea of the Knebworth house, it's 500+ year family history, Robert Lytton, or its affiliation with hosting on its grounds the almost 20 year tradition of rock concerts. All I knew is I needed two tickets and wanted to be there as this would be only the second post Led Zeppelin public performance (the first since Live Aid ), of Jimmy Page and Robert Plant.
As more information came out, and the date got closer, it turned out this all day concert was going to be a festival of the best of rocks musicians all contributing to the Nordoff-Robbins Music Therapy Center, helping children achieve the greatest quality of life through therapy and music. A good day of music for a very special cause indeed.
On the bill and scheduled to perform was, Eric Clapton, Phil Collins, Pink Floyd, Genesis, Elton John, Mark Knopfler, Paul McCartney, Cliff Richard, Status Quo, Tears For Fears, and of course Robert Plant with the unconfirmed but rumored Jimmy Page. How could I not be there? I called to KLOS radio where I first heard the information. After several calls and referrals to try this number, then call that person, check with this company, no we don't have tickets but call here, a phone call was later returned to me after a few weeks from a company out in the San Fernando Valley. The only news that could possibly be good news, was at last the news they called me about: they had tickets to the event, and yes they were for sale. Within a week of that phone call, I now had two tickets in my hand for the June 30,1990 Knebworth Rock Festival. Plane reservations soon followed and within a couple months the concert was less than 2 weeks away. Leaving our less than 8 month old daughter with my parents for the first time (for any real length of time), my wife and I flew to London.
Taking advantage of the time, and being the first time my wife had ever been to the U.K., we got to London about 10 days before the show and would spend such time visiting England, Scotland and Wales, with the festival on June 30th being the end of and the highlight of, our trip. While visiting a record store in London, we learned that in 4 days Paul McCartney would be playing a concert in Glasgow, Scotland on Saturday, June 23rd. What a treat and an appetizer, to see Paul McCartney and his band in a full concert as part of our trip, and prior to the festival. Jumping on to the British Rail, our next stop would be in Glasgow, after a quick overnight stay in Inverness and to Loch Ness hoping to see the "monster". Paul McCartney and his band due to a lack of ticket sales and the probability of rain, moved the event from an outside rugby arena to an indoor high school gym style and size pavilion. This concert, along with full bagpipes and its 30+ song set, is still to this day the absolute finest and most amazing concert I have ever attended. The next day it was time to get to where and what was the purpose of our trip; it was time to head to Knebworth.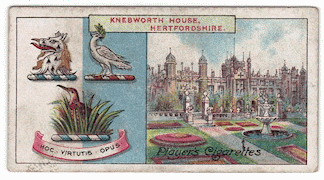 The concert was to be on Saturday June 30th, and we arrived and found lodging in nearby Stevenage on Wednesday June 27th. Making friends fast with our innkeeper, we learned that there is much more to be enjoyed by visiting the Knebworth House, than just the upcoming concert. He suggested taking a ride to the Knebworth house prior to the show and walk the grounds and visit the manor. The next day, June 28th, we went to visit what soon would be an invasion and pilgrimage of close to 200,000+ rock fans. The Knebworth house, its elegant gardens, its rolling fields, is something of a setting right out of an English fairy tale. I stood in awe of the charm and the serenity and was breathless as well as speechless. As I learned more of the mystic magic that was indeed such beauty, it was hard to believe that still to this day it's also very much a home where the Lytton/Cobbold family live and resides. Everything from the architecture and the layout, to the manicured hedges and vastness of its height, and flavor for the gothic, provided me jaw dropping eye beauty. My wife and I took the guided tour and then really began to learn the history of not just the tradition and pedigree of this family and their generational ownership that dates back to 1490, but also learned of the rock festivals. History filled, tradition at every turn, and memorabilia abound, the tour of the Knebworth estate was exquisite.
Starting with The Allman Brothers, Van Morrison and The Doobie Brothers back in 1974 on July 20th, the Knebworth House has been the site of some on England's best all day rock festivals that could easily rival any other festival site of music found anywhere in the world held on a single day. Pink Floyd along with Steve Miller and Roy Harper filled the sky on the night of July 5,1975, and on August 21, 1976 The Rolling Stones, 10cc, Hot Tuna, Lynryd Skynyrd with Todd Rundgren came to perform at Knebworth. Genesis, Jefferson Starship, Tom Petty and Devo performed on June 24, 1978 with a second show on September 9th featuring Frank Zappa, The Tubes, Peter Gabriel, Nick Lowe, The Boomtown Rats and Dave Edmunds, making 1978 thus far the only year that hosted two concerts.
However, it was by far the Saturday August 4th and Saturday August 11th, 1979 performances of Led Zeppelin, their first performances in the U.K. since the 1975 Earls Court, that cemented Knebworth forever in Rock and Roll concert lore.
Led Zeppelin, probably the biggest and most popular band since The Beatles, performed two of the bands best sets and finest performances in its entire career at the Knebworth festival. Led Zeppelin, back strong with the release of "In Through The Out Door" would debut several cuts from that LP for the first time, during its two Knebworth performances. Almost 30 years later, Knebworth and Led Zeppelin still is talked about in the same sentence and in the same breath as being one of rocks best concerts in any one single afternoon.
Both show performances still are sought after by fans in the form of LP, CD and bootlegged DVD's, in anticipation that one day these shows will officially be released. Knebworth, though in trouble with the locals for the amount of noise, the lateness of the shows, and the oversized crowds, had hit a jackpot by adding the mighty Led Zeppelin to list of concerts. Knebworth went on to host concerts in 1980 – 1986 with names such as Queen, Deep Purple, UFO, The Scorpions, The Beach Boys, Muddy Waters and Santana among many others. Its biggest line up was now just 2 days away.
Of course a stop at the Knebworth gift shop had to be, as everything from refrigerator magnets, books and tapes and concert memorabilia were displayed for purchase. As my wife and I finished our tour of the stately manor and started walking back to Stevenage and to our Bed and Breakfast, we looked back and could now fully see an overview of the entire Knebworth park. Knebworth sits beautifully within the county of Hertfordshire, amazingly quiet and very tranquil, though less than an hour drive from the overcrowded and tourist invested city of London.
Acting on yet another fine tip from our innkeeper, I learned that on Friday June 29th was sound check day at the concert site. Sounding like a plan, my wife and I arrived about 10:00am to the venue to what was the absolute hustle and bustle of vendor set up, lights and sound preparation, and what you would expect to see 24 hours before such an undertaking event. Also at the site, and as the day progressed, were the bands, one by one each having about a 30 minute sound check.
June 29th was an exceptionally bright and very warm day in the mid southern U.K. countryside and with so much goings on, no one really seemed to notice us.
Tears for Fears had just finished their sound check as did Status Quo, only to then be followed by Robert Plant. As Plant sound checked, workers stopped and pace slowed, and soon there was over 100 people standing much like my wife and I watching Robert sing. Then, as if Moses raised his hands and the Red Sea parted, out came Jimmy Page walking on stage. Plant and Page, and Plant's band, broke into the never before Led Zeppelin performed outtake found on the "Coda" LP, "Wearing and Tearing". 5 minutes and 27 seconds later, as the song ended, I stood frozen like a statue in London's Hyde Park, amazed beyond my wildest of dreams as to what I just heard and what I just witnessed. Coming to grips with my senses and as Plant and Page belted out the Zeppelin favorite "Rock And Roll" I grabbed some notebook paper and wormed my way past the now watching vendors glued to the music from the stage, and literally walked with ease to the back of the stage. As Robert Plant first, then Jimmy Page soon second, left the stage and their finished sound check, I asked them both for an autograph which with a smile from both, I personally received.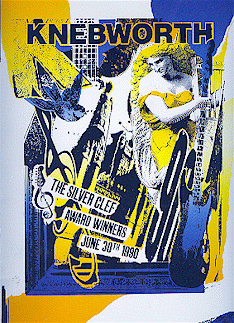 More sound checks still to come from Genesis, Eric Clapton, and next up from Paul McCartney. During the rest of the day, I was able to receive autographs from Eric Clapton, Phil Collins and to my surprise Paul McCartney. Paul, who stood alone almost exactly where I was standing a few hours earlier watching Plant and Page's sound check, was now watching Elton John's sound check. Paul McCartney standing by himself, with no security or no personnel, just nodding his head and greeting the workers, simply blending in to the day's events and just perhaps some very rare time to be looking like an ordinary guy. The entire day was so unplanned and even more, such an unexpected pleasure. A very bright sunny English sky with daylight to almost 10:00pm made for a day of "the concert before the concert" for both my wife and I. Literally, before we knew it, it was almost 11:00pm and with darkness finally upon us and the day's events concluding, we were absolutely dead tired. We could see fans arriving and camping out in a designated area off behind the stage area which was the entrance to the park, but in all honesty, we were so tired that we just wanted to rest a bit on some grandstand stairs before making our way to what now would have to be the camping area, as getting back to our B&B was virtually out of the question.
What was intended to be a quick cat nap, was an awaking at about 3:00am still hugged together in the grandstands, freezing cold, as the bright skies of the previous day had left us both with a slight sunburn. No jackets, no sweaters, and long gone was the day's warmth, as we were downright shivering cold. Morning did come and the lines outside the gates were massively long with a sea of bodies and rows upon rows of people everywhere. Thousands of people were just on the other side of the fence awaiting the cattle call of the opening of the gates.
A worker approached us shortly after the sunrise and asked us what we are doing inside, as the gates hadn't yet opened. As we told him and showed him where we had slept, he laughed a bit and told us that he needed to clear the area and have us join the crowd outside. In doing so, he did place us at the front of the line. Now outside the gates, we could grab a bite to eat, and with the sun shining, finally it now began to warm up. Gates opened in a few hours and not since the 1981 Rolling Stones concert at the L.A. Coliseum, have I ever seen such a human stampede to a stage. The long quest to the day of the concert had arrived and Knebworth was about to begin. All ready up to this point, the journey was one thrill ride after another, and with over 100,000+ people standing behind me, with another 100,000+ to filter in during the day, no one stood in front of me and the stage other than my wife protected well in my arms from the bodies of concert goers squeezed on both sides of us. There was only one thing that could dampen the spirits of the day at this point, and looking up, it was a darkening ominous sky. Just before Tears For Fears were to take the stage and commence the largest gathering of acts that has ever been assembled for a Knebworth concert, the skies began to pour rain. Long gone were the 80 degrees of bright sunshine of just 24 hours earlier, replaced by a cold and very wet English rain storm. For about 30 minutes before and for just about all of Tears For Fears, the opening acts set, myself and the entire sea of fans and concert goers were getting absolutely drenching wet.
As fast as the storm started, did after about an hour and a half come to an end. After Status Quo finished up, out came Robert Plant and not could the rain, the pushing from the behind crowd, the mud at our feet or anything else could take away what was about to be on stage and the feeling it was about to bring. Sure enough, I was about to enjoy a historical musical orgasm that I worked so hard and spent so much money to get to. Robert and his band came on stage and opened with his current LP's, "Hurting Kind" followed by the Led Zeppelin tune "Immigrant Song" followed then by "Tie Dye on the Highway", "Liars Dance", "Going to California", "Nirvana", and "Tall Cool One".
For me, Moses then appeared for the second time in two days in the form of Jimmy Page, with guitar in hand. "Misty Mountain Hop", "Wearing and Tearing" followed by "Rock And Roll" were performed in a Led Zeppelin style perfection to the roar of fans and the cheers of thousands upon thousands. With a wave and a smile and a hug to each other, Robert Plant and Jimmy Page, both rock gods of music, left the stage and concluded their Knebworth set. All the effort and all that it took to get to this point was in my mind well worth it in folds and folds.
I had just seen the first and only live performance of
"Wearing And Tearing" in concert.
The concert continued on that day with performances from Elton John and Eric Clapton, Paul McCartney performing several of the John Lennon sung Beatles tunes as well as his own and solo, Mark Knopfler and Genesis, and Pink Floyd performing "Shine On You Crazy Diamond" and "Comfortably Numb".
With the climax for me personally being one half of Led Zeppelin now over, we made our way through the crowd, which was not at all as easy as it may sound, leaving our up front row and stood back well behind the mass where we could stretch, find a bathroom, grab some eats, and watch more of the show from less of a confined area. Standing now with 100.000+ people in front of us, I could really get a feel for just how crowded and jammed packed this place was. Two days ago, I was in absolute serenity walking these very grounds where now trash, pop bottles, sleeping bags and blankets, shoes and pants, and people upon people gathered. The very smart folks at the Knebworth estate having done this and seen these crowds before for the previous year's concerts, geographically stationed the stage and the crowd, as well as the entrances and all the exits to where although populated by so many for the event, were solely in only one side part of the estates park. Undisturbed and still pristine, was the beauty of the remaining Knebworth acreage.
As the rain returned and as a very magical day of sheer awesome music both prior to the days concert with all the warm-ups and sound checks had been enjoyed, we got a jump on the crowd and headed back to Stevenage with the sounds of Pink Floyd now filling the English dusk sky twilight. Finally back at our bed and breakfast, we enjoyed a long awaited hot shower, a warm and comfortable nights rest for an eventual flight back to Los Angeles the next day. Our journey was over and reality awaited back home as well as our very much missed 8 month old precious daughter. Every emotion was surpassed as music once again eclipsed every other feeling that it had ever given me. It was the perfect concert at the perfect venue at a special time in my life.
My wife and I traveled to Knebworth, England, the stately home of Chryssie Lytton Cobbold, and 500 years of her family heritage. All the stories and tradition, free roaming deer and rabbits, with I'm sure a ghostly spirit or two still walks about, and a potpourri of rock and roll's best musicians performing at one of the most charming of venue's anywhere in the world. Knebworth should be synonymous with live music and rock and roll events.
It was a journey that started as an idea one afternoon while listening to the radio, and still almost 20 years later, a feeling that still sends me warmth and happiness every time I look back. I cannot recommend enough a visit to the Knebworth estate. If only you take a small portion of the feeling that I took back home after my visit, it then would still be well worth your visit. When in
London, treat yourself and perhaps your family to a day's trip just an hour north.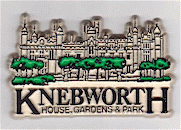 Information about Knebworth, it's hours of operation and all you need to know:
KNEBWORTH HOUSE,
Knebworth, Hertfordshire, England, SG3 6PY,
United Kingdom
———-
———-
Some memories do last forever.
I found one in June of 1990 on a journey to a very little town to watch a very big concert.