What better item to ask a drummer to autograph
than a drumhead or cymbal?
I usually seek the 16″ or 14″ frosted white (often Remo brand) drumheads which offer an affordable item with a large space for an inscription signature or multiple signatures by band members.  Cymbals can be difficult to get signed and often the ink will smear, and with cymbals priced at about $100 or higher, I only have just a few signed. Drummers always seem to like signing drumheads and many will provide their own brand at the many convention shows that they attend.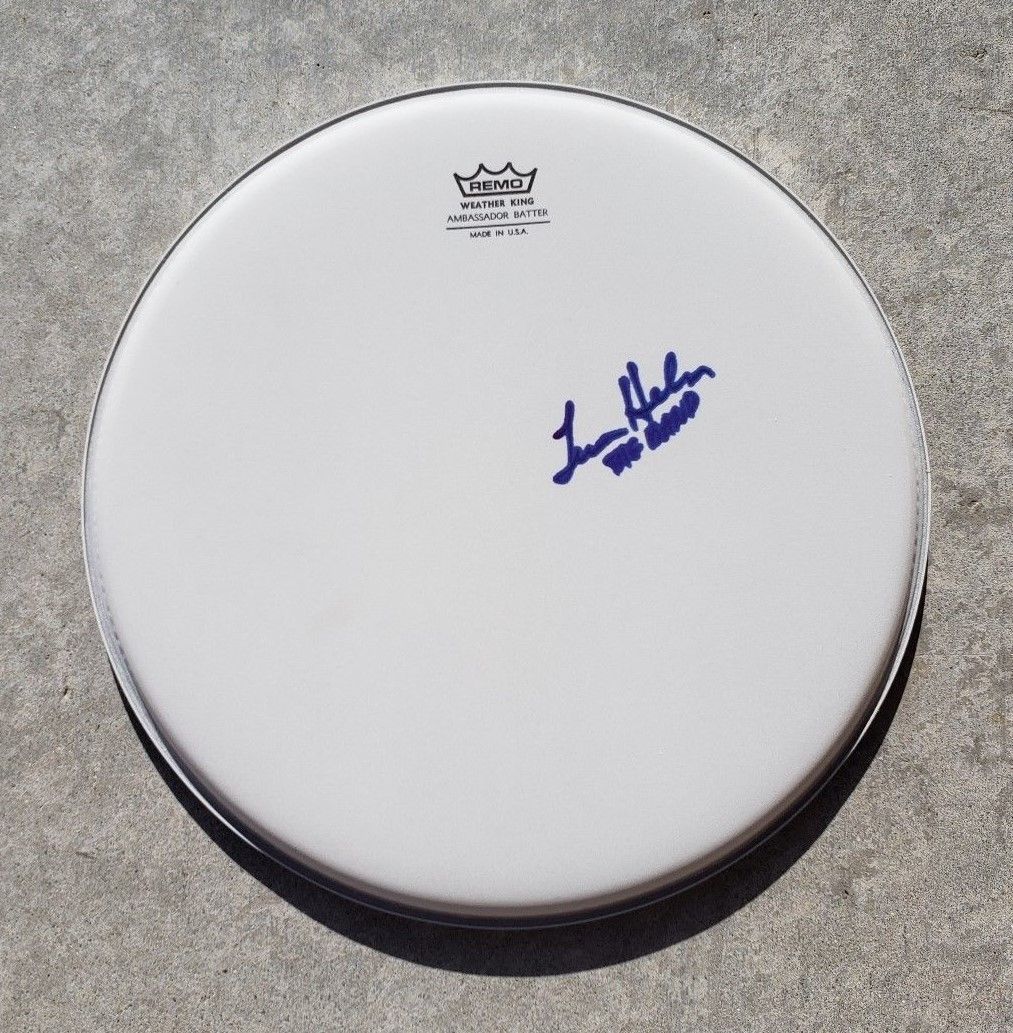 Signed on December 17, 1993 at his BOOK SOUP Book Signing by 
Levon Helm of THE BAND. Levon sadly passed away on April 19, 2012.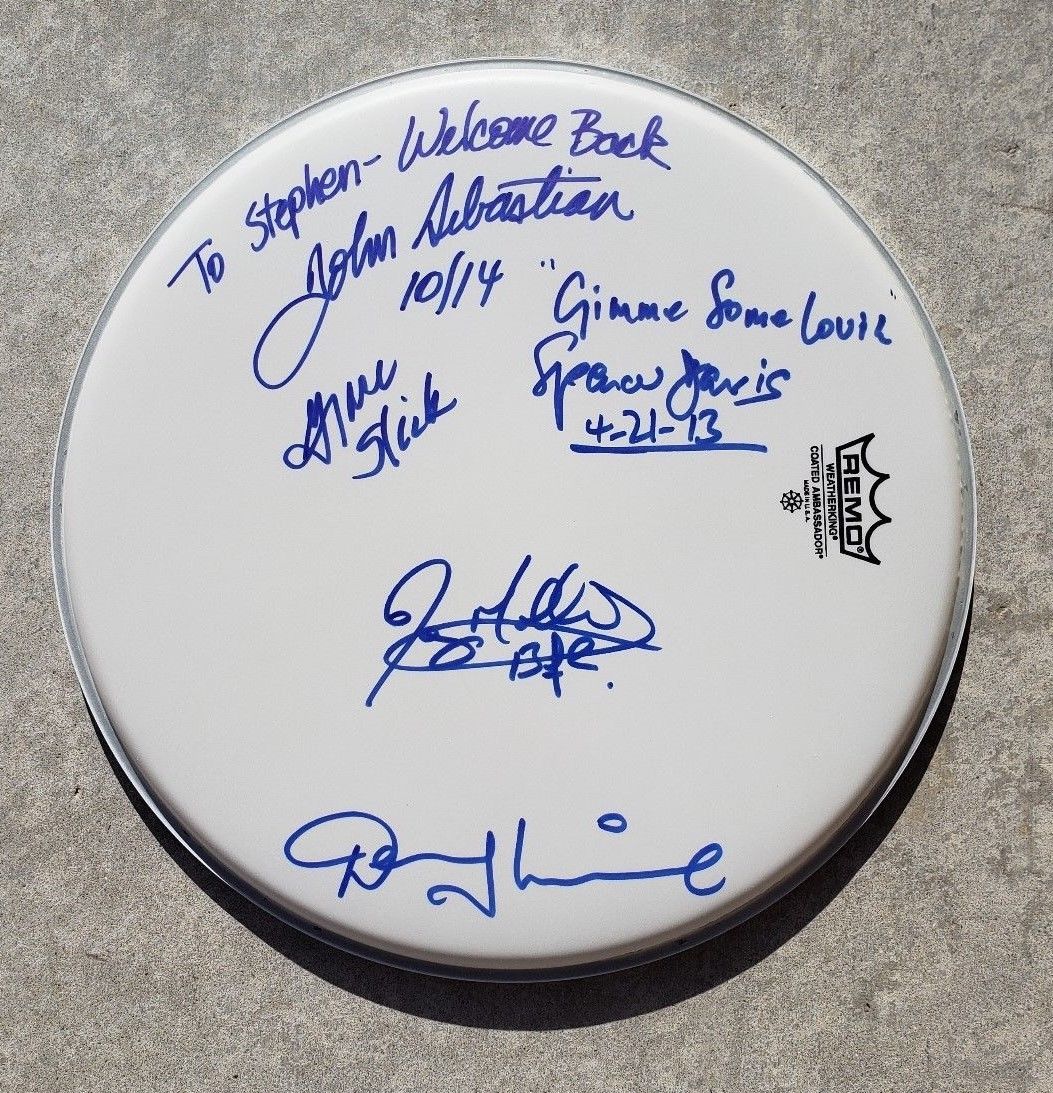 Various Classic Artists Signed drum head by:
John Sebastian: at The Coach House October 14, 2012
Spencer Davis at The Rock and Roll Show April 21, 2013
Grace Slick at Gallery 319 in Woodland Hills September 21, 2013
Denny Laine and Joey Molland at Beatlefest October 11, 2014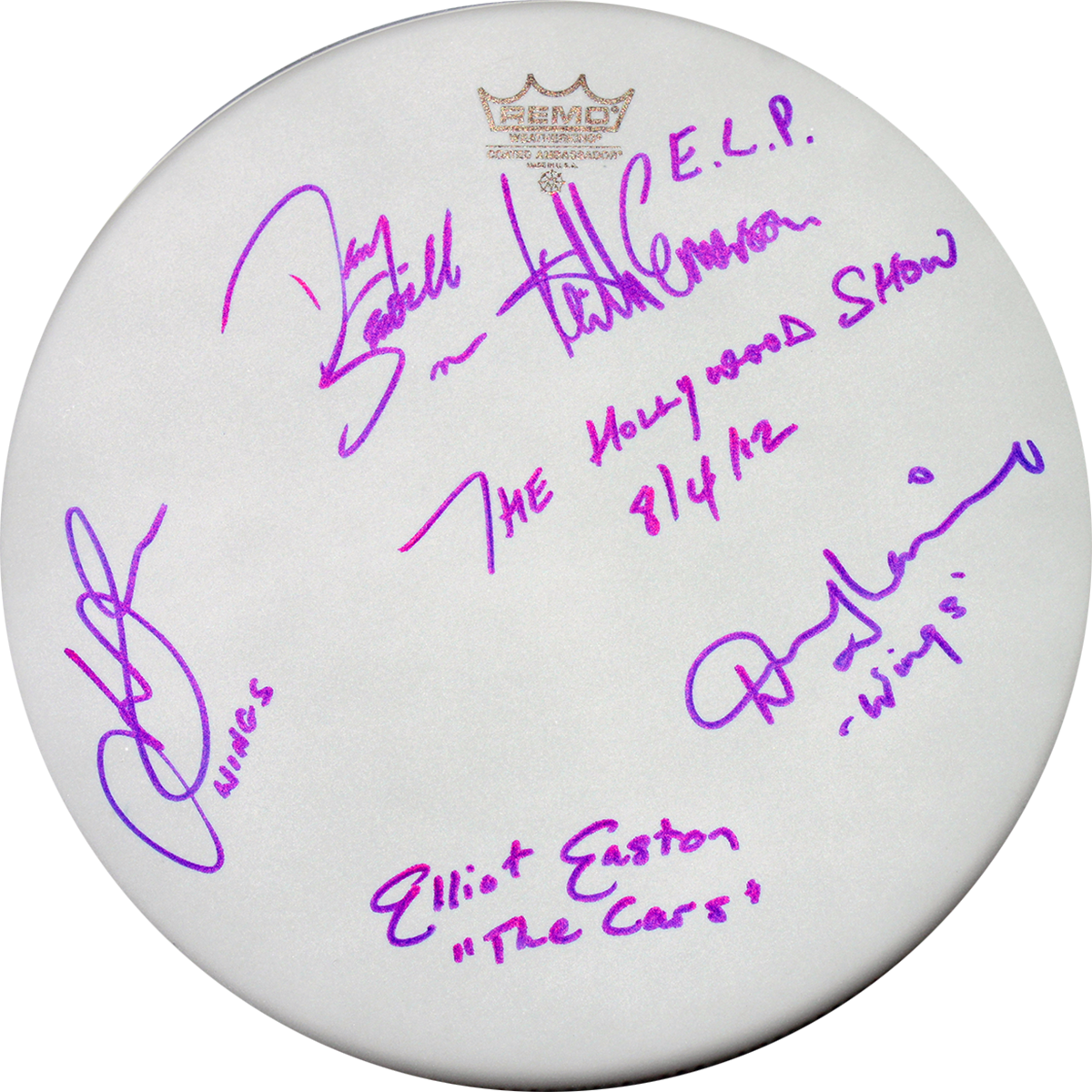 On August 4, 2012, Denny Laine, Keith Emerson, Elliot Easton, Laurence Jubor and Denny Sewell all appeared at The Hollywood Show autograph convention at The Westin LAX Hotel. The above drumhead was signed
by each of these musicians.
A true collection of these CLASSIC Rock and Roll celebrities!!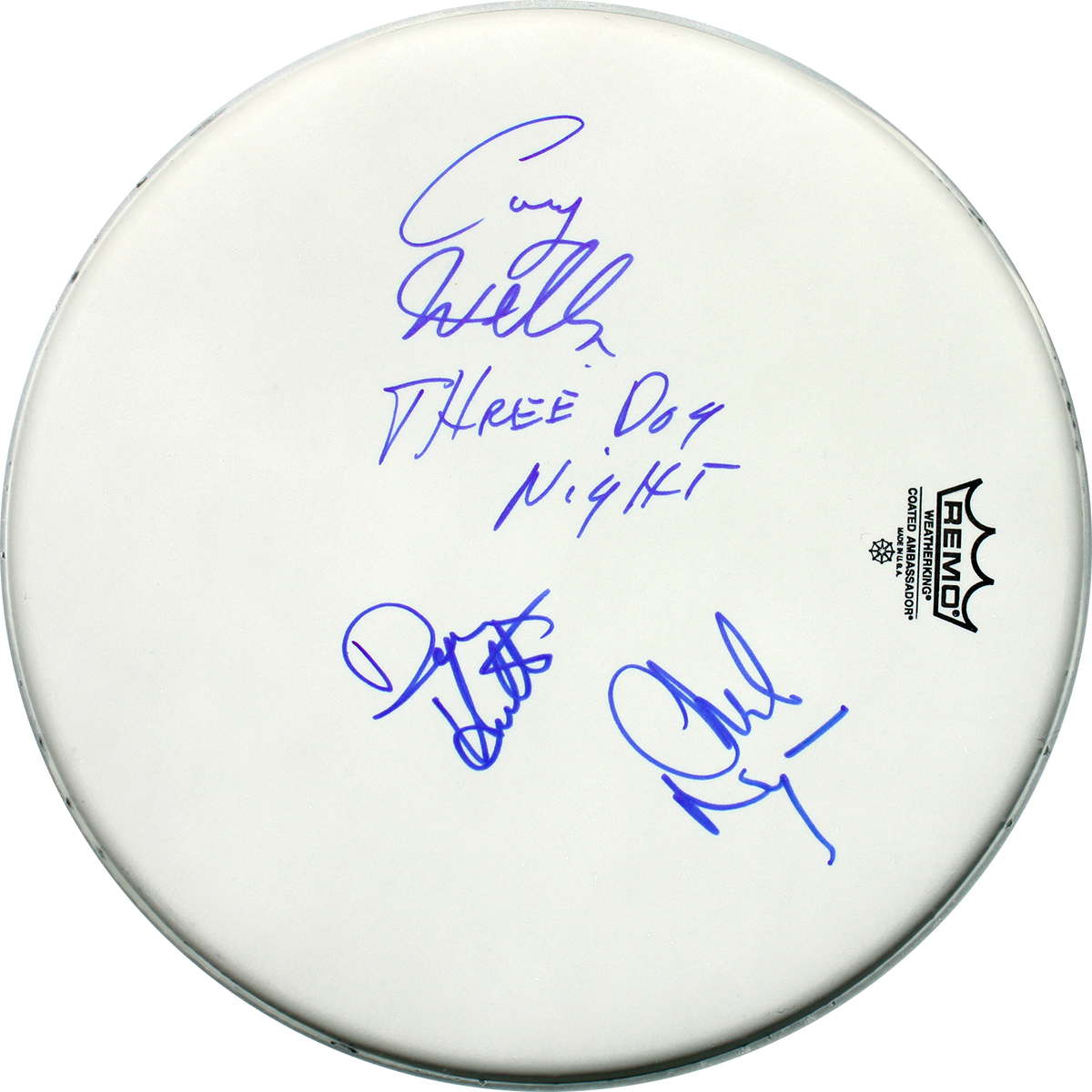 Signed by Danny Hutton and Corey Wells of Three Dog Night in San Bernardino at the California Theater on October 2, 2010 and by Chuck Negron in Los Angeles at the Westin LAX, on September 14, 2013.
Fully signed items by the three of them, or just about anything signed by especially Corey and Danny) became increasingly difficult during the later years of Corey Wells life.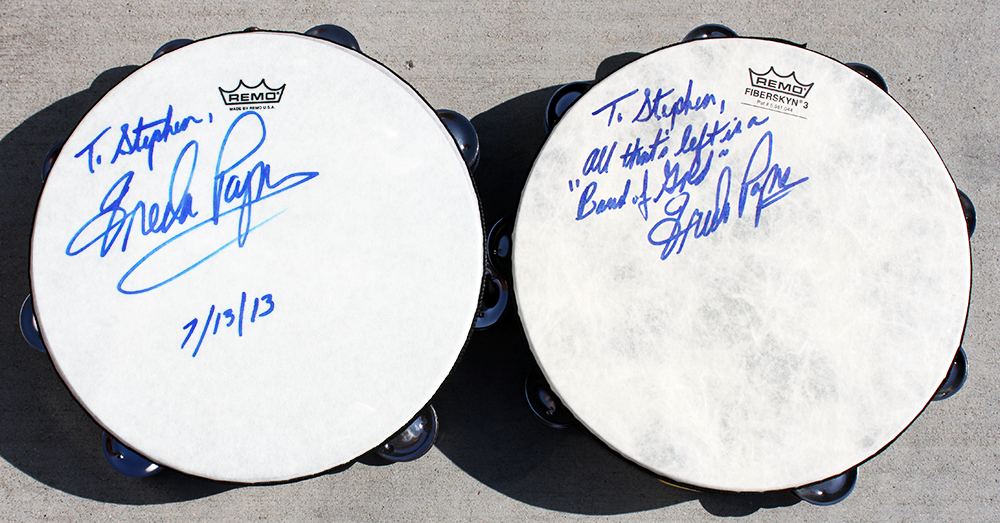 Very rare autographed tambourines from 1970's diva Freda Payne,
signed on July 13, 2013, at The Hollywood Show, at The Westin LAX Hotel.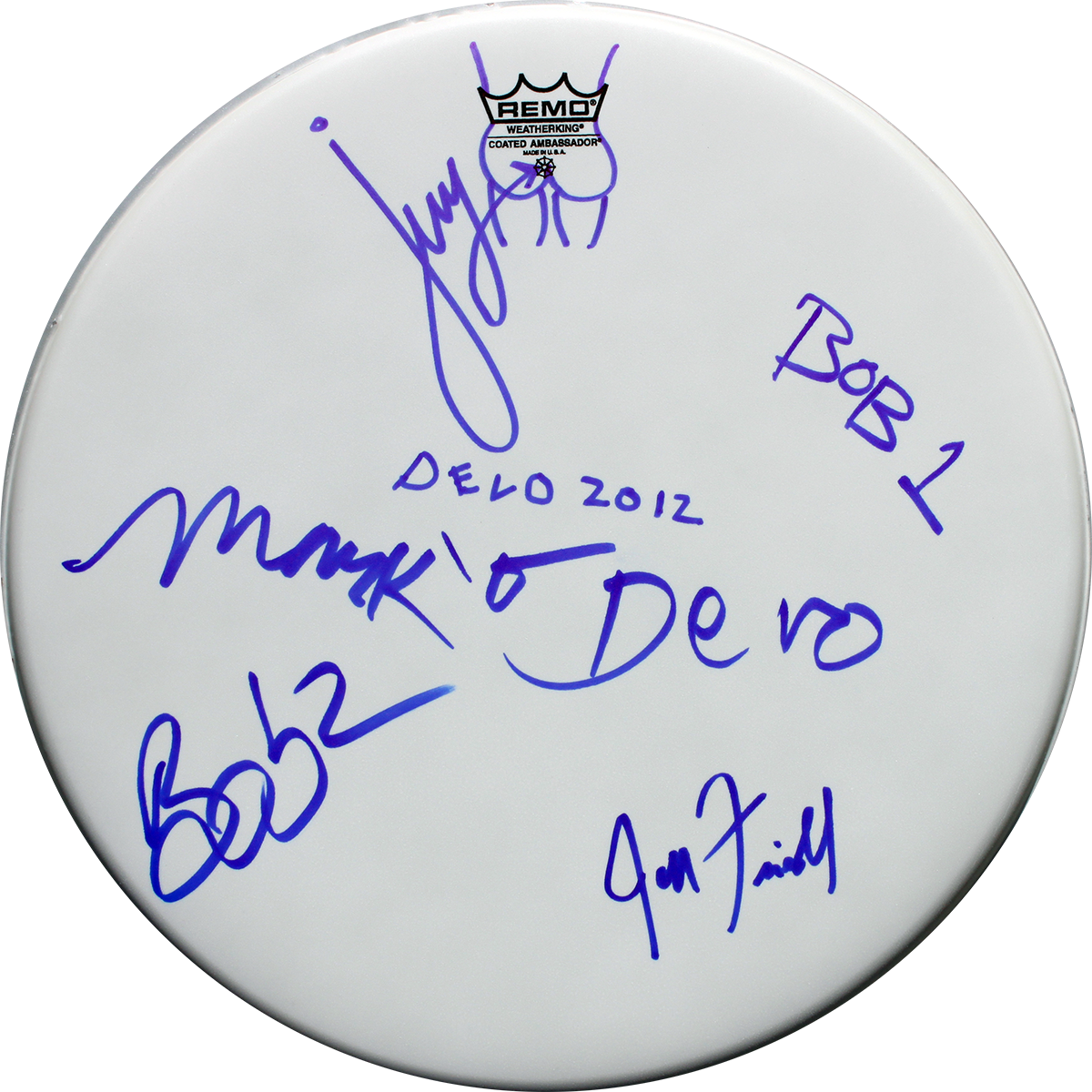 Signed by the 2012 line-up of DEVO, at The Observatory Theater in Santa Ana on May 13, 2012, at the after concert "meet and greet".
Bob Casale, also known as "Bob 2" passed away on February 17, 2014.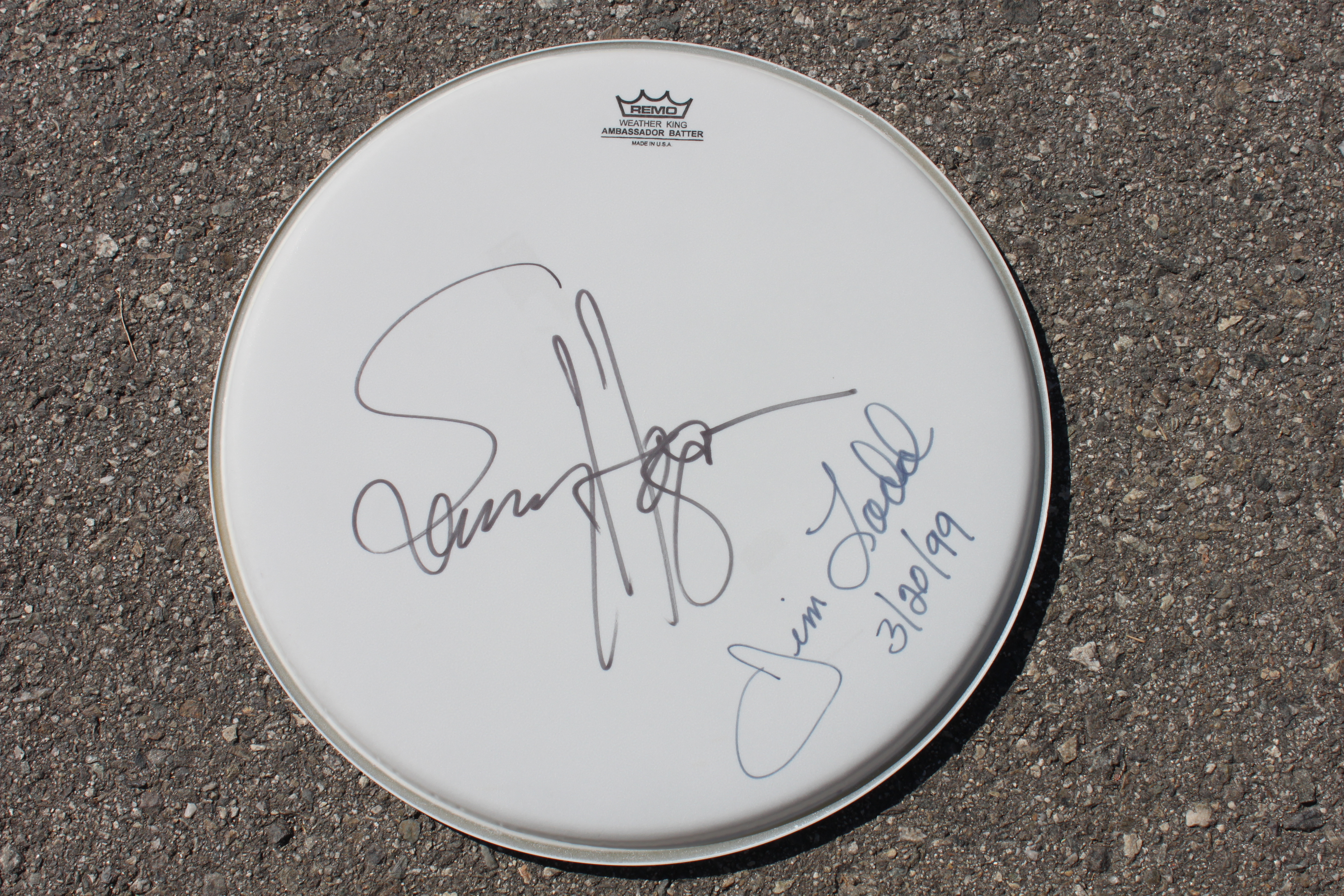 Signed by Sammy Hagar and Jim Ladd at The Hard Rock Café at The Beverly Center on March 20, 1999.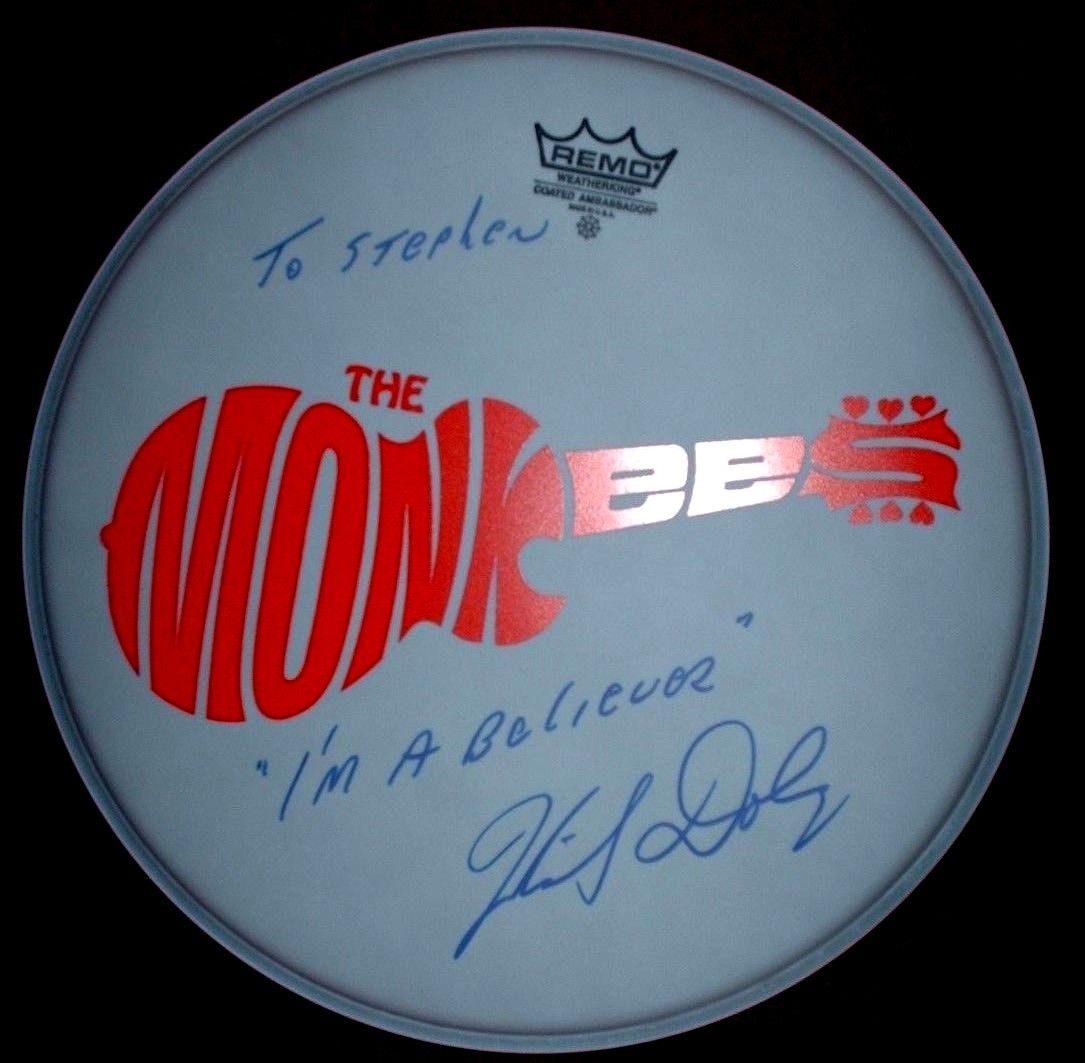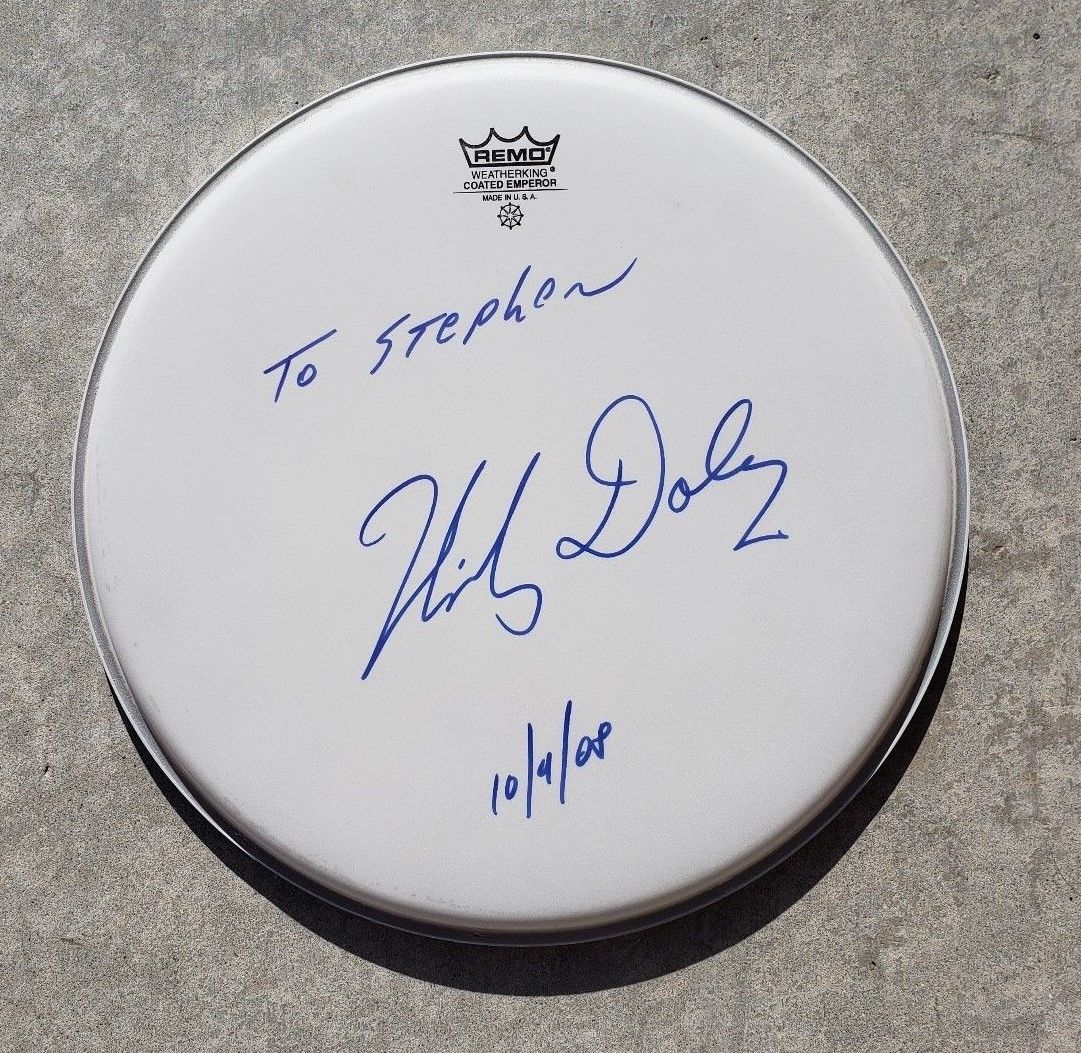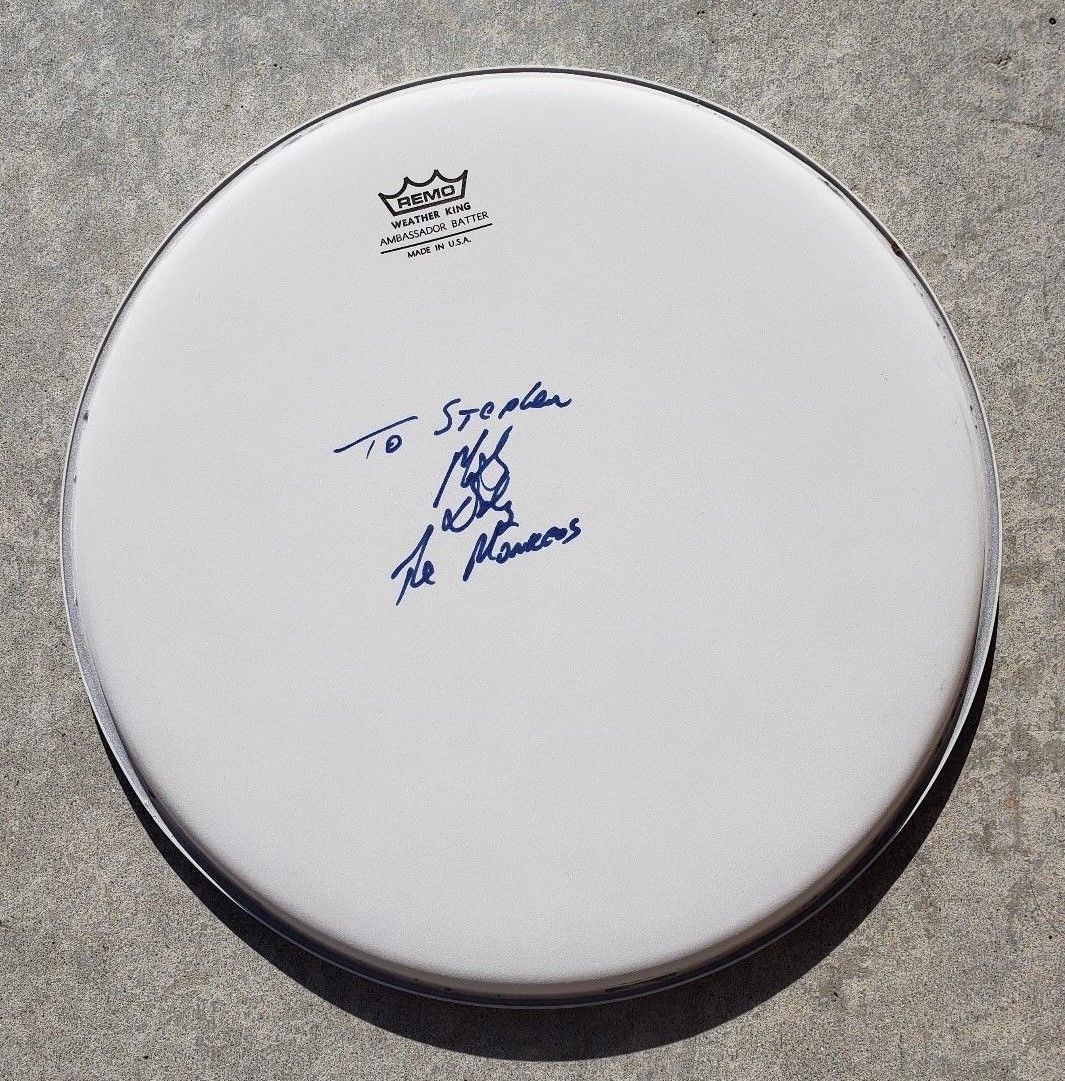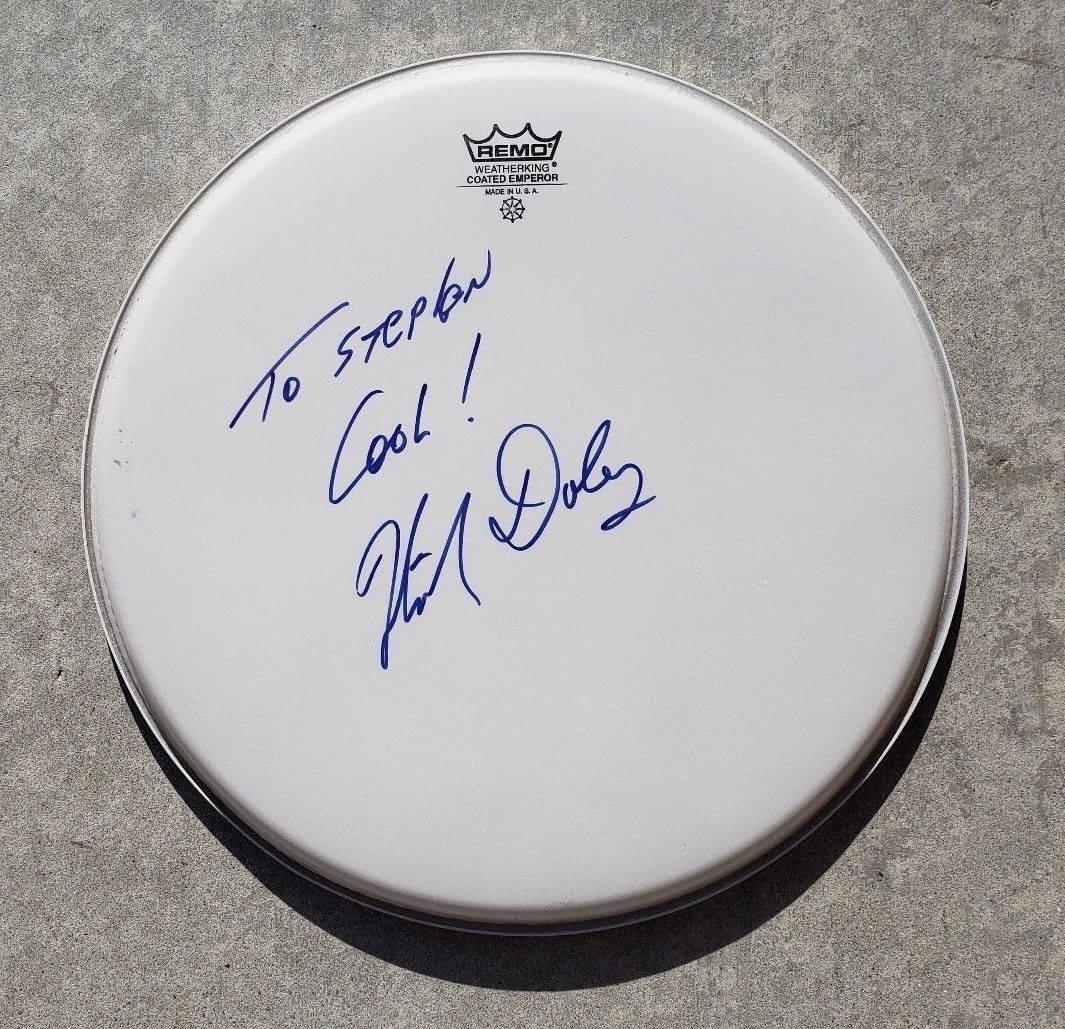 Autographed by Monkeys drummer Micky Dolenz at
The Hollywood Show on October 4, 2008 and October 9, 2010 .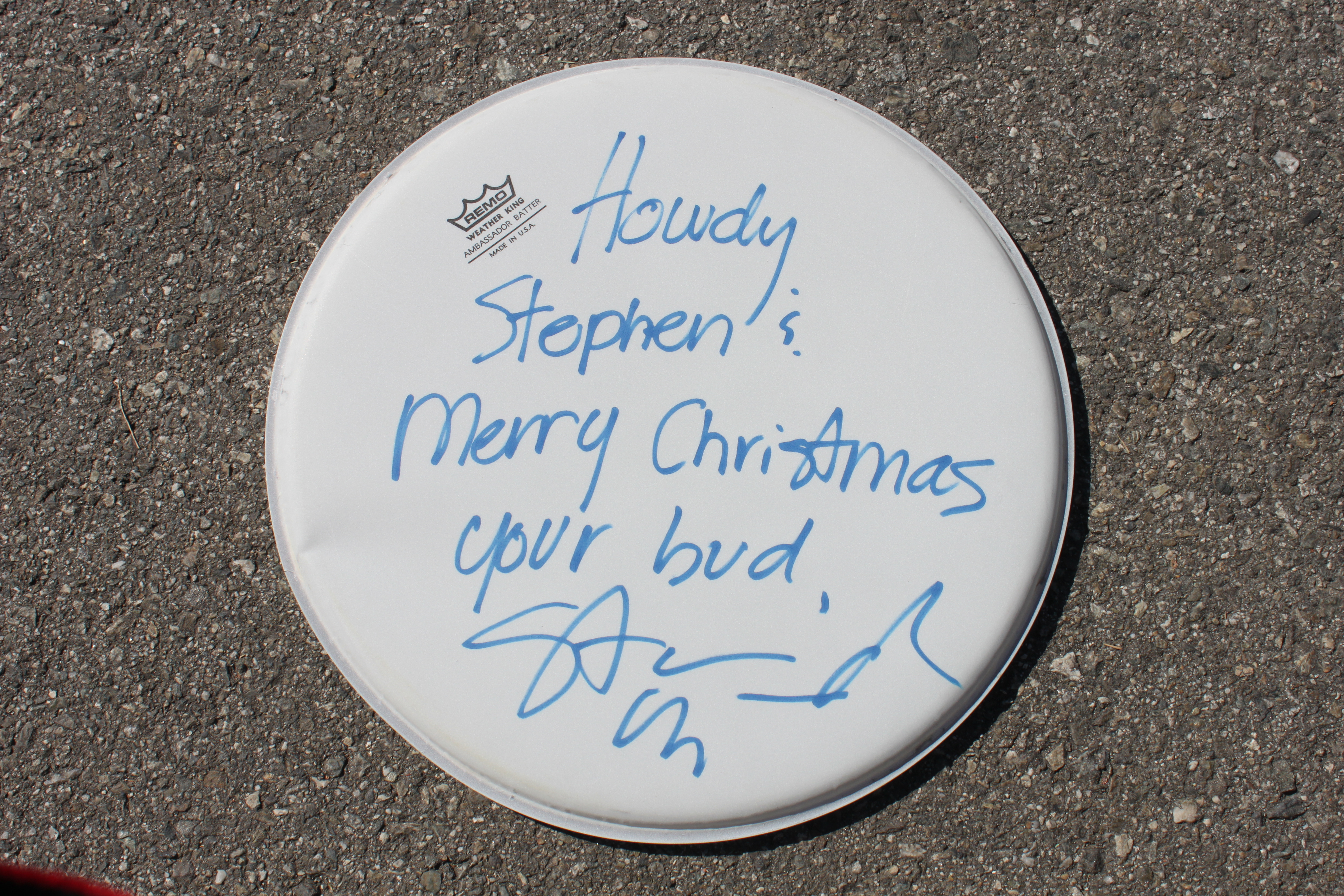 Autographed by Stan Lynch, former drummer of Tom Petty's Heartbreakers
on November 11, 1991 as he entered the Great Western Forum in Inglewood.
DUEL DRUMHEADS SINGED BY TODD RUNGREN
A snare drum and a bass drumhead autographed by always zany and very friendly Todd Rundgren at The Coach House in San Juan Capistrano on November 25, 2014.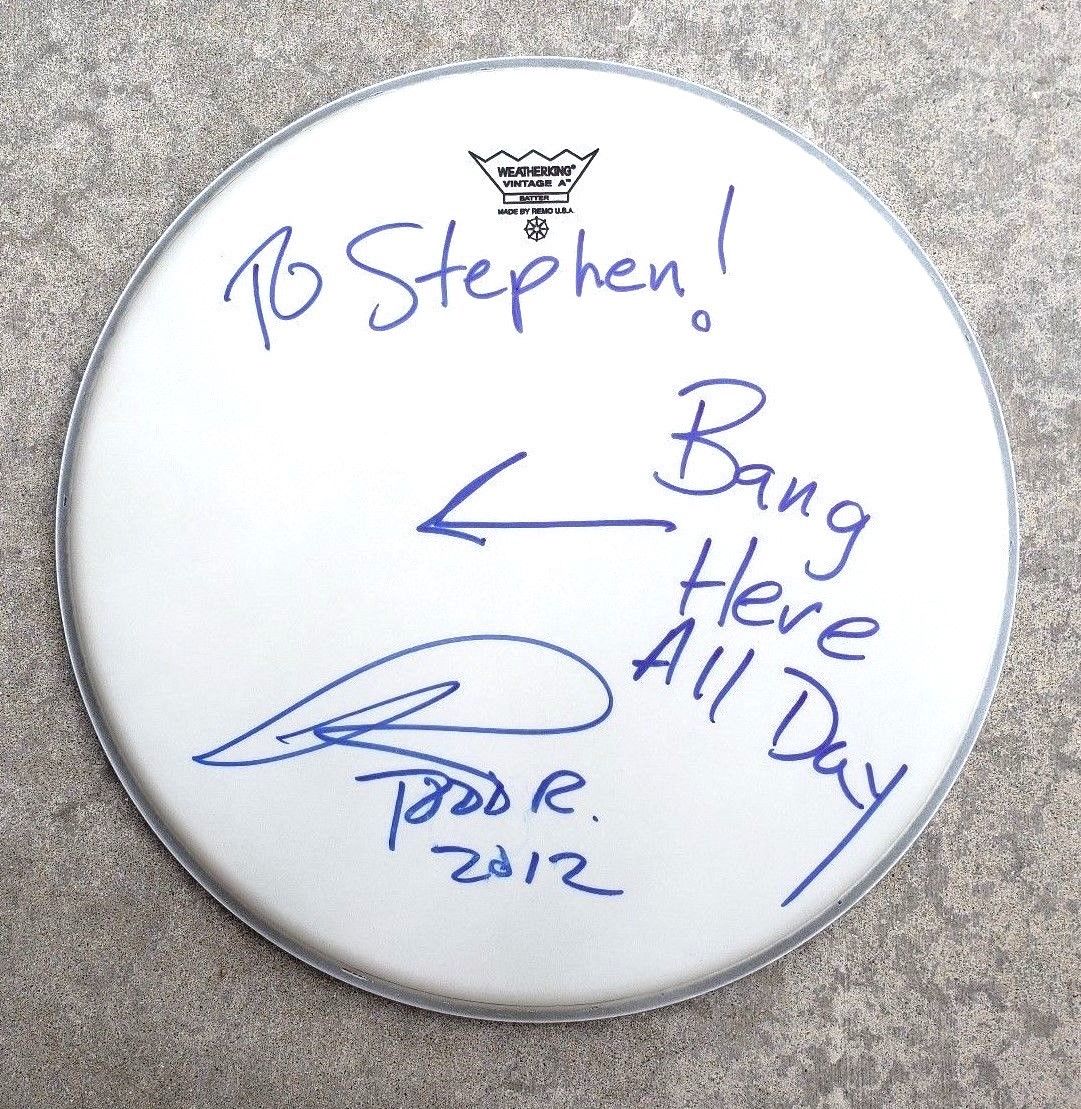 DRUMHEAD SINGED BY TODD RUNGREN
Drumhead autographed by always zany and very generous Todd Rundgren at The Coach House in San Juan Capistrano on April 6, 2012.
____________________________________________________________________